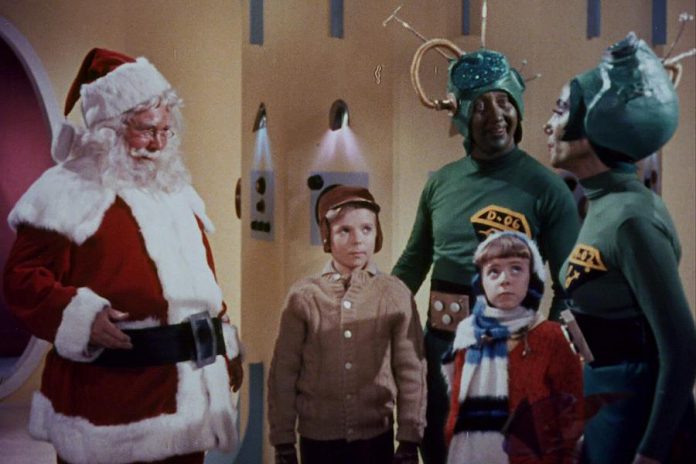 This week, bring your friends and family to The Theatre On King (TTOK) in downtown Peterborough and get ready to shout "Hooray for Santa Claus!" as local theatre group Planet 12 Productions presents a dramatic reading of the 1964 cult film Santa Claus Conquers The Martians.
At this family-friendly event, director Derek Weatherdon and his company bring a hot cup of holiday weirdness and intergalactic mayhem to TTOK for a memorable evening of yuletide delight.
Deemed by many film critics as one of the worst films ever to be released theatrically, Santa Claus Conquers The Martians may not have garnered the same popularity of films such as It's a Wonderful Life or Miracle on 34th Street.
But for many movie fans, this strange film has become a holiday classic all its own, and over the decades has become a popular oddity in the holiday film canon.
Advertisement - story continues below
Directed by Nicholas Webster in the summer of 1964, Santa Claus Conquers The Martians tells the story of a group of well-meaning (albeit misguided) green-skinned alien invaders who decide to kidnap Santa Claus from Earth so that he might bring joy to Martian children who have forgotten how to have fun. To help them find Santa, the aliens also kidnap two Earthling children (who later become Santa's helpers).
A subplot involving political unrest among the Martian people and toy making also takes place, alongside terrible acting, cardboard sets, maniacal laughing, outdated red-scare politics, and a Santa Claus who might or might not be drinking off camera.
Will Santa save Christmas on Mars and return to Earth in time for Christmas? All will be revealed on the TTOK stage in four spirited readings running from Thursday, December 19th to Sunday, December 22nd.
"As a film, Santa Claus Conquers The Martians fails in about every way a film can," says Planet 12's Derek Weatherdon. "It looks cheap, the script is poor to the point of being nonsensical, the effects are laughable, and the acting is weak. Almost every technical or human aspect of it is far below any acceptable standard."
"But taken on its own, it's a great concept. The premise is fantastic. For Planet 12, that makes it worth trying to revive."
When released in December 1964, Santa Claus Conquers The Martians did surprisingly well, and for the next few years was re-released cinematically on the matinee circuit. However, by the end of the 1960s, the film fell into obscurity until it found a new fan base when popular TV film show Mystery Science Theater 3000 aired it in 1991.
VIDEO: "Santa Claus Conquers The Martians" (1964) Trailer

The response from their viewership was so positive that the program re-aired the film yearly and even officially released it alongside their own riff track, increasing its popularity and turning it into a cult classic.
"It's a classic piece of trash, but one person's garbage is someone else's treasure, right?" Derek says of the film. "But regardless of how good or bad the original film is, it has a charm. I think our challenge has been to get that charm on stage for audiences to experience."
"We have had a lot of fun working on it. For anyone who wants just to take a break from how hectic this time of year can be, and catch a quick show with Santa in it … man, this is the one!"
Advertisement - story continues below
But, as Derek goes on to point out, finding Santa Claus in any of the local Christmas theatre offerings is actually a rare thing.
"As always, there is a lot of choice for audiences this holiday season, with major shows at the Peterborough Theatre Guild and Arbor Theatre," Derek explains. "But none of those shows really involve Santa Claus as a character. For most of us, I think Santa is a direct connection to the Christmases of our childhood, and getting back in touch with that isn't a bad thing."
"It's a bit depressing that it seems only place a child can see a Santa up close these days is at a shopping mall. Why not at a theatre?"
"With Planet 12 being what it is, we try never do anything too typical or obvious," Derek says. "So taking a film property that some people might have heard of, and fewer still have seen, and putting on a show with it seemed a good choice."
"Plus it's got the best title you could ask for. It literally says it all right there. You have Santa. You have Martians. Santa having a space adventure is a great idea. There should be more stories like that — maybe better written, but still more."
Of course, while reworking a poorly written script from the past, some surprising moments of social commentary come to the forefront in the film, whether they were intentional by the original writers or not. In a strange way, the film also predicted a future oddly reflecting our current society.
Advertisement - story continues below
"There is a sort of driving theme in the story that Martian children have become withdrawn and zombie-like as a result of their over-consumption of screen-based media directly from Earth," Derek observes.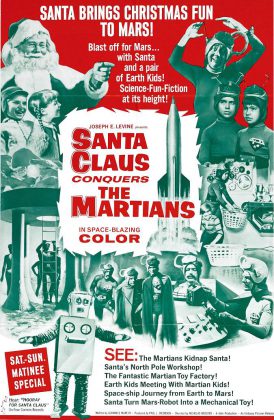 "At the time, they were talking about TV sets and programmers, but that could ring very true today with video games, on-demand streaming content, tablets and smart phones in every hand, and the need to be constantly hooked in and entertained electronically."
"We were pretty surprised at how timely and contemporary a message from a 55-year-old piece of work seemed. It's funny how times change, but problems don't."
Derek also points out that Santa Claus Conquers The Martians includes some political themes.
"You have a problem with zoned-out kids and a faction of the government that wants to take radical means (kidnapping and importing Santa Claus) to fix it, but also others who feel their traditional way of life is fine and it shouldn't be threatened by radical changes."
"I wouldn't go so far as to say there is an underlying theme of 'Make Mars Great Again' running through the narrative, but maybe more 'Things are fine and I am threatened by change, so let's not mess with things even though Rome is burning'. Maybe that all seems a bit heavy for a campy show about Santa in space, but I think the freeze rays and rocket ships make up for it."
Bringing Dropo, Voldor, Bomar, Gimar, and the rest of your favourite forgettable holiday characters to life are many of Planet 12's regular members including Sam Weatherdon, Abbie Dale, Emily Keller, George Knechtel, Liv Leeson, Nicole Roy, and Brad Brackenridge, who are joined by Ben van Veen, Nathan Govier, Sheila Charleton, and Keith Goranson in the role of Santa Claus, with costumes by Kathryn Bahun.
Advertisement - story continues below
Santa Claus Conquers The Martians plays into the fun yet strange sensibilities that Planet 12 — celebrating their third year as a company — has become known for. It also manages to work itself into the bigger universe that has been an ongoing part of the company's body of work, with a surprise cameo from one of their past productions.
"If we've earned any measure of cache in the local theatre scene at all, I would hope that we are known as a group that produces good shows with strong casts and that tells very offbeat stories extremely well," Derek says. "Obviously, this is a lot lighter than some of our previous productions like Boy Wonders, Incident on Gun Mountain, or Tex. This is much more of a family show and one you could — and should — bring your children to."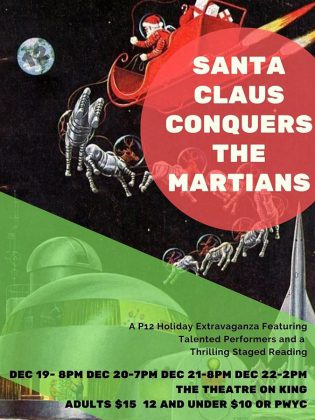 "As always, we just want to be trying to do things that no one else seems to be doing. Other theatre groups do live readings of Christmas classics, but I wanted us to do a story that no one else in their right mind would even consider."
As a fan of the film, I applaud Derek and his team at Planet 12 for such an offbeat and original idea. I've already pulled out my DVD copy of the film and watched it this year, but I can't wait for a double shot by celebrating the holiday on Mars at TTOK.
Santa Claus Conquers The Martians runs from Thursday, December 19th to Sunday, December 22nd at TTOK (171 King St., Peterborough). Thursday and Saturday shows start at 8 p.m., and Friday has a 7 p.m. start, with a 2 p.m. matinee on Sunday.
Tickets are $15 at the door ($10 for children 12 and under) or pay what you can.