On Tuesday night (December 17), the 100 Women Peterborough group capped off a year of collective philanthropy by raising more than $10,000 in under one hour for the Lakefield Animal Welfare Society.
At the group's fourth and final fundraising event of 2019, held in the lobby of the VentureNorth building in downtown Peterborough, three organizations — Lakefield Animal Welfare Society (LAWS), Greater Peterborough Health Services Foundation, and Peterborough Children's Chorus — made their cases to the group on why they should receive a donation.
Well before the meeting, the three organizations were randomly drawn from a larger list of organizations nominated by members of 100 Women Peterborough, who commit to donate $100 dollars at each of the four events hosted throughout the year. All of the funds raised by the membership are donated to four non-profit organizations determined by the membership throughout the year.
Advertisement - story continues below
At Tuesday night's meeting, LAWS manager Janet Evans and past chair Mary Power presented on behalf of the organization, a non-profit charity established in 1992 by a group of women with a goal of rescuing stray, injured, and abused animals in the Lakefield area. The shelter, which maintains a "no-kill" policy, works very hard to find homes for even the most difficult-to-place animals.
After hearing the presentation, as well as those from the other two organizations, 100 Women Peterborough members held a majority vote and selected LAWS to receive the donation.
"I am speechless, overwhelmed, humbled, and thankful to be recognized by 100 Women Peterborough," Evans said after LAWS was chosen.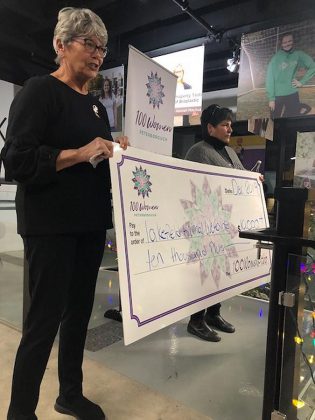 LAWS, which runs on donations, memberships, and adoption fees, does not receive government or private sector funding. The organization is able to help hundreds of animals a year through their programs.
"We get a number of animals that come in requiring more intensive treatment," Power explained. "For example, an animal who needs an emergency leg amputation or a kitten who needs an eye removed. We have decided to create a special fund called the Second Chance Fund which will allow us to ask veterinarians to do emergency surgery. If we didn't have this funding, a dog could potentially be euthanized."
To date, 100 Women Peterborough has collectively donated around $100,000 to eight local organizations: Hospice Peterborough, Peterborough Youth Unlimited, One Roof Warming Room, New Canadians Centre, Cameron House, Five Counties Children's Centre, Casa De Angelae, and Lakefield Animal Welfare Society.
Advertisement - story continues below
100 Women Peterborough was founded in February 2018 by Terry, Catia Skinner, Wendy Hill, and Alyssa Stewart, who were inspired by similar groups in other communities.
"The organizers are so excited to wrap up another incredible year," Hill says. "We are very lucky to have an incredible community of women come together to support organizations such as the Lakefield Animal Welfare Society — we are making a difference."
The concept of collective philanthropy concept was first launched in November 2006 when Karen Dunigan of Michigan formed the "100 Women who Care" group. After their first meeting, the women raised over $10,000 for the purchase of 300 new baby cribs for a local organization.
The movement has grown over the past 13 years to include almost 100 chapters in North America, including at least 15 in Canada.
Women who interested in joining 100 Women Peterborough should visit www.100womenptbo.ca for more information.