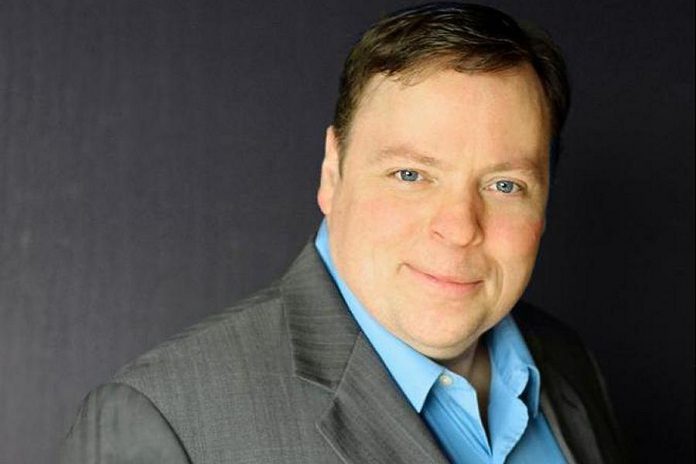 From Thursday, January 16th through Saturday, January 25th, New Stages Theatre Company in partnership with Public Energy takes over The Theatre on King (TTOK) in downtown Peterborough with Duncan MacMillan and Johnny Donahoe's acclaimed one-man show Every Brilliant Thing.
Directed by Linda Kash and starring Steve Ross, Every Brilliant Thing is a poignant yet uplifting and funny show about family dynamics, emotional struggle, and one man's life long journey to make note of all of life's brilliant things.
Written by Duncan MacMillan and making its debut at the Edinburgh Fringe Festival in 2014 where it was developed and performed by British comedian Jonny Donahoe (one of Donahoe's off-Broadway performances of the play was filmed for a 2015 HBO special), Every Brilliant Thing is a show that requires the featured actor to blur the lines of reality for the audience.
Advertisement - content continues below
Every Brilliant Thing brings Dora Award-winning Steve Ross, a featured actor at the Stratford Festival for over 15 seasons, back to Peterborough. Conversational in nature with no set or special lighting, the show is an intimate and frank talk between the actor and the audience in a presentation that resembles more of a TED Talk than a traditional theatrical show.
On a Sunday afternoon, I was pleased to be among an invited audience for a rehearsal of Every Brilliant Thing. Despite the show being still early in production, Steve's handling of the material was virtually seamless.
Living with the script since April 2019, Steve not only knows the show, but is able to convey the material in a way so realistic that I often forgot that I was watching him play a character.
"I couldn't see how I could not have it memorized on the first day of rehearsal," Steve says. "I don't play very well in a rehearsal with a script in my hand, and I knew we only had a small window of time with our director and I wanted to play from the first day. I'm glad I did. Some actors won't memorize before they come to a rehearsal because they don't want to impose anything, but I didn't see how that could be possible."
In Every Brilliant Thing, Steve plays a man who takes the audience through the emotional highs and lows of his life as he talks about his relationship with his parents, especially the fragile connection he has with his mother, and his attempts beginning at the age of seven to remind his mother of all the "brilliant things" that life has to offer.
His daily reminders become something that takes him beyond that of his parents into his years at school, into his marriage, and begins to involve people throughout his life.
Steve weaves a narrative so involved and relatable that at times I had goosebumps, as I watched other audience members react to the story with equal amounts of laughter and tears.
"I think why the show is so relatable is that the character I play is just a dude who, like anybody else, has grown up with a particular family dynamic," Steve explains. "It's one man's journey from age seven to whenever it is from when we do the show."
"You can see people nodding their heads when I talk about 'my family' because it's so personal and so respectful. It's not some comedian getting up there and trashing their wife. It's just talking about real family life and how every single person deals with it in one way or another. They've had a similar family experience."
Advertisement - content continues below
Audience members will take away their own moments from the show, based on how they personally relate to the material. For me, it was Steve's talk about his dog as well as the moments spent talking about music. Strong musical moments are pinpointed by a fantastic soundtrack that ranges from Ray Charles to Cab Calloway to Ornette Coleman, and the character's love of vinyl records is captured in a way that will make any record collector's heart swell.
"Every audience differs by who they are and what they bring to the table," Steve observes. "It's so clearly laid out in the script as to what I need from each audience member. It also feels like this show is different with every actor who does it. Because the show is conversation, the line is immediately blurred. The character's experience may not be the actor's experience, but the way that it's presented is that the actor is not a character."
"I don't feel like there is the same transformation as in other roles I've done, but I don't think it's a bad thing. It's just a bit seamless and it all just kind of fits. We never talk about character development because he's just so fleshed out anyway."
VIDEO: HBO trailer for "Every Brilliant Thing" performed by Johnny Donahoe

Every Brilliant Thing marks the first time New Stages has moved its operations out of its regular home at Market Hall Performing Arts Centre to TTOK. As a result of moving to a smaller venue, the show will be running for nine performances, so as many people as possible can see it.
The reason for the venue change is because New Stages artistic producer Randy Read was looking for a space that would bring the audience right up to the actor.
"I'm excited about going to TTOK because some plays that I'd like to do, like this one, require a space that intimate," Randy says.
"Two of our regular subscribers came to a rehearsal, and afterwards one of them came to us and said 'When you first said you were going to move to TTOK for this show, we didn't know why you'd do that. But now we understand absolutely why you'd do that. It's made us trust you even more.'"
Advertisement - content continues below
Moving, funny, and incredibly relatable, Every Brilliant Thing is beautifully acted and produced. Steve Ross brings his natural sense of wit and warmth to the production and creates a story that will connect to the heart and soul of the audience. Every Brilliant Thing is a beautiful and heartfelt beginning to Peterborough's 2020 theatrical year.
Every Brilliant Thing runs from Thursday, January 16th to Sunday, January 19th and from Tuesday, January 21st to Saturday, January 25th at The Theatre on King (171 King St., Peterborough), with shows at 7:30 p.m. except for a 3 p.m. matinee on January 19th.
Tickets are $25 including all fees ($15 for students, artsworkers, and the underwaged) and are available in person at the Market Hall Box Office or by phone at 705-749-1146 (12 p.m. to 5 p.m. Monday to Friday) or online anytime at markethall.org.