The Rose Project founder Rose Wilton had an inspired idea to support struggling members of her community: creating a cupboard filled with personal care items for those in need in Port Hope.
Known for her drive to help others, she took her inspiration and made her "personal care community cupboard" into a reality by working with donors, local artisans, and other members of her community.
"The inspiration for the personal care community cupboard came from two places," Wilton explains. "Firstly, Colborne's food cupboard that is accessible 24 hours. Secondly, an initiative in Toronto where the city took old newspaper stands and turned them into feminine hygiene product containers. I thought 'This is working so well for two very different communities, why not Port Hope?'"
Advertisement - content continues below
In cooperation with the Town of Port Hope, The Rose Project board chair Pam Royl began working towards the goal of opening the community cupboard, which is located downtown behind Town Hall where it can easily be accessed by members of the community.
"I believe this cupboard allows people to take control of their dignity," says Wilton. "Not only by giving people access to personal items to be clean and healthy, but to be treated with dignity as well. The cupboard allows them to 'go shopping', as it were, for what they need. They can pick and choose what they would like or need, rather than be handed something generic. It's nice to be able to have the choice."
The community cupboard is a natural extension of The Rose Project initiative, which collects new, unopened, and unused toiletry donations and routinely provides items to people living on the streets and in shelters. By focusing on toiletries and personal items, the project has helped countless people in need to regain their dignity during a time when they are struggling just to keep a roof over their head and food in their stomach.
"This is a matter of health and it is a matter of personal dignity," Royl observes. "Feeling unclean can make any of us feel badly about ourselves and potentially worsen health conditions. For this highly vulnerable group, it can be demoralizing and dehumanizing, which creates another barrier to rebuilding self-confidence and improving financial circumstances."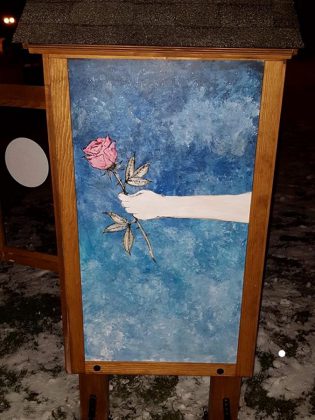 "Given the early uptake we have already had from our first cupboard, I think we are really on to something — assisting in meeting a real need in our community. We just hope it makes someone's life a little easier. This is just the beginning as we hope to expand the idea throughout our area and maybe even beyond."
Wilton and Royl worked with Port Hope's director of parks, recreation and culture Jim McCormack, along with an advisory committee of council members, to gain approval for the community cupboard project.
"This project first came forward to our parks, recreation and culture advisory committee, who are an advisory committee of council comprised of residents from the municipality," explains McCormack. "The committee, along with staff, are very supportive of this initiative. Thus the approval to have it installed close to Town Hall and Memorial Park."
"Staff and committee members recognize the importance of filling gaps in services to those in need and recognize that this service, provided by volunteers, certainly fulfills that need. We worked with The Rose Project with respect to the design, building materials, and manner in which it would be erected to ensure it met our requirements."
Advertisement - content continues below
The Rose Project was fortunate to have a great team working on the design and construction of the cupboard. Local carpenter Courtney Sutton of Northern Revival Co. designed the piece. Once it was constructed, local artist Lee Higginson of Fluke Craft was engaged to paint the finished cupboard. With Higginson's vision, the cupboard looks as if The Rose Project is giving the community a hug.
"Courtney Sutton of Northern Revival Co. generously donated all of the materials as well as her time for building the cupboard," Wilton says. "I had a rough idea of what I wanted and she ran with it and made it even more beautiful than I could have hoped for."
"Lee Higginson of Fluke Craft also generously donated her time and materials to create the artwork that is on the cupboard. I had no idea what I wanted on it, only the name. Lee sat down with me and gave some amazing ideas that created the gorgeous work you see now. This wouldn't have been possible without both of their creative talents."
"I also greatly appreciate the parks, recreation and culture advisory committee for the town of Port Hope for working with us and allowing us to install this for the community."
"It means so much to be asked to be a part of something with such a big heart," adds Higginson. "Something community spirited, something so close to what Fluke Craft is built on. I have loved and supported The Rose Project since its beginnings, and this was a wonderful way to continue that relationship. The art and design came about naturally. The roses were an obvious component. In my discussions with Rose, the hug idea just came about. It was a joy to paint. It makes me happy every time I drive by."
Courtney Sutton has also expressed her gratitude for involvement in this project. She was also an exhibitor at The Rose Project's inaugural holiday craft show last year, helping to raise funds and awareness for the project.
"I am so grateful that The Rose Project reached out and trusted me with building this piece," Sutton says. "It's something that I know is near and dear to the project's heart and I believe it will really help those who need it. I think it's important to give back to the community if you're able to, and I loved creating this larder with the thought in mind that I would be helping people who might be struggling."
Advertisement - content continues below
"It's difficult to articulate in words how I design anything I build," Sutton adds. "It's based on tidbits of designs I've seen, or the process of how I've built certain things in the past. When Rose asked me to design it as it would be integrated into the town as an art piece, I tried to keep it fairly basic — so Lee of Fluke Craft could put her wonderful art on it — but also make it accessible and sturdy enough to withstand the weather."
All of the materials and time required to create, approve, and install the cupboard were generously donated to the project. One of the ideas behind the community cupboard was to ensure that people have access to personal care items at any time of the day or night, even if they aren't receiving social services.
"Struggling to find a secure home or pay the rent or put food on the table sometimes means there is no money left for personal care items such as feminine hygiene products or toothpaste," Royl explains. "For over five years, The Rose Project has been providing personal care products both directly to individuals struggling in our community, as well as to many social services agencies and schools."
"It was through this involvement that Rose identified the need to provide a way for discreet 24/7 access. As a result, we have created our personal care cupboard. We want to provide discreet access, anytime, to feminine hygiene products, soap, toilet paper, or even a warm winter hat or gloves when and where these products are needed. This little cupboard provides an anonymous way to get a little help when a person might be most vulnerable and alone."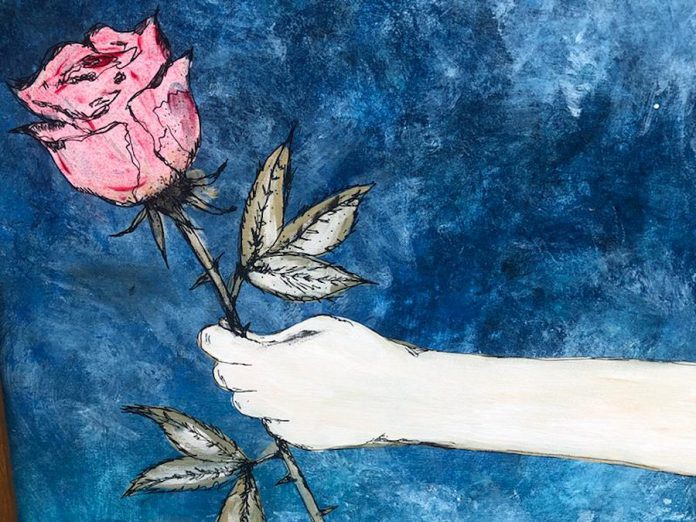 While the cupboard does accept donations, it is important to note that it is not a donation box or drop-off point. Instead, it will be restocked by The Rose Project directly.
"For health, safety, and dignity purposes I am asking people to donate through me so that I may put items into the cupboard," Wilton explains. "People wishing to donate can email or they can drop off items at Sugar Dust Bakery in downtown Port Hope, which has generously been a drop-off place for us for a few years now. I have so far found that winter gloves and feminine hygiene products have gone very quickly, so we could always use more of those to put in the cupboard."
The cupboard will always aim to provide local folks in need with personal items such as toothpaste, toothbrushes, soap, and feminine hygiene products. When there is a need for hats and gloves during the winter months or shampoo and body wash during the warmer months, these items will also be available.
The Town of Port Hope has twice awarded The Rose Project with a civic award for community service for the work that they do. The project is run by volunteers and relies on donations of items rather than cash. Community members can reach out to Wilton at theroseproject14@gmail.com to find out how to get more involved.
Advertisement - content continues below
According to Wilton, the most important goal that the community cupboard is that it enables The Rose Project to reach even more people in need in the community than ever before.
"While there are a lot of people who we can see who need help, there are also a lot of invisible people who are in need as well," she points out. "Because the cupboard is located on the local bus route, people are able to stop off quickly and grab what they need."
"Because it's accessible in such a great location, it allows more people to get what they need at any time of the day or night. They don't have to schedule around work or when they can get a ride, or to be available the one day and time that a social service is open. Now they can access supplies when it is convenient for them."
You can find The Rose Project online at theroseproject14.wixsite.com/ontario. To donate to the community cupboard, email Rose Wilton at theroseproject14@gmail.com or drop off your donated items at Sugar Dust Bakery at 74 Walton Street in downtown Port Hope.