What do you call a telethon that doesn't depend on television or telephones? For the first time ever, the United Way of Peterborough & District is presenting a "streamathon" on Facebook at 8 p.m. on Thursday, January 30th.
The free Facebook Live concert will be hosted by Peterborough musician Danny Bronson, who will be joined by other local musicians over the course of the evening, including Bridget Foley, Theresa McMullen, Ken DesChamps, Victoria Pearce, Kait Dueck, Carling Stephen, David Goyette, Kryn Vandermey, and Andrew Vatcher.
"I'm really looking forward to sharing the stage with these terrific performers and giving viewers an exciting event worth watching while supporting a great cause," Bronson says.
Advertisement - story continues below
You can watch the live-streamed event at 8 p.m. on Thursday, January 30th by searching for "Danny Bronson Live" on Facebook — or by visiting the United Way's Facebook page at www.facebook.com/UnitedWayPtbo/ or the Facebook event page at www.facebook.com/events/602003607214536/ — and, if you like, donate to the United Way during the event.
Unlike telethons of the past, the event will be available to anyone around the world from their mobile device or computer, so both area residents and expatriates can support the United Way, and viewers can interact with the performers in real time.
"We're excited to offer this innovative online experience that updates the dynamics of a traditional telethon," says 2019 United Way campaign chair David Goyette.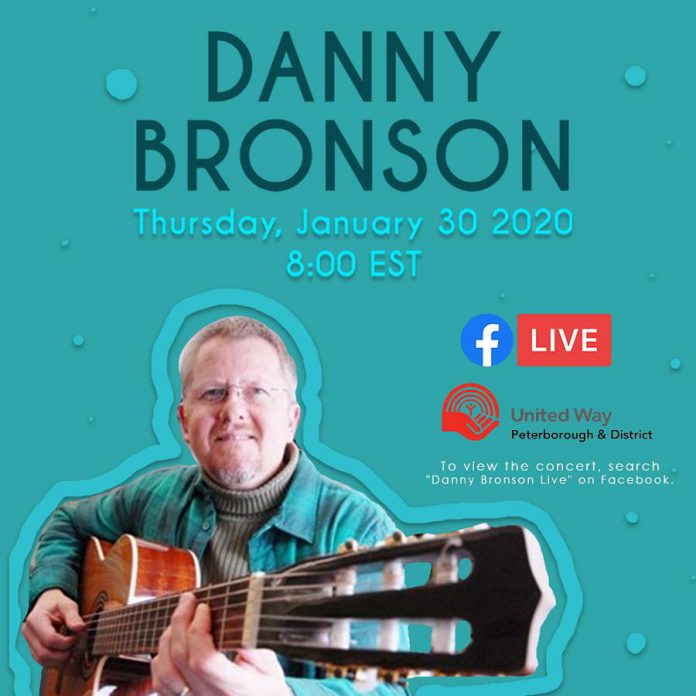 This is the first time the United Way of Peterborough & District is using a live-streamed event for fundraising.
"With such an amazing collection of local talent performing great music all evening, it will be like watching the ultimate kitchen party from your phone," said Brittany Cadence, volunteer member of the United Way campaign cabinet.
"We think viewers will have fun interacting with the live stream on Facebook and help create an entirely new telethon experience to support the community."