On Friday, February 7th, the Anne Shirley Theatre Company returns to The Theatre on King (TTOK) to present its first show of 2020, Stacie Lents' comedy Laugh Out Loud (Cry Quietly).
Directed by Mary Grace Murphy, the show is a witty look at the new language of dating in the modern world, full of profiles, texting, misunderstandings, anxiety, failure, and success.
Being single in the modern world is tough, and meeting people in a world where people are plugged in and obsessed with social media has made internet dating more common, especially for the current generation who has made it mainstream.
Laugh Out Loud (Cry Softly) follows 16 twenty-somethings living in New York City, all connected in often obscure ways, as they go on the internet looking for love. More of an anthology of sketches than a traditional play, the storylines weave in and out in short through entertaining vignettes dealing with all aspects of modern dating and the various types of people you meet on the internet.
Advertisement - story continues below
Wile the show is about internet dating, what I found interesting is just how few actual dates are shown in the play. The majority of the show involves characters talking to their friends and family about their anxieties over online dating, or satirizing modern communication.
This makes for a much more interesting exploration of the modern phenomenon of internet dating, and the show becomes more character based than just a romantic comedy.
Through the vignettes, different ideas and opinions are showcased. Is online dating just a place for desperate individuals looking for love? Is it just full of weirdos and uglies? Is it possible to find love without it? Does it really work?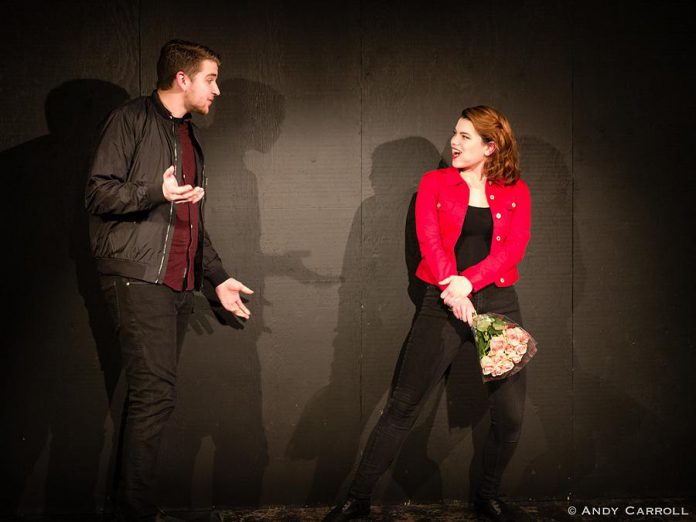 Mary Grace Murphy assembles a bright and likeable cast of Trent University students to bring Laugh Out Loud (Cry Softly) to life. Anne Shirley Theatre Company veterans are mixed with some new faces, which means performances are sometimes uneven — but everybody is fun to watch.
One of the interesting things about the show is that all of the characters are likeable, and even the characters with the biggest flaws have their redeeming vignettes. Mary Grace really cast the show well in making these characters endearing to the audience, with all the players having their own moment in the spotlight.
Although there isn't any real solid plot to the show, the strongest through-line connecting to the most characters is one involving three siblings: Jeremy (Shamus Merkley), Rachel (Raquel Grobe), and Jojo (Tara Worrall). Jeremy is a geeky guy who is fascinated with a bar with see-through bathrooms, Rachel is a smart girl who is unlucky in love, and Jojo is their vapid sister who is going all bridezilla days before her wedding.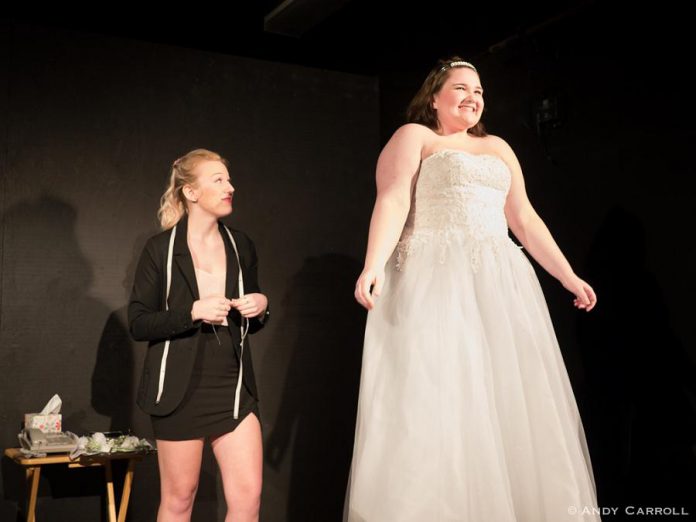 Shamus and Raquel manage to create that warm bond that siblings posses, which is possibly why the audience is drawn to them the most. The "us versus her" relationship between Shamus and Raquel and their sister Jojo makes for some great comedy.
While Tara's character Jojo is pretty awful, she manages to somehow bring a sweetness to her, making her redeemable. While these characters don't drive the show, for some reason they seem to tie all the links together and become the audience focus.
Also stepping in the centre stage is Anand Kumr as Edward, a charming photographer working on a book about the different women he meets while dating online. With his own weird flaws, Anand brings a likeable energy every time he steps on the stage and he becomes an audience favourite.
In one of the only actual dates portrayed in the show, Anand and Raquel create some of the best comedic moments. You just can't help but love Anand, even when you want to shake him and tell him to just stop.
Other stand-out performances include: Connie Jordan-Turner as Shelly, a desperate and slightly pathetic woman looking for a husband; Tatum Raven as Any, who wonders if her absent date really plays cricket; Nick Toth and Tara Worrall as Daniel and Mimi, who have trouble communicating in person; Ceilidh Peters as Jessica, who I'd watch eat just about anything; and Erin Underhill as Kay, who is both unphotogenic and unlucky in love.
A big shout out to Mads Ferris as the smart-mouthed waitress and Jeremy's unfortunate girlfriend Sarah (seriously, she can do better).
Advertisement - story continues below
Mads has a strong stage presence and gives a natural performance, blurring the lines between actor and character. She makes some quirky choices in her performance, and I wish she was on stage more often — I and hope to see her perform more in the future.
What I loved about Laugh Out Loud (Cry Softly) was the dry and awkward humour. Lines are thrown around in such a way that it sometimes takes a moment for a joke to sink in, creating a bigger laugh a beat later. The cast keep it subtle and witty without trying to be funny or delving into slapstick.
The script is naturally funny, and the players find a way to make it work without trying to hard. The result is a good-natured show filled with an endearing cast.
In
Laugh Out Loud (Cry Softly)
, everyone will find a character or a situation they can relate to. The playwright does a good job at fleshing out the subject matter and incorporating many thoughts, feeling. and realities around dating in the internet age.
Through their experiences, you can stand back and laugh at your own. I personally related to Kay as the type of person who really wants nothing to do with online dating at all, and would rather relent to a life of loneliness and cats. I can get behind that.
Laugh Out Loud (Cry Softly) is a good follow up to the Anne Shirley Theatre Company's strong 2019 season and may be my favourite "dramatic" show the company has produced thus far. It's a fun and light-hearted way to blow away the February blahs or to celebrate Valentine's Day with someone you love.
Advertisement - story continues below
Perhaps if you're so inclined, you can even go online yourself and find a first date for this show. It's a great date night and a conversation starter. I had genuine laugh-out-loud moments, and the cast is delightful. By the end of the show, I wanted to swipe right for all of them.
Laugh Out Loud (Cry Softly) runs for six performances from Friday, February 7th to Saturday, February 15th. Shows start at 8 p.m. with 2 p.m. Saturday matinees.
Tickets are $15 ($10 for students, seniors, and art workers) and are available at the door and in advance until February 8th during business hours outside of Wenjack Theatre and at the Trent Central Student Association office on the second floor of the Student Centre.