This month, food writer Eva Fisher discovers a new Vietnamese restaurant and oyster bar coming to downtown Peterborough, touches base with Lakefield's newest classic diner, learns about a cooking class that builds skills and community, and feasts in distinctly Trent Hills fashion with the Incredible Edibles Festival.
Advertisement - story continues below
Vietnamese kitchen and oyster bar Hanoi House set to open on Hunter Street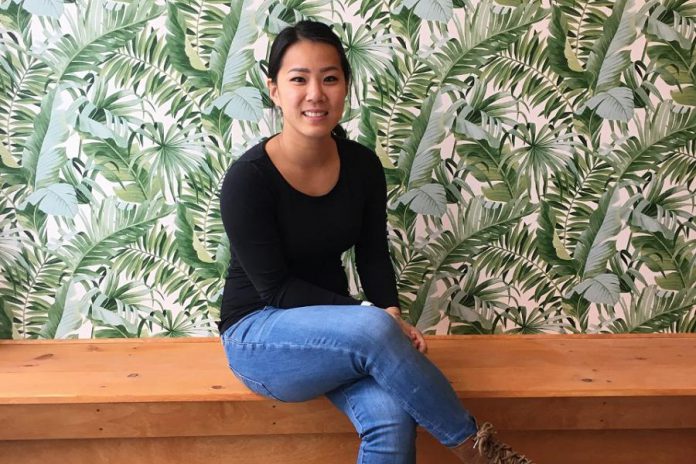 Hanoi House (213 Hunter St W, Peterborough, 705-775-5888), a new Vietnamese kitchen and oyster bar, will open later this month. Owner Susan Tung is looking to create authentic, fresh, and accessible Vietnamese cuisine.
"It's going to be authentic Vietnamese food that people will want to come eat on a regular basis."
Susan previously owned and ran The Golden Wheel (6725 Highway 7, Peterborough, 705-749-6838) with her parents Mei and Patrick Tung. After selling The Golden Wheel two years ago, Susan found herself wanting to get back into the business.
"When you're a business owner, it's really hard to not be a business owner any more."
Her decision to open a Vietnamese restaurant came from her own love of Vietnamese food.
"I'm Chinese but Vietnamese food is my passion. The flavours … it's super healthy … I feel like I was supposed to be Vietnamese in another life."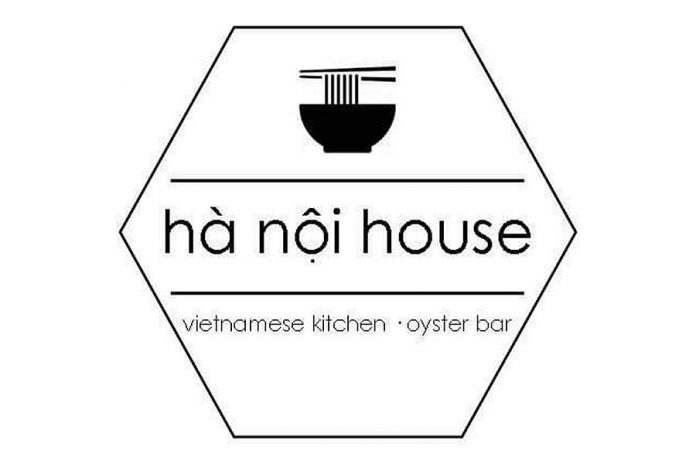 Hanoi House will soft launch in mid-February with a menu of vermicelli noodle bowls, broken rice bowls, and pho. There will be a plain beef pho, but you can also opt for more authentic ingredients like tripe, beef meatballs, and tendon.
The grand opening will be in mid-March, at which point they will also offer a daily menu of oysters.
For updates, visit Hanoi House on Facebook.
Advertisement - story continues below
Shakers Diner shakes up Lakefield
Mother-and-daughter team Lynne and Rebecca Shakespear reopened their classic diner, Shakers Diner, in Lakefield on January 30th.
Lynne and Rebecca ran Shakers in Bobcaygeon for four years, but when the building went up for sale, they decided to make the move to Lakefield (98 Queen St, Lakefield, 705-651-6608).
The menu will be the same as it was in Bobcaygeon, which Rebecca says is the culmination of years of work in the industry.
"We've been in restaurants — working, not owning — for years now. It was a conglomeration of all of the menus we've worked with. We've put everything we liked into one."
For breakfast, Rebecca recommends the Breakfast Bowl, a scramble of three eggs with onions, sweet peppers, mushrooms, tomatoes, and spinach, topped with a three-cheese blend.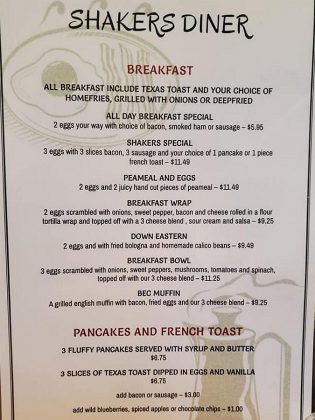 Their most popular offering is the club sandwich, made the classic way with cheese, bacon, tomato, lettuce, white meat turkey, mayonnaise and three slices of bread, cut into quarters.
There's even fried bologna: the "Down Eastern" comes with two eggs, fried bologna, and calico beans.
Processed meat is the exception, not the rule on this menu.
"We roast our beef and turkey in-house, we don't use deli meat or anything like that — it's all real meat. We use real potatoes for home fries; we fry them on the grill with onions. We're trying to keep things fresh and stay away from the processed as much as we can. It's just simple home cooked food."
For more information, visit Shakers Diner on Facebook.
Active Together cooking classes bring people together over food
The Council for Persons with Disabilities Active Together Program is offering a series of cooking classes for those looking to expand their skills in the kitchen.
Active Together coordinator Lynda Todd and Chef Elaine McCarthy will run classes every Friday from 10:30 a.m. to 12:30 p.m. from April 17th to May 8th at the Peterborough Public Health (185 King St., Peterborough).
Participants can expect to learn to prepare a variety of healthy dishes, with classes covering vegetarian, beef, fish, and chicken dishes.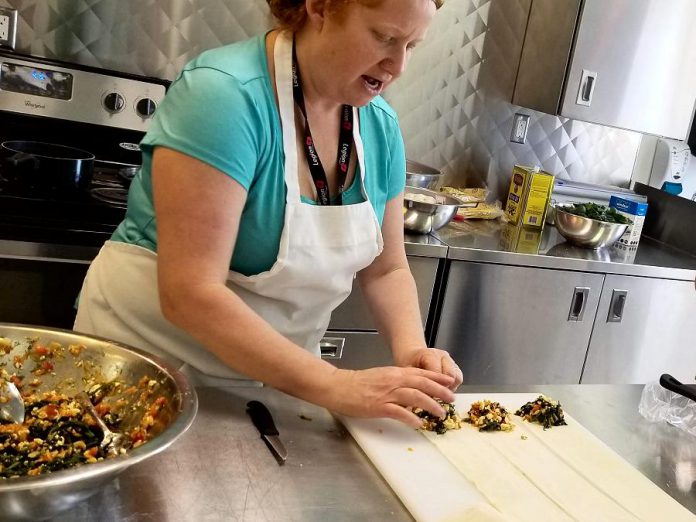 The classes are open to anyone over the age of 18 who self-identifies as living with a disability.
"That's a very broad category." Lynda explains. "People don't have to disclose to us. There's no form to fill in and disclose what your disability is. Disability could be someone who's in a wheelchair to someone who's going through depression. We don't ask. Anyone who wants to show up and join in, they're more than welcome."
Lynda says that cooking classes are a great way to build community.
"Our whole society is about people getting together and eating. This isn't even just about showing people how to cook healthy meals, it's about bringing people together."
Advertisement - story continues below
Lynda encourages everyone to come and give it a try, even if you're feeling nervous about the idea of taking a cooking class
"Many people come and they're very shy or they're feeling insecure about their disability and if they'll be able to do things. It's nice to see the progression of how people come out of their shell and gain confidence in being able to do something that they haven't necessarily done before. It is very exciting to see the accomplishment that people feel and the friendships that develop. That's really what it's all about."
These classes are free to attend, and participants will leave with a $10 grocery store gift certificate. To register, email Lynda at lyndatodd2012@gmail.com or call 705-760-4899.
Eating in season with Campbellford's Incredible Edibles Festival
Do you have a case of the winter food blahs? Campbellford's Incredible Edibles Festival is presenting the perfect antidote.
"Eating in Season: A Mid-Winter's Feast" will bring some of the region's top chefs to the Campbellford Curling Club (381 Front St. N., Campbellford, 705-653-4433) for an evening celebrating local food. The feast will take place on Saturday, February 29th from 6 to 10 p.m.
Incredible Edibles Festival chair and coordinator Amanda Solmes says that this event marks a new direction for the festival.
"The Incredible Edibles is really looking this year to focus more on showcasing our farmers and bringing the entire food system together."
Farming is an important part of the history and culture of Trent Hills, and the festival wants to honour that.
"We've traditionally been a farming community since the time that Trent Hills was settled and we want to bring that to the forefront, showcase that to our visitors, and bring the community together as well."
Advertisement - story continues below
The ingredients for the feast are all being sourced from local farms, and will include rabbit and beef cheek freshly butchered, lettuce grown indoors in Warkworth, frozen berries, root vegetables, and Empire Cheese.
"The farthest away from us is just outside of Port Hope."
An impressive lineup of chefs is slated to cater the event, including Doug Hope from Sper Food & Farm in Warkworth, Ron Csenar (the original owner of Capers in Campbellford), Melissa Smeets from Melly Rolls, Mike Metcalf (the chef and owner of McGillicafey's Pub and Eatery), and Jackie Bloom (the new owner of Banjo's Grill in Hastings).
"They're definitely our top chefs around the area," Amanda notes.
Linda and Tony Armstrong of Headwaters Community Farm will speak at the event. Tickets are $60 and are available online at eventbrite.ca/e/eating-in-season-a-mid-winters-feast-tickets-91539937417.
The event is a fundraiser for the Incredible Edibles Festival itself takes place in downtown Campbellford from 10 a.m. to 4 p.m. on Saturday, July 11th. For more information, visit incredibleediblesfestival.com.