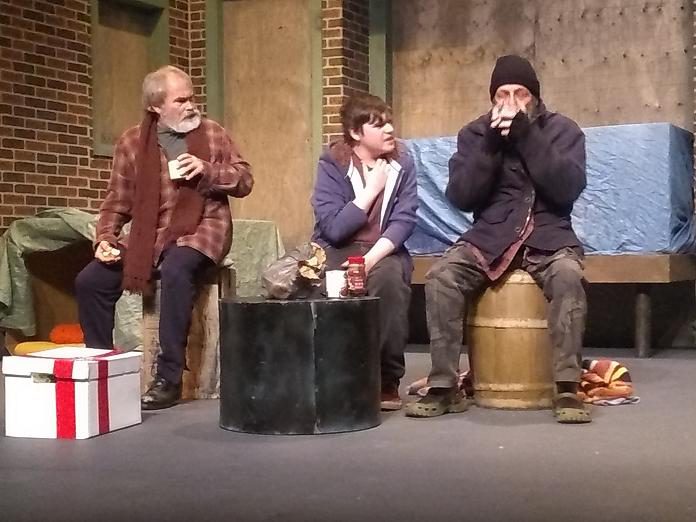 On Thursday, February 21st, the Peterborough Theatre Guild is proud to remount Robert Ainsworth's acclaimed 2002 play Frozen Dreams. The Guild's entry into this year's Eastern Ontario Drama League's full-length spring festival, Frozen Dreams is a frank but realistic look at the plight of people living on the streets of Toronto filled with emotion, humour and drama.
The play, which premiered at the Peterborough Theatre Guild 18 years ago, has since been produced several times across Canada. For the restaging of the play, Rob has brought back with Jack Roe and Gillian Wilson to reprise their roles as Sam and Lilly, along with Keith Goranson, Tyrnan O'Driscoll, Sheila Charleton, and Hugh Mallon.
As Rob explains, it was an odd photo of a homeless boy in Toronto that was the original inspiration for the show that eventually became Frozen Dreams.
"I saw a picture of a homeless boy holding a frozen turkey," Rob recalls. "He had gone to Honest Ed's in Toronto and had lined up at Christmas. He was given this uncooked frozen turkey and was looking into the camera as if to say 'What am I to do with this?'"
Advertisement - story continues below
In Frozen Dreams, which takes place in a back alley in Toronto on Christmas Eve, Rob brings the boy and his frozen turkey to life on the stage, fleshing out their story and how it affects the life of the people around him.
The play centres around a street-smart homeless man named Sam (Jack Roe), who lives in the alley with his comical pal Harry (Keith Goranson) and the boy, Andrew (Tyrnan O'Driscoll), affectionately known as Rainman. When Rainman comes back to the alley excited about the frozen turkey, he tells Harry and Sam about a Christmas memory during better times.
Touched by the boy's story, Sam and Harry decide to try to find a way to give Rainman a touch of Christmas again by trying to get the turkey cooked. But, of course, the task is not as easy as it might seem.
Other players come in and out of the drama, including Lilly (Gillian Wilson), a kindly bag lady suffering from dementia, as well as Ginny (Sheila Charleton), a street nurse who has a special relationship with Sam and an interest in trying to get Rainman off the streets.
The trio of men also contends with a fair but authoritarian cop (Hugh Mallon), whose business is displacing the men so that they'll be invisible to visiting delegates arriving in Toronto.
Not only is Frozen Dreams one of the plays most requested for remounting by Peterborough Theatre Guild members but, with Peterborough's homelessness crisis, it is still timely — despite having been written 18 years ago.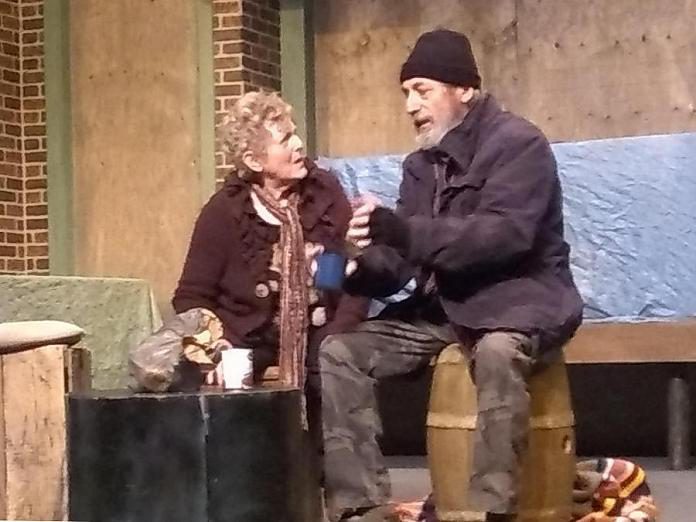 "Because of Tent City last year, the homeless got some really bad press," Rob explains. "So I felt that it was the right time to remount Frozen Dreams. People have been asking me for many years to do this show again. An opportunity came up with this time slot and I decided it was time to do it."
Jack Roe, who reprises the role of Sam, is known to many Peterborough residents as the former local correspondent for CBC Radio's Ontario Morning. He held the part-time job for 35 years, until CBC cutbacks in 2017.
"The story is about putting a face on the homeless and finding out who they are," he says. "We find out quickly that any one of us can be on the street — we are a pay cheque away from not having a home. So we have people of all kinds of backgrounds: you have a kid who's been abused, you have a woman who lost her husband. We don't know much about my character Sam, other than he tried to help someone before and ended up in jail as a result. Harry was married, but alcohol has taken him on the street. The nurse has her own reasons for helping us."
"The fact is that people living on the street aren't any different than anybody else. They have a sense of humour. They have moments when they are depressed about things. They get angry about stuff. They have relationships that develop, so they love one another and protect each other. But there are these odd moments. You see it all over the place."
Advertisement - story continues below
A character-driven show, Frozen Dreams brings a sense of humanity to people who are homeless without turning them into caricatures. The actors allow their characters to maintain their individuality and their dignity.
"To play someone who is homeless, you just play the role like if they are a person," says Tyrnan. "You can't just act homeless. Being homeless doesn't put a halt on life."
"That's why Rob's scripts are so wonderful to work with, because you know exactly who the characters are," adds Gillian.
"I always feel that Rob is able to capture real people," says Hugh. "Even in deep, dark situations, there is real humour."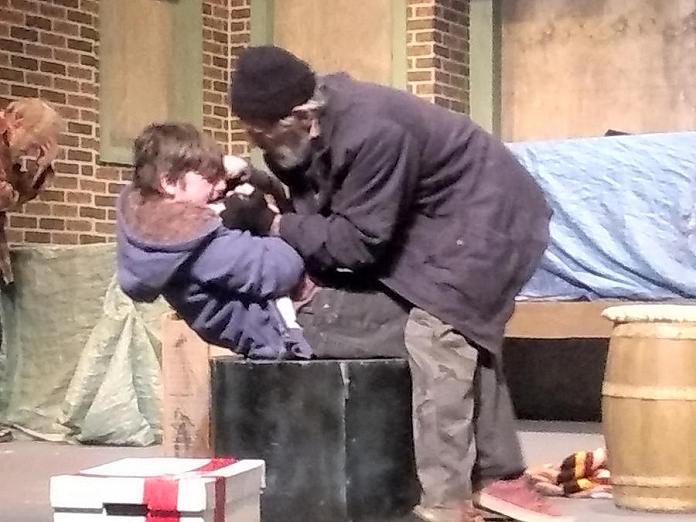 Although the plight of the frozen turkey is the element that ties the story together, Frozen Dreams is really about the connections between the characters who inhabit Sam and Harry's alley. Those relationships are the emotional element that keeps the audience engaged and the show so human.
"Even though the show is about the homeless, really it's just about people," Rob says. "And all of their relationships and demons and the things that have gone on in their lives that shape them to where they are now."
While the three men are widely different in nature, Jack, Keith, and Tyrnan form a strong bond on stage as Sam, Harry, and Rainman. They look out for one another and take care of one another. Although Sam and Rainman's relationship is the dominant one in the play, Sam's comradery with Harry brings a spirit of friendship to the stage.
"There is a lovely friendship between Sam and Harry," Jack points out. "They've been supporting each other for years. They are very much like The Odd Couple."
Advertisement - story continues below
Meanwhile, sparks fly between Jack and Sheila who have a playful antagonistic relationship as Sam and Ginny.
"Ginny and Sam have a rapport," Sheila explains. "They do go back and forth, but they have heated discussions, especially in regards to the welfare of Andrew. Ginny has her own frailties but, through what happens with the interactions with Andrew, she comes to realize that she has to deal with her own issues. Sam helps her come to that better understanding."
All the characters look out for Mad Lilly, who, in returns, takes care of them. Reprising their roles as Sam and Lilly, Jack and Gillian bring a lot of warmth to their characters.
"Sam and Lily have an incredible bond, almost like nephew and Aunt," Jack says. "There's a lot of love between them."
"A lot of psychology is going on in these characters," Tyrnan adds. "Ginny is scared to change her life in case she ends up on the street. Harry is scared of conflict, so he's always making a joke out of everything. Rainman is always trying to escape the moment. The cop has a bit more fear than all of us."
Although Hugh's part as the cop is small, as Rob points out, it's one of the most important roles in the play, because it is a representation of the fear and attitudes of people who don't live on the street.
"The cop is there as a reflection of the audience that is not homeless," Rob points out. "He's the one who says 'You've got to get off the street, there are plenty of shelters out there.' He's us, looking at the homeless and watching."
A well-written and compelling drama filled with moments of finely crafted humour, eloquently created characters, and tons of heart and compassion, Frozen Dreams is more than just a play about people who are homeless. It's a show about friendship, acceptance of others despite their backgrounds or situations, and it creates a deep sense of community as the characters care for and support one another.
Frozen Dreams brings to the stage a story as real as the photo that inspired it almost two decades ago, reminding us of the humanity that is in danger of being overlooked as Peterborough goes through its own homelessness crisis.
"I remember telling someone about the show when we were originally doing it and they said 'I don't want to feel guilty about the homeless around Christmas time,'" Rob recalls. "Well, this play isn't about feeling guilty. It's funny at times, but it still gets the message across. It doesn't have to be this heart-wrenching story that makes you feel guilty. It's just about people."
Frozen Dreams opens on Friday, February 21st and runs until Saturday, March 7th. Performances begin at 8 p.m., with 2 p.m. Sunday matinees on February 23rd and March 1st. Tickets are $25 ($22 for seniors and $15 for students) and are available by calling the box office at 705-745-4211 (if not open leave a message) or online at theatreguild.org.