Hours after an unrelated incident on Tuesday (February 18) resulted in a hold and secure at two public schools in Omemee, an 18-year-old man was shot and killed at an apartment building in the town's downtown area.
Shortly after 1 p.m., members of the City of Kawartha Lakes Ontario Provincial Police (OPP) and emergency crews responded to assist a person suffering a gunshot wound at 36 King Street East in Omemee, a small apartment building located across from Omemee Foodland.
Kawartha Lakes Paramedic Services transported the victim to an area hospital where he succumbed to his injuries. Police have identified the victim as 18-year-old Alexander Tobin of Omemee.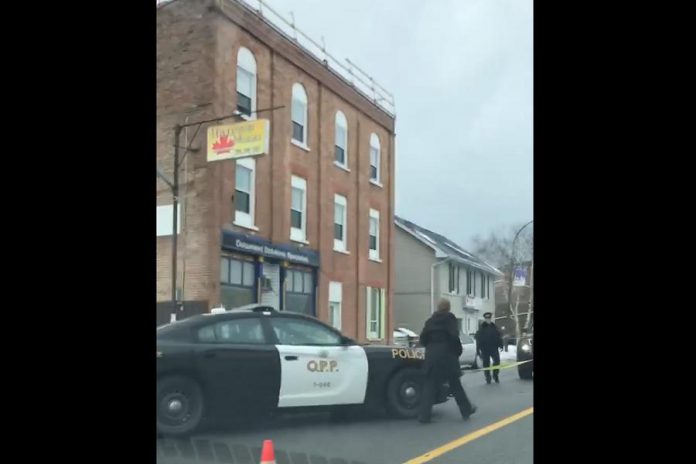 After witnesses provided descriptions of the suspects in the shooting, police quickly located and arrested them.
On Wednesday (February 19), City of Kawartha Lakes OPP identified the alleged shooters as 23-year-old Aaron Simmonds and 18-year-old Zachary Simmonds, both of Bethany.
They have been charged with second-degree murder. The accused men appeared at the Ontario Court of Justice in Lindsay on Wednesday and have been remanded until Thursday, February 27th.
After the Tuesday afternoon shooting, police assured the community there is no connection between the incident and an earlier incident on Tuesday morning that resulted in Scott Young Public School and Lady Eaton Public School being placed in a hold and secure situation. In that situation, students had reported hearing gunshots in the area. Kawartha Lakes OPP investigated that report, found it to be unsubstantiated, and the hold and secure was lifted.
Following the afternoon shooting incident, the two schools were again placed in a hold and secure as a precaution while police investigated the shooting. The second hold and secure was lifted around 2:50 p.m.
The homicide investigation remains ongoing under the direction of the OPP's Criminal Investigation Branch. Further information will be released as it becomes available.
Investigators are requesting persons who may have witnessed this incident to contact Kawartha Lakes OPP at 1-888-310-1122 or Crime Stoppers at 1-800-222-TIPS or online at kh.crimestoppersweb.com.
Following Tobin's death, Rebecca Watson launched a GoFundMe campaign to help his family with the cost of his funeral and other expenses.
On the campaign page at gofundme.com/f/loss-of-a-young-man-alex-tobin, she writes "Today is a very sad day Amy Rogers and her two sons lost their beloved Alex Tobin at the age of 18. This family is broken."
As of Wednesday (February 19) at 1 p.m., $2,075 has been raised of the campaign's $5,000 goal.