Sitting over a pancake breakfast at a Queen West vegan restaurant in Toronto, actress Star Slade is telling me about her dog.
"My dog's name is Luna, but I didn't name her after my character," says Star, who plays Luna Spence on CBC's hit investigative drama Burden of Truth. "Her name was Luna before I even adopted her. Ever since I was a little kid, I wanted a big dog named Luna, so when I saw her and learned her name was Luna I knew she was my dog."
"I just loved that name. I loved the moon and I wanted my name to be Luna, mainly because of the character from Harry Potter. So it's pretty cool how it all turned out."
Advertisement - content continues below
The 20-year-old actress from Lindsay, Ontario, who now splits her time between Lindsay and Toronto, has been making her mark on the Canadian television scene as the younger half-sister of Burden of Truth's lead character Joanna Handley, played by Kristin Kreuk (who is also executive producer of the series).
Star has found a fan base among viewers for not only playing a character who is rebellious, outspoken, and strong willed, but who also simultaneously represents both the indigenous and LBGTQ+ communities. While TV has brought her fast success, Star also appears in the independent film Castle in the Ground, which made its debut last fall at the Toronto International Film Festival (TIFF).
Bright, passionate, and talented, Star is one of the exciting young performers making up the new landscape of Canadian entertainment. But it was only five years ago that she went on stage for the first time at Lindsay Little Theatre. Already an accomplished ballet dancer with an interest in art and writing, it was a text message from her best friend and future Burden of Truth co-star Anwen O'Driscoll that got her on stage.
VIDEO: Star Slade as Luna Spence in season two of Burden of Truth

"I started acting at Lindsay Little Theatre when I was fifteen," Star recalls. "I heard of it because Anwen messaged me and told me that her mom wrote this play called Forgotten and that she thought I'd have a lot of fun in it. I never auditioned before. I wouldn't say that I never had any interest in acting at that time, but it had never come up in my life that I could do this. Then I auditioned and got cast, and that's when I really understood how much I love acting."
After a few years of performing on stage and screen, including an appearance in the popular Jason Momoa series Frontier and starring in the educational children's web series Emerald Code, Star scored the key role of Luna in Burden of Truth.
One of the highest-rated shows for CBC, Burden of Truth is currently in its third season in Canada, and has a solid cult following in the United States where it appears on The CW Network — where Burden of Truth star Kristen Kruek originally found fame as Lana Lange in the long-running comic book inspired series Smallville.
Advertisement - content continues below
"Kristen is a good mentor," Star says. "She's a good person. She has so much knowledge about acting and the industry. She's been doing it since she was my age and never stopped, and stayed grounded through it all. She is a big inspiration."
"I realized our show was successful was when we got picked up for a second season," Star says of Burden of Truth. "That meant we had both a viewership and strong ratings. People wanted to see more. So when I found out that we got picked up for another season, I was really excited."
Although she was a popular supporting character in the first season, Star didn't realize as filming began for the second season that she would become central to the show's main storyline, when her character would be wrongly accused and convicted for a murder she did not commit — leading her to spend much of the season behind bars.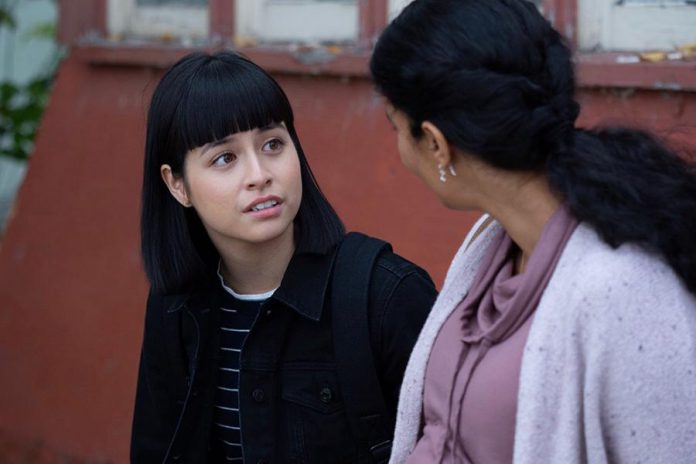 "I didn't know anything about season two going into it," Star tells. "You get it script by script, and it's filmed in blocks. So eventually I realized I was in it a lot … and I'm going to prison! To be able to sink your teeth into that kind of material was so exciting."
Currently halfway through the third season of Burden of Truth, which airs on CBC on Wednesdays at 8 p.m. and can be streamed online at gem.cbc.ca, Star's character has been continuing to deal with the events of season two in a realistic way.
"Luna has been out of prison for a year and has a second lease on life," explains Star. "But what she's not dealing with is how she went to prison and how that affected her. A lot of her trauma is coming out in new ways she doesn't always understand."
Advertisement - content continues below
Meanwhile, the overall plot running through Burden of Truth deals with corruption within the child welfare system, which reflects stories ripped from today's headlines.
"It's a very relevant topic, but it's difficult," Star observes. "Our whole season is talking about something that isn't talked about a lot. When I heard this season was going to be about the child welfare system, I was apprehensive going into it and I wanted to make sure they were going to be truthful telling that story. I think the writers have done an amazing job so far in presenting it. At the end of the day our writers are dedicated to telling the most honest story. They're passionate about their work and I think it shows."
Burden of Truth is also noteworthy for its strong storylines involving indigenous issues, and by putting indigenous actors — such as Star and her co-stars Meegwun Fairbrother and Jessica Matten — at the forefront of the series.
"Representation in media is so important, especially in regards to the next generation," Star says. "Growing up, I didn't see many indigenous people in the media. But while I didn't spend much time wondering why there weren't any people who looked like me, it definitely impacted me. I remember just feeling that I was or looked like something else. Even when I was introduced to acting, I didn't know if I should be doing it. Obviously it worked out."
"But I'm always thinking about how I can be a good role model for young indigenous people. There are so many responsibilities you have as a young actor who has a following, so I always try to make decisions that will make a positive impact on youth."
Not only is Star visible as an indigenous actress on television, but she also plays a lesbian character, which has connected her to the LGBTQ+ audience in a strong and positive way.
"I've heard from a lot of LGBTQ+ people in messages and letters," Star says. "In particular, I have heard from indigenous gay people who feel like they've never been represented in an important way. I think what's important on Burden with my character is that she's written as a human first and she just happens to be gay. She just also happens to be indigenous."
"Luna is not written as a token indigenous gay person. She's just who she is, and I think that's so important. I appreciate it and I really aligned with it in the writing."
Advertisement - content continues below
However, while representation is important, Star points out it shouldn't be the merit that defines her work.
"While it's important to be heard and seen, I think it can be dangerous too," she notes. "It's great to be acknowledged as an indigenous actress, but I think it's more important that the work and the love it puts out speaks for itself. At the end of the day we want the work to be the most important thing."
With her successful television career in place, Star's expansion to movies was the next logical move in her career. In early 2019, Star worked on director/writer Joey Kline's film Castle in the Ground, starring Alex Wolff, Imogen Poots, and Neve Campbell. A drama focusing on Sudbury's opioid crisis, the film made its debut at TIFF last fall where it received a nomination for Best Canadian Feature Film.
Although tight lipped on information about distribution, Star does reveal that the film will be appearing at the South By Southwest Festival in Austin, Texas later in 2020.
Her first time acting in a film (she appears as the character Rachel), it was an experience that Star loved.
"It was great, but I especially loved how I felt on the set compared to television," Star recalls. "The television I'm used to doing is such a well-oiled machine and everyone knows what they're doing. I loved the feeling of working on an indie movie — not that it was less structured, but there was more freedom to follow your impulses."
"I was really nervous at first though," she adds. "I wasn't brought onto set until they were almost done filming, and I felt like everyone knew each other and had already established the dynamics. I felt like I'd be a new energy coming on the set. But everyone was really nice and kind and excited about the work."
Beyond Burden of Truth and Castle in the Ground, Star will also be doing a guest appearance on an upcoming episode of CBC's legal drama Diggstown.
"I'm guest starring in an episode of Diggstown in March," Star sats, "I got to film in Halifax. It was my first time there and it was so beautiful in the summer."
With a blossoming career on television, and plans to focus on more film work, Star has found her way far beyond her roots on the Lindsay Little Theatre stage and onto the Canadian entertainment landscape — which means getting recognized by fans and signing autographs.
"It's cool, and it's funny, and it's kind of weird," Star says. "I'm kind of thrown off when I get recognized. It's a weird thing, but it's a compliment for the show. But it's still weird. I don't know them personally, but the public knows me through a personal way through a character. But as a whole it's a compliment to the hard work that we do."
For Star, the fame is secondary to her passion for acting.
"I really love acting, exploring and understanding and questioning and feeling," Star says. "It's never boring, and there is so much more you can do with a character or a script. Just getting to perform and be present and honest is the greatest."