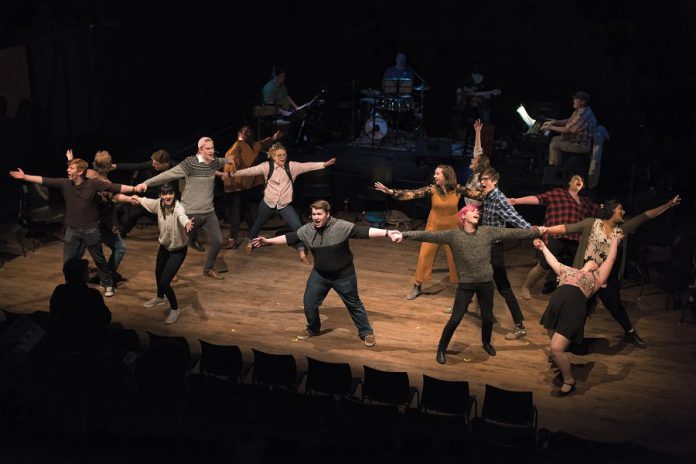 COVID-19 UPDATE – Market Hall Performing Arts Centre will be closed until Monday, March 30th in compliance with Ontario's chief medical officer suggesting the immediate suspension of all gatherings over 250 people because of the ongoing COVID-19 pandemic. This means there will be no performances of The Theory of Relativity after the opening night show on Friday, March 13th.
Starting on Friday, March 13th, the Anne Shirley Theatre Company (ASTC) returns to Market Hall Performing Arts Centre in downtown Peterborough with Neil Bartram and Brian Hill's song cycle The Theory of Relativity.
Directed by Brandon Remmelgas and featuring 15 students from Trent University, The Theory of Relativity is not a traditional linear musical, but instead a song cycle that celebrates relationships and all the ways we connect with the people that make up our world.
The Theory of Relativity found its origins at Sheridan College in Toronto when the institution commissioned Neil Bartram and Brian Hill, who had previous Broadway success with The Story of My Life, to write a musical especially for college-aged students.
The team interviewed a cross-section of students to see what it is they think about and, instead of politics and social issues, the writers discovered the common factor students spoke about was their relationships — family, friends, romantic partners, and even pets.
Collecting these stories together, Bartram and Hill wrote a collective of songs that embody the loves, fears, anxieties, and joys of these varied relationships and crafted them into The Theory of Relativity, which saw its first staged performance at Sheridan College in 2012.
Advertisement - content continues below
The Theory of Relativity is not a musical with a traditional plot, but is instead a cycle of songs in which each musical number tells its own separate story, with only the loosest ties pulling the performers all together. The premise is that 15 college students are writing a physics exam whose first question is: "If person A's position is seven miles from person B, and person A is walking at a speed of four miles an hour, and person B is walking a speed of five miles an hour, at a 45 degree angle to the path of person A, how long until those people meet?"
The question launches the performers into their own individual vignettes where each of them share their story about a person or an event that has made an impact in their life. The themes range drastically, from heartfelt to funny, but all celebrate the human experience and the powerful way personal connections impact our lives.
In The Theory of Relativity, Brandon and his company have created something very special. Building off of last year's stellar production of Cabaret, ASTC picked something refreshingly different from their traditional musicals. It's a show that packs a powerful emotional punch, but manages to stay light, joyful, and extremely relatable.
Each of the musical numbers brings its own drama to the stage, with only a small handful of songs looping around to relate to one another. The result is a number of different mini-dramas, each engaging in its own unique way, with all the cast members contributing to make The Theory of Relativity a showcase of collective talent, rather than a show divided by stars and supporting characters.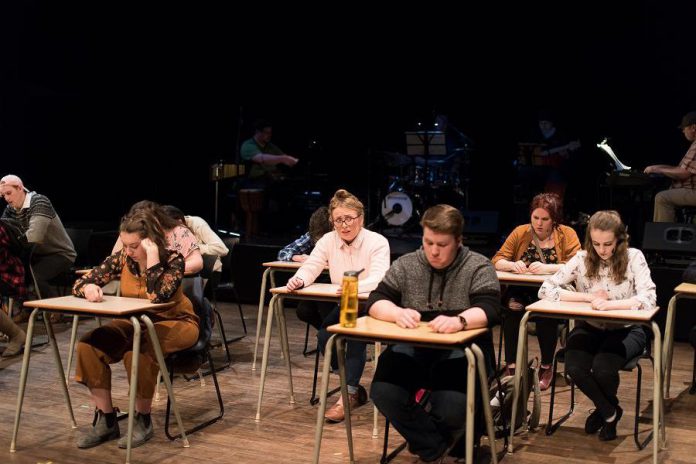 Some of the performance highlights include:
Kathryn Marsh and Carly Evans who, in the song "The End of the Line", tell the story of Jenny and Sarah who were supposed to be "friends to the end" but found the balance of their friendship flipped around in college;
Dheepthi Gnaneswaran and Edward Sweeney as two people from radically different backgrounds who discover similar family pressures in "Great Expectations";
Elias Trivett and Daze Francis who find an honest and perfect love with "Apples and Oranges";
Jenna Milner who, in a recurring spoken word piece titled "Cake", plays a germaphobe terrified to eat a cake her boyfriend made for her;
Blair Waller as a nervous physics major trying to figure out the theorem of romance in "Pi";
Mackenzie Phillips who sings about an abusive relationship in the sultry torch number "Ricky and Me"; and,
and Drew Mills as a boy who confesses about his difficult relationship with feline friends in "I'm Allergic to Cats".
While the majority of the songs are light-hearted, there are a few beautiful show-stopping numbers that turn your insides out with emotion.
Joseph Roper performs a heartfelt number called "Footprints", about visits home and the sudden changes that happen in the background of your existence while you are too busy living your life somewhere else to notice, and Kalene Lupton in a song about one girl's hard upbringing and the beautiful relationship with her mother.
These two moments are among the most sensitive moments of the show that makes it radiate with emotion.
Advertisement - content continues below
What makes The Theory of Relativity a winner is the fact that everyone can relate to something in this show.
My school days are decades behind me, but I found myself connecting to songs, characters, and themes continuously through the play, most strongly with one man's emotional insecurity in "You Will Never Know" sung by Josiah Sharpe and, for better or for worse, Aurora Baker's number "Julie's Song" (I unashamedly related to Julie's joy).
I want to give a special shout out to Amy Graves for her end-of-show monologue "Manicure", in which she was funny, captivating, and heartwarming while cleverly tying all the loose threads together. It was a wonderful coda to the show.
Further praise go to musical director Justin Hiscox and his band made up of Sam Quinn, Nick Gilroy, and Mark Hiscox, who keep the music flowing through this 90-minute one-act presentation. The musical direction is phenomenal, as seen within the chorus numbers. In all honesty, I had goosebumps before the end of the opening number — they honestly already had me before the show had barely begun.
The most remarkable thing about The Theory of Relativity is the way it made me feel after seeing it. It's a show that made me think about all the people in my life, and it filled me with love for those who have made an impact in my life. It made me call my mother, hug my cats, and text friends long into the night. It had me reaching out to people just to let them know I love them. It made me thankful for the people that make up my world. It's a show that just made me feel.
Brandon Remmelgas and the members of ASTC have created something to be proud of. I only knew a few members of the cast from previous shows, and seeing a lot of new faces and hearing new voices is always exciting to see. Brandon informed me that many of the members of the cast are first-year Trent students. If this is the new talent that is coming into this group, then the next four years of ASTC should be extremely good.
Advertisement - content continues below
I'd also like to see Brandon direct more. I've seen him on stage many times, but this is the first time I've seen him at the helm of a show. He is very good director, able to collect a large cast of players and motivate them to bring beauty and sensitivity to the stage. I'd love to see what he can do next.
The Theory of Relativity is the type of musical that I love: small under-the-radar musicals with a continuous musical score. It's refreshingly optimistic and non-political and, with the tensions going on in our world, perhaps just the kind of show we need to calm our anxieties.
The Theory of Relativity runs for six performances on Friday, March 13th and Saturday, March 14th and Friday, March 20th and Saturday, March 21st. Shows start at 8 p.m., with additional 2 p.m. Saturday matinees.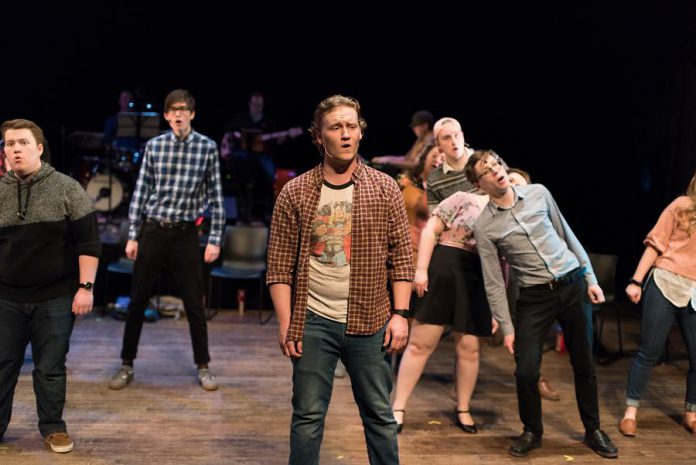 General admission tickets are $20 ($15 for students, seniors, and children), all fees included, and available in person at the box office at Market Hall Performing Arts Centre (140 Charlotte St., Peterborough), by phone at 705-749-1146, or online at markethall.org. Tickets can also be purchased from the Trent Central Student Association (TCSA) office.