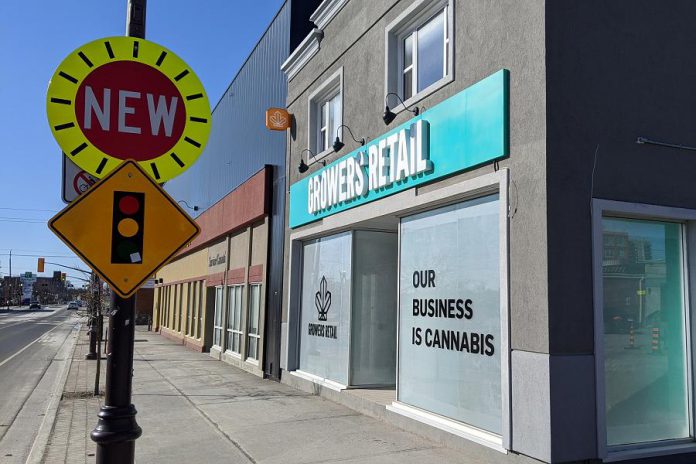 It's not an April Fool's prank: Growers Retail, Peterborough's first legal cannabis retailer, will finally open its doors to the public on Wednesday (April 1).
Located at 225 George Street North in downtown Peterborough (across the street from No Frills), the store will operate from 11 a.m. to 7 p.m.
The store, owned by parent company Huge Shops, was originally approved by the Alcohol and Gaming Commission of Ontario (AGCO) to be located beside the Coffee Time in the Fowlers Corners plaza on Highway 7. However, after municipal zoning issues prohibited the store from opening at that location, Huge Shops reapplied for a cannabis retail store authorization at the downtown Peterborough location. AGCO has authorized the new location.
The Peterborough Examiner reports the store will carry as many as 97 products, including as many as 40 strains of cannabis. There will be a range of cannabis products and accessories, including dried flower, edibles, vaping and topical products, papers, pipes, and bongs.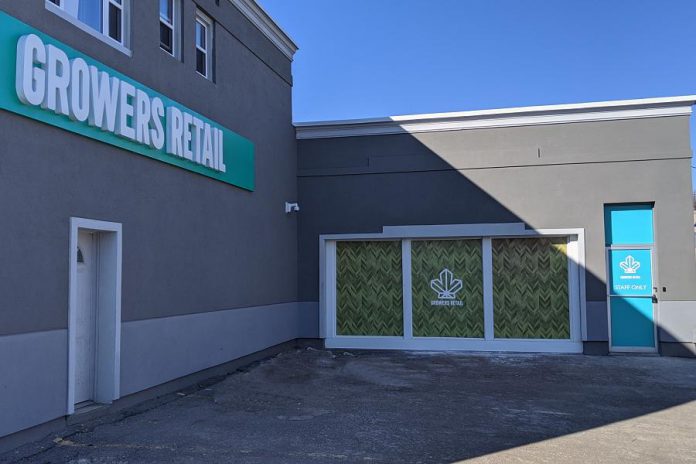 The store will employ 20 staff, who have been trained as "budtenders" to be able to explain products to customers.
Although legal cannabis retailers have been deemed by the Ontario government as essential workplaces during the COVID-19 pandemic, opening the store during the pandemic presents special challenges.
"COVID is definitely the big hurdle for us to get over," Darryl Jessop, vice-president of Huge Shops, tells The Examiner. "Just to make sure when we opened it was done in such a way that it was done safely, ethically, and morally."
Another company, Happy Dayz Peterborough, has also applied for a cannabis retail store authorization for its current location at 291 George Street North in downtown Peterborough. The application is currently in public notice status.