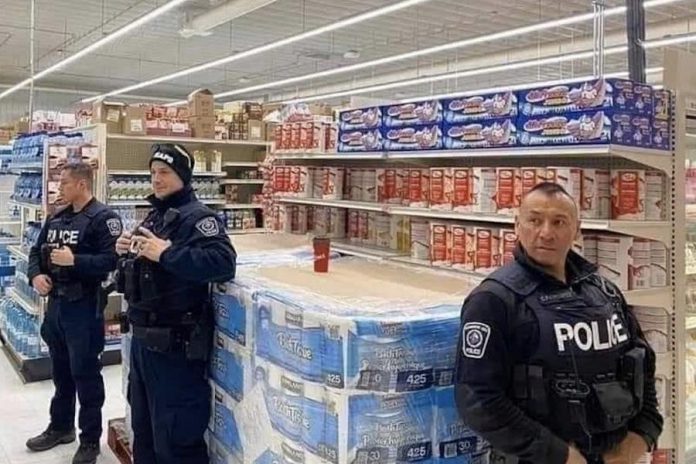 kawarthaNOW has learned from a source in the federal government that proposed legislation will be announced on Wednesday (April 1) authorizing the RCMP to create a new special unit to prevent Canadians from hoarding toilet paper.
Called the Protection Of Our Paper (POOP) Act, the new legislation establishes federal offences for toilet paper hoarding. If the bill passes, Canada's national police service would work alongside local police forces to enforce the legislation.
kawarthaNOW plied its source to get to the bottom of the government's plan, but there are few details on when the new offences will roll out.
"Our first priority was to get the legislation tabled," the source explains. "Our number two priority is writing the regulations. It's been a lot of paperwork. We're all wiped and about to crack up."
The source did say the RCMP's new POOP patrol would be responsible for ensuring all Canadians have continued access to toilet paper, both now and in times of uncertainty in the future.
In areas of the U.S., the shortage of toilet paper has seen some people fighting in store aisles, with some even resorting to calling 9-1-1.
"Obviously local police don't have the resources to prevent toilet paper hoarding," the source says. "That's what the POOP patrol will do, taking some of the built-up pressure off local police."
"The new POOP law isn't intended to dump on all Canadians, just those who are being really crappy citizens by hoarding toilet paper."
One of the offences being considered in the new legislation is for possession of more than 24 rolls of toilet paper at a time, with a $100 base fine plus an additional $5 fine for every roll over the maximum. Another offence includes falling for an April Fool's joke, which is what this is.
We at kawarthaNOW are taking the COVID-19 pandemic very seriously, but we felt a chuckle was needed on April Fool's Day. Please don't ream us out for trying to make our readers laugh during these difficult times. Hopefully, every Canadian is getting the toilet paper they need. All joking aside, please follow the actual laws and the advice of public health officials during the pandemic — and support our front-line workers by staying home and staying healthy.