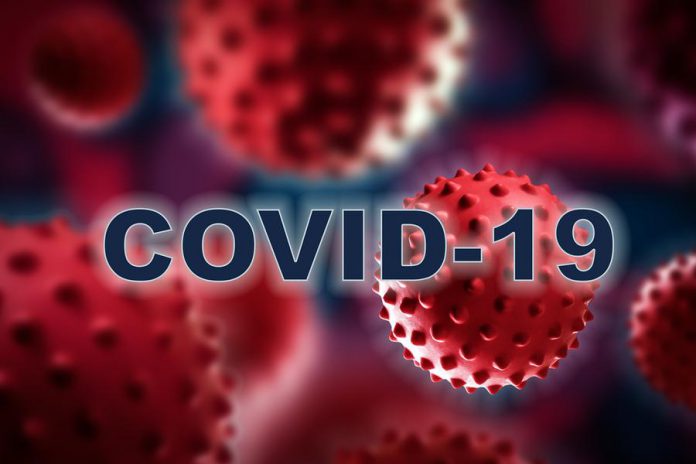 Ontario is projecting between 3,000 and 15,000 deaths over the next two years, based on modelling projections for the spread of COVID-19 in Ontario.
Dr. Peter Donnelly, president and CEO of Public Health Ontario, led a technical briefing for the media on Friday (April 3) to explain the models. Matthew Anderson, president and CEO of Ontario Health, and Steini Brown, dean of the University of Toronto's public health department, also participated.
Donnelly says the modelling projections are based on Ontario doing everything it can to contain COVID-19 over the projected length of the pandemic, which is between 18 months and two years.
"We can change the outcome for the province by staying home and physically distancing from one another," Donnelly said. "We need everyone to stay focused in the weeks ahead."
He said that, if Ontario had done nothing, the number of deaths would have been as high as 100,000.
The range of 3,000 and 15,000 deaths depends on whether stricter public health measures can be implemented.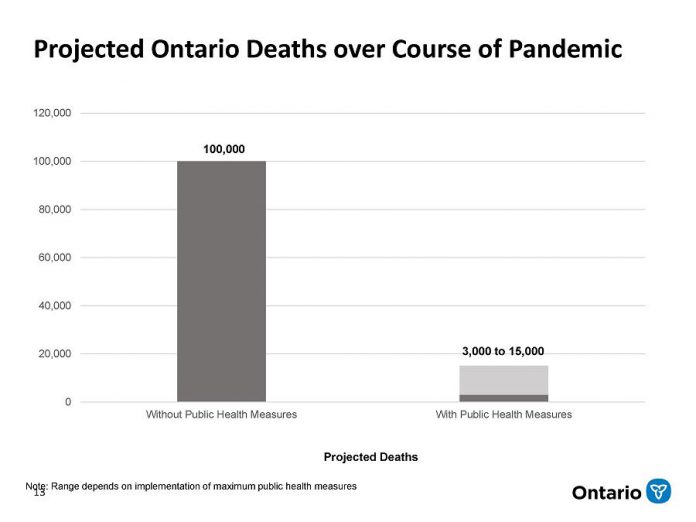 As of Thursday (April 2), the official count of COVID-19 deaths in Ontario is 67. Donnelly said the mortality rate from COVID-19 in Ontario is 16 per cent in those over the age of 80, compared to 20 per cent globally.
Around 1,350 Ontarians die every year from seasonal influenza, Donnelly pointed out. However, the mortality rate from COVID-19 is 10 times higher than the seasonal flu since there is no vaccine and no treatment so far.
Based on modelling, Ontario will have 1,600 deaths from COVID-19 by the end of April, but that could be as low as 200 if all residents follow public health guidelines. Without any intervention, the death count would have been 6,000 by the end of April.
Ontario is also projected to have 80,000 positive COVID-19 cases by the end of April based on current intervention measures, but it could be reduced to 12,500 cases if stricter measures are implemented. Without any intervention at all, the number of positive cases would have been as high as 300,000 in April.
A slide deck was presented during the media conference with details of the projections. You can download a PDF version.
"We need you to help us change the outcomes for Ontarians by staying at home and physically distancing," the deck reads. "Our public health measures so far have made a difference and we need everyone to stay focused on these: stay home, stop the spread, stay safe."
Future additional public health measures could reduce both the number of COVID-19 cases and related deaths. These include:
Reduce the number and types of essential workplaces.
Enhance focus on enforcement and fines for non-compliance.
Expand direction/guidance on physical distancing, including retail settings.
Enhanced support for elderly, homeless and other vulnerable populations and communities.
Consider entry restrictions in some communities including First Nations.
Human resource management (movement of health care workers between settings).
Use of technology to reinforce self-isolation (alerts).
Additional public education and communication (shelter in place with limited exceptions).
The slide deck also provided a best and worst case scenario for Ontario's capacity of intensive care unit (ICU) beds. Currently, 410 additional ICU beds are available for COVID-19 patients, in addition to those beds already filled by COVID-19 patients. An expansion of another 900 ICU beds is already planned for additional COVID-19 patients.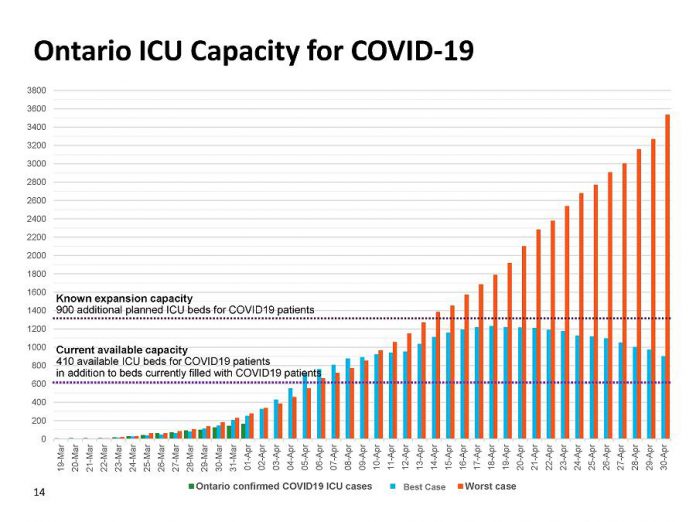 In the best case scenario, where the curve is flattened, these 900 additional beds would be enough to treat COVID-19 patients requiring an ICU bed during the month of April and beyond. However, in the worst case scenario, where the curve is not flattened, the ICU beds would be filled by April 15th and, by April 30th, there would be a shortage of 2,200 ICU beds.