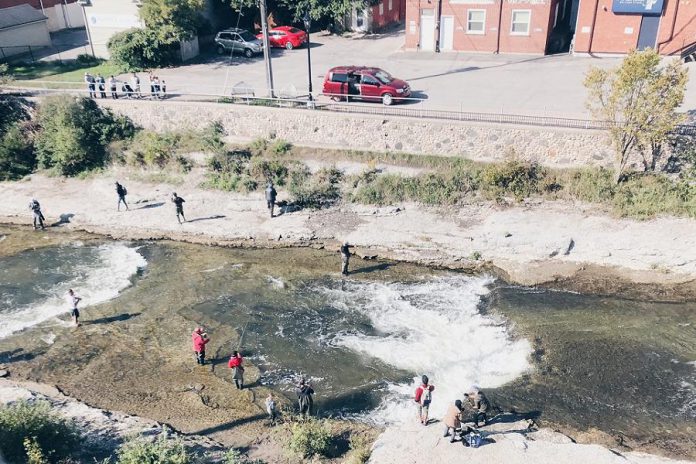 If you were planning to head to the Ganaraska River in Port Hope for the opening of the trout fishing season on Saturday (April 25), you'll need to change your plans.
Because of the COVID-19 pandemic, the Municipality of Port Hope has closed all municipal lands and parks bordering the Ganaraska River, and the Ganaraska Region Conservation Authority (GRCA) has closed all of its properties that border the river. The closures remain in effect until May 12th as per the Ontario government's emergency orders.
The annual opening of the spring trout fishing season attracts hundreds of anglers to Port Hope to fish the "Ganny". The river is one of Ontario's most popular fishing destinations, with a steelhead and rainbow trout run in the spring and a chinook salmon run in the late summer and early fall.
As most of the upper river is located on private property, anglers usually access the river from properties owned by the municipality and the GRCA.
Advertisement - story continues below
According to a media release from Port Hope, municipal council and staff have received many emails throughout March and April, both from tourists asking where they can fish on the Ganaraska River and from residents concerned about a large influx of anglers to the community during a period where the Ontario government has ordered the closure of recreational activities and limited gatherings to five or fewer people.
However, the Ontario Ministry of Natural Resources and Forestry, which regulates hunting and fishing in the province, has not postponed the opening of any of the seasons so far this year.
At its meeting on Tuesday, April 7th, Port Hope council authorized a request to the ministry to consider postponing or cancelling the April 25th opening of the trout fishing season, but has not received a response.
"Restricting access to the Ganaraska River was not council's ideal scenario, nor the first choice for the community," the media release from Port Hope reads. "The municipality does not have the ability to restrict or prohibit fishing, as this is regulated by the Province; however, it does have the ability to restrict access to municipal properties."
"After consultation with the GCRA, it was determined that the best way to limit the number of group gatherings along the river is to restrict all access to municipal and GRCA properties in this area."
A side effect of this decision is that the trail network is also closed.
"Given all of the other restrictions and closures in our community, this closure is understandably difficult," reads the media release. "The fencing and barricades are unsightly, and it is certainly disrupting routines. However, it was necessary to discourage non-essential travel to our municipality."
Other trails in the Port Hope area, including the waterfront trail and the Monkey Mountain trail network, remain open for public use as long as physical distancing directives are followed.