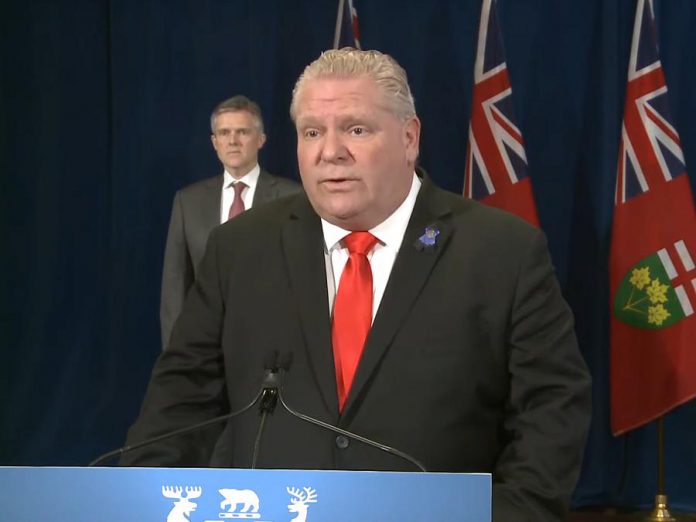 The Ontario government announced details on Friday (April 24) of a new federal-provincial program to provide rent relief for commercial property landlords and tenants affected by the COVID-19 outbreak.
The new Ontario-Canada Emergency Commercial Rent Assistance Program (OCECRA) will provide forgivable loans to eligible commercial property owners who are unable to collect rent from their small business tenants.
The program will cost $900 million, with $241 million coming from the province.
Advertisement - story continues below
"The vast majority of Ontario's small businesses and landlords are struggling during this extraordinary public health emergency," said Premier Doug Ford. "I want to thank the federal government for partnering with us to help our small businesses and commercial landlords."
Under the program, small business tenants and landlords would each be asked to pay 25 per cent of before-profit rental costs, with the federal and provincial governments covering the remaining 50 per cent (with the federal government's portion 37.5 per cent and the provincial government's portion 12.5 per cent).
For example, if the before-profit monthly rent for a small business is $10,000, the landlord would forgive $2,500, the small business would pay $2,500, the federal government would cover $3,750, and the province would cover $1,250.
"By subsidizing rent payments, reducing taxes, extending deadlines, and eliminating penalties and interest, we're helping to ensure businesses can start up quickly when the time is right," said Minister of Finance Rod Phillips.
To receive the 50 per cent forgivable loan, property owners would be required to forego profits on rent (only fixed costs) and to reduce the rental costs for small business tenants by at least 75 per cent from April to June 2020 (25 per cent for each month) and commit to a moratorium on evictions for three months.
Commercial properties with a residential component, and residential mixed-use properties with a 30 per cent commercial component, would be equally eligible for support with respect to their commercial tenants.
To be eligible under OCECRA, a small business tenant would have to be a non-essential business that pays no more than $50,000 in gross rent payments and has temporarily closed or has experienced a 70 per cent drop in revenues due to COVID-19.
Not-for-profit organizations and charitable entities would also be considered for the program.
OCECRA would be administered by the Canada Mortgage and Housing Corporation and would be available until September 30, 2020. Support would be retroactive to April 1st, covering April, May, and June 2020.
Premier Ford also announced he would be asking the federal government to work with Ontario on a program to support residential tenants, and said the Ontario government would be releasing a framework early next week for reopening Ontario's economy in a gradual and measured approach.