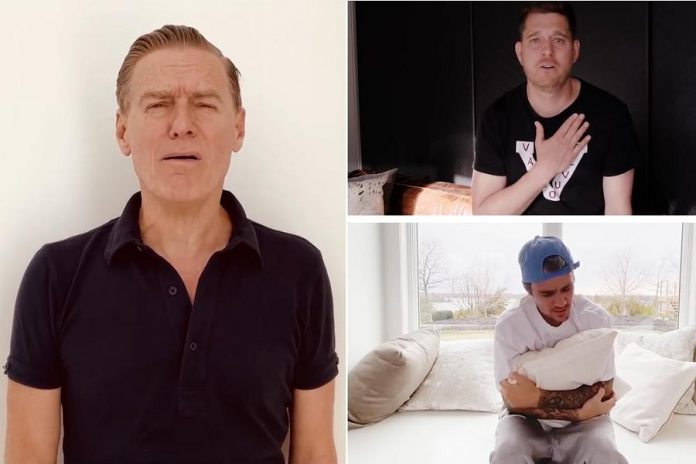 When American singer-songwriter and musician Bill Withers passed away from heart disease on March 30th, there was a resurgence of interest in his iconic 1972 hit song "Lean on Me".
On Sunday night (April 26), a collective of Canadian musicians released a rousing version of the tune at the end of the Stronger Together, Tous Ensemble television special and livestream supporting front-line health care workers and raising funds for Food Banks Canada.
The sing-along features a roster of Canadian music royalty, including Avril Lavigne, Bad Child, Buffy Sainte-Marie, Bryan Adams, Command Sisters, Dan Kanter, Desiire, Donovan Woods, Fefe Dobson, Geddy Lee, Jann Arden, Johnny Orlando, Josh Ramsay, Justin Bieber, Michael Bublé, Olivia Lunny, Ryland James, Sarah McLachlan, Scott Helman, Serena Ryder, Shawn Hook, TIKA, The Tenors, Tyler Shaw, and Walk Off The Earth.
VIDEO: "Lean on Me" by Bill Withers performed by ArtistsCAN

Also appearing in the video are Alicia Moffet, Cailli and Sam Beckerman, Chloe Wilde, Chris Boucher, David Suzuki, Drew Scott, Fred Penner, George Stroumboulopoulos, Hayley Wickenheiser, Jason Priestley, Prime Minister Justin Trudeau, Kayla Diamond, Kelsi Mayne, Liz Trinnear, Loud Luxury, Lyriq Bent, Maripier Morin, Pearl & Daisy Wenjack, Russell Peters, Sara Diamond, Scott McGillivray, Sharon and Bram, Shaun Majumder, Shay Mitchell, Shenae Grimes, Soska Sisters, Spencer West, Steve Yzerman, Tom Jackson, Trailer Park Boys, and Tyrone Edwards.
The idea was the brainchild of Toronto-based singer-songwriter Tyler Shaw who, with help from his friend and musician Fefe Dobson, gathered 25 musicians from across the country to perform the song as the collective ArtistsCAN.
All proceeds from the song, which has been released as a single on all major streaming platforms, will go directly to The Canadian Red Cross to fight COVID-19 in Canada.
Advertisement - story continues below
Produced by Jon Levine (Canadian record producer, songwriter, and former keyboardist and songwriter for The Philosopher Kings), the song was mixed by Jason Dufour (July Talk, The Trews) with the video directed by The Young Astronauts.
For more information and to make a donation, visit artistscan.com.