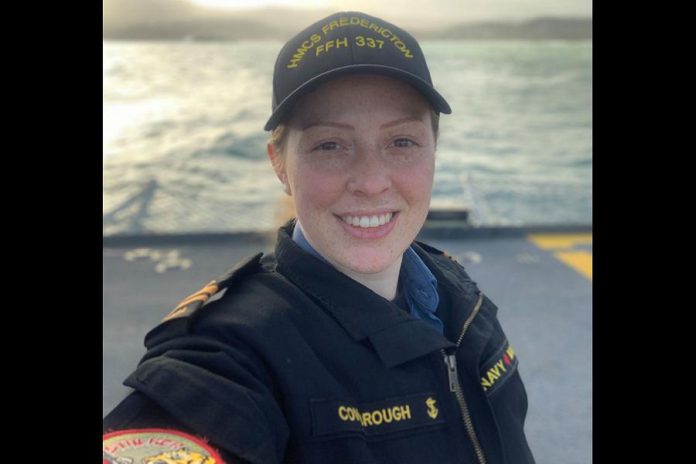 Sub-Lieutenant Abbigail Cowbrough, a former member and piper with the 534 Raider Squadron of the Royal Canadian Air Cadets in Peterborough, is the first victim to be identified in the crash of a Canadian military helicopter in the Mediterranean Sea late on Wednesday (April 29).
A crew member of the Halifax-class frigate HMCS Fredericton, she was killed when the Sikorsky CH-148 Cyclone helicopter crashed into the Ionian Sea between Greece and Italy, about 80 kilometres off the Greek resort island of Cephalonia, during a NATO training exercise.
The family of the Nova Scotia woman confirmed Cowbrough's death on social media on Thursday (April 30).
"My beautiful daughter has been in a military accident and passed away," wrote Tanya Cowbrough, of Eastern Passage in Nova Scotia, on Facebook. "She will no longer pipe her songs to all those that love her. The very beating no fluttering of my heart has stopped. Nothing can replace her."
"I am broken and gutted," wrote her father Shane Cowbrough on Facebook. "There are no words. You made me forever proud. I will love you always, and miss you in every moment. You are the bright light in my life taken far too soon."
Originally from Toronto, Cowbrough graduated from the Royal Military College of Canada in 2018 with a Bachelor of Science in computer science and served in the Canadian Armed Forces as a maritime systems engineering officer.
VIDEO: Abbigail Cowbrough piping "Amazing Grace" on April 24, 2020
You can travel the world, and still never meet anyone like an East Coaster. Glad to have been taken in by them, for I'd have it no other way ??

Cowbrough was an active member of Regal Heights Baptist Church in Dartmouth, which also confirmed her death on social media.

To everyone back home, thinking of you ??
#NSstrong

Posted by Abbigail Cowbrough on Friday, April 24, 2020
"Our church family has lost a wonderful woman," the church wrote on Facebook. "Our prayers are with her family, and all those who have lost a loved one in this tragic accident. We will surround her family as we walk with them through this and we will keep you posted on ways you can help."
Cowbrough played her bagpipes at the church and often sent photos of herself to church members.
Following the deadly mass shooting in Nova Scotia on April 18th and 19th that claimed 22 victims, Cowbrough played "Amazing Grace" while on the deck of HMCS Fredericton and shared the video on Facebook last Friday (April 24).
Advertisement - story continues below
534 Raider Squadron has confirmed on Facebook that Cowbrough was a former member and bagpiper with the squadron.
The Canadian Armed Forces (CAF) says that it has contacted all primary family members of those who were on board.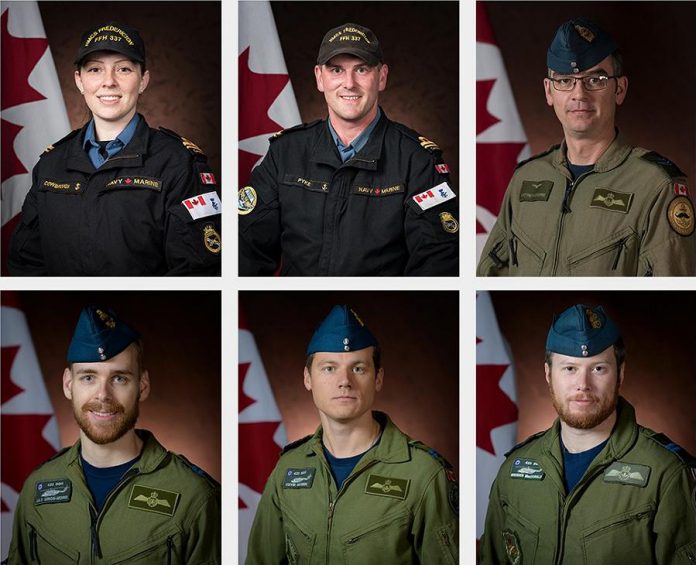 On Thursday (April 30), the Department of National Defence confirmed that Cowbrough was killed in the accident — her body has been recovered — and that five other crew members are missing:
Captain Brenden Ian MacDonald, Pilot, originally from New Glasgow, Nova Scotia
Captain Kevin Hagen, Pilot, originally from Nanaimo, British Columbia
Captain Maxime Miron-Morin, Air Combat Systems Officer, originally from Trois-Rivières, Québec
Sub-Lieutenant Matthew Pyke, Naval Warfare Officer, originally from Truro, Nova Scotia
Master Corporal Matthew Cousins, Airborne Electronic Sensor Operator, originally from Guelph, Ontario
HMCS Fredericton and NATO allies continue to search for the other five members of the helicopter's crew.
A GoFundMe campaign has been launched to raise funds from Cowbrough's classmates in the Royal Military College of Canada's class of 2018, as well as other ex-cadets and current cadets, to create a memorial for Cowbrough.
This story was updated to include the Department of National Defence's confirmation of Cowbrough's death and the identities of the missing crew members, and a crowdfunding campaign for a memorial for Cowbrough.