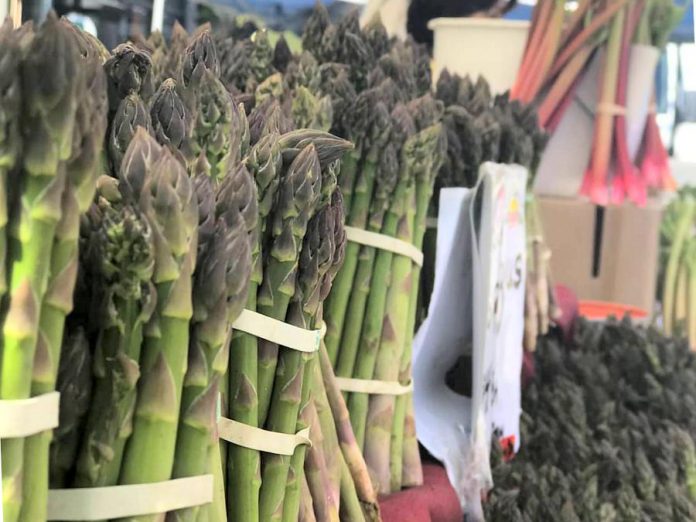 The Lakefield Farmers' Market is set to open on Thursday, May 21st.
The market will run from 9 a.m. to 1 p.m. every Thursday in the Lakefield arena parking lot beside Isabel Morris Park in Lakefield.
"During COVID-19, the market is adapting to ensure customer and vendor well-being, health, and safety under the guidance of Peterborough Public Health," says market manager Jenny Ross.
Advertisement - story continues below
The following measures required by Peterborough Public Health will be in place to ensure a safe shopping experience:
only one person per family will be permitted to shop
physical distancing requirements will be in place for vendors and purchasers
one-way customer traffic flow measures will be in place
the number of customers in the market area at any one time will be limited
there will be just one entry point for customers to the market area
hand sanitizer stations will be available
advance online ordering will be encouraged (information coming soon).
The Lakefield Farmers' Market has been a verified local market since it launched 10 years ago. Each agricultural vendor is verified under the MyPick program of Farmers' Market Ontario.
"During this difficult period, people are concerned about food security and one way to accomplish that is by supporting local producers at this market." says Jennie MacKenzie, board member and owner of The Lakefield Pantry.
Advertisement - story continues below
Here's a list of confirmed vendors at the market:
Cedar Grove Organic Farm – vegetables
Garden Hill Market – vegetables
Leahy Stock Farm -beef, pork
McLean Berry Farm – berries, vegetables, preserves, maple syrup
Pillitteri Estates Winery – VQA wine
Otonabee Apiary – honey and honey products
Yellow House Bees – honey and honey products
Wagner Maple Products – maple syrup and maple products
Sara's Plant Stand – vegetable seedlings and annual/perennial seedlings
Chaga Health and Wellness – chaga mushroom products
Belly of the Beast Craft Kombucha
Jam Cupboard – jams and jellies (starting June 4th)
Fenton Farms – chicken and prepared chicken sandwiches, beef burgers (starting June 25th)
La Mesita – Mexican Food (starting July 2nd)
Tipsy Willow Farm – lamb, pork, goat meat and duck eggs (starting July 2nd)
14th Line Flowers – cut flowers (starting mid-July)
For more information and updates, visit lakefieldfarmersmarket.net.
This story has been updated to include public health measures in place at the market and a list of confirmed vendors.