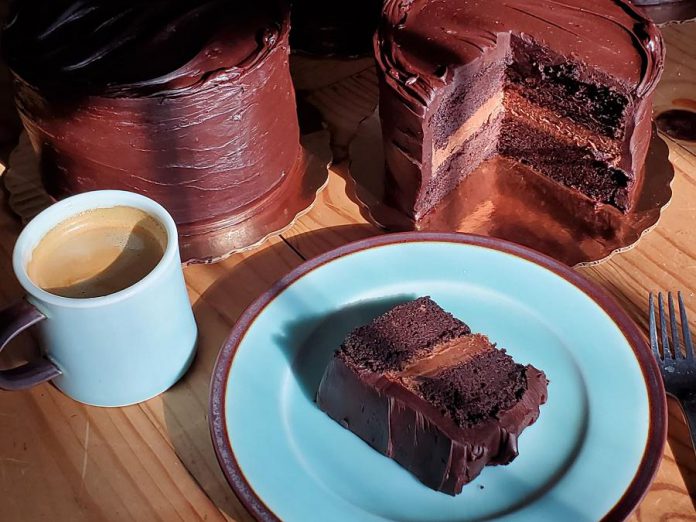 This month, food writer Eva Fisher rounds up some of the best locally made ways to treat yourself, discovers a farmers' black market for produce and artisan food, enjoys the walk up gelato window at Canoe Co. Café in downtown Peterborough, and binge watches Nourish Project's online cooking show (featuring an easy recipe for oatmeal cake with red apple sauce).
Advertisement - story continues below
Four decadent comfort foods to try in Peterborough now
Staying home has its ups and downs. If you're in need of a lift, here our four local restaurants and makers with some great options to treat yourself to go.
1. Backdoor Breaky from Rare (166 Brock Street, Peterborough, 705-742-3737)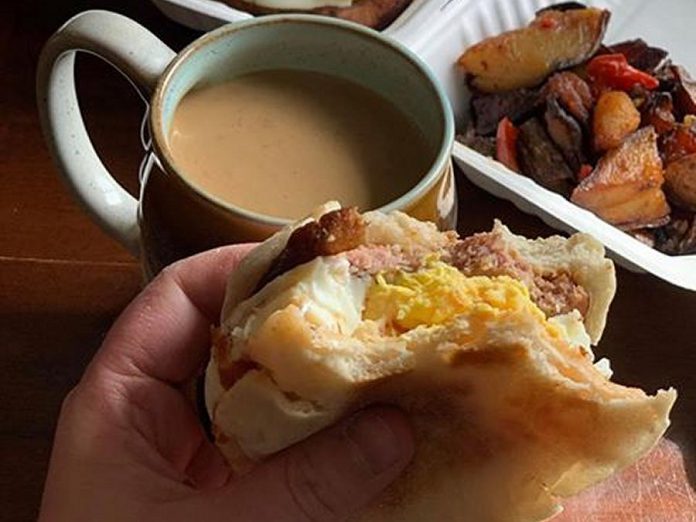 Normally, Rare isn't known as a breakfast restaurant, but recently they have begun to offer 'Backdoor Breaky,' a freshly made english muffin topped with egg, cheese, and meat.
One week it was homemade bologna, another week sausage patty made in-house from pork shoulder from Otonabee meat packers. The sandwich comes with a side of triple-cooked homefries with red peppers, onions, garlic, and smoked paprika.
Menus are posted on Rare's Facebook and Instagram every Wednesday, or you can sign up for weekly menu updates at www.rareexperience.ca.
Payment is taken by e-transfer only, and orders are best placed by email at info@rareexperience.ca or by direct message on social media.
2. Donuts from Two Dishes Cookshop (261 Charlotte St, Peterborough, 705-775-2650)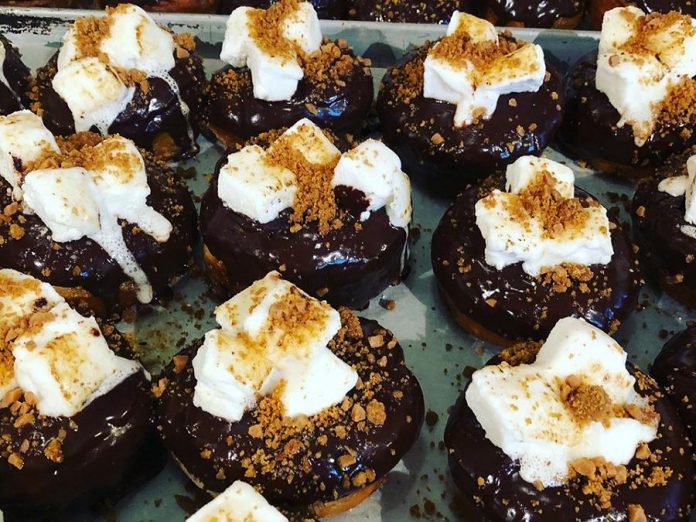 It's no wonder they sell out so quickly: Two Dishes Cookshop makes each of their 600 donuts a week by hand, starting work at three in the morning to fill all of the orders.
The donuts are a mix of brioche, cronuts, and sometimes cake donuts. All fillings and toppings are made in-house.
Donuts are posted on Two Dishes Cookshop's Facebooke and Instagram every week on Tuesday or Wednesday.
Act fast, previous batches have sold out within 15 minutes.
3. Bill Reddick's gluten-free chocolate cake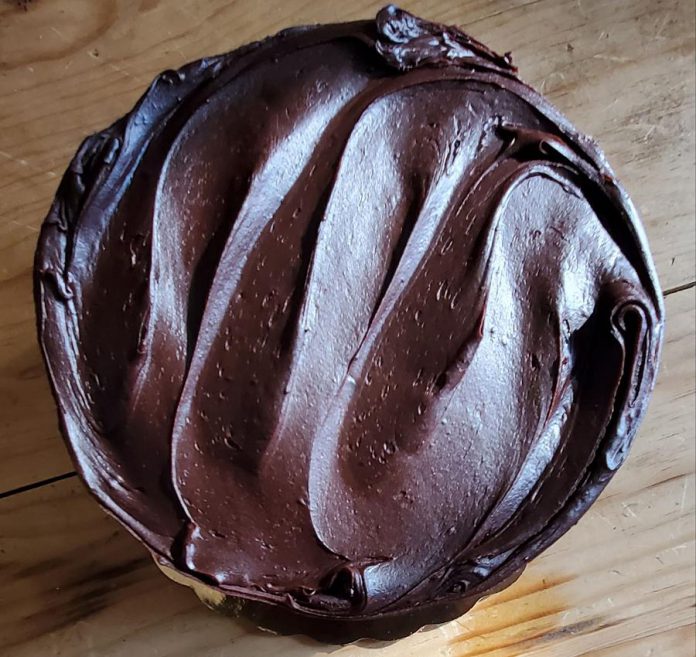 Whether or not you avoid gluten, potter and baker Bill Reddick's gluten-free chocolate cake is a moist, rich, and decadent treat.
The outer icing is cooked dark fudge made with free trade organic cocoa. The mocha middle layer contains a blend of free trade organic bitter chocolate and fresh ground, locally roasted decaffeinated coffee.
Each cake provides 12 to 16 servings, and can be shipped anywhere in Canada by request (pickup is also available).
You can order the cake on the Farmers Black Market website..
4. The Mozzarella Burger from Southside Pizzeria (25 Lansdowne St, Peterborough, 705-748-6120)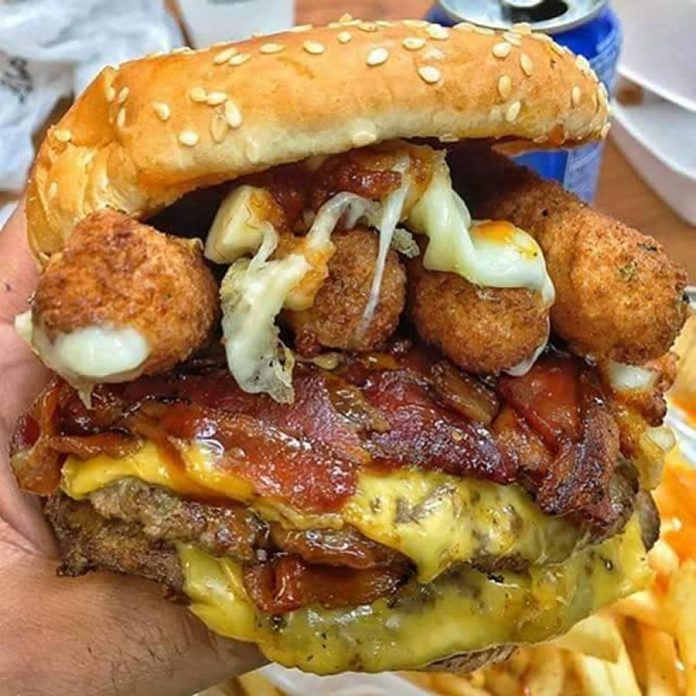 With one of the largest takeout menus in town, Southside Pizzeria is a great pick for those nights when you just can't decide.
Their mozzarella burger is a popular pick, tipping the scales with two all-beef patties, cheese, bacon and three mozzarella sticks — all covered in mozzarella cheese.
You can order from Southside Pizzeria online at www.southsidepizzeria.ca.
Farmers Black Market goes public with new website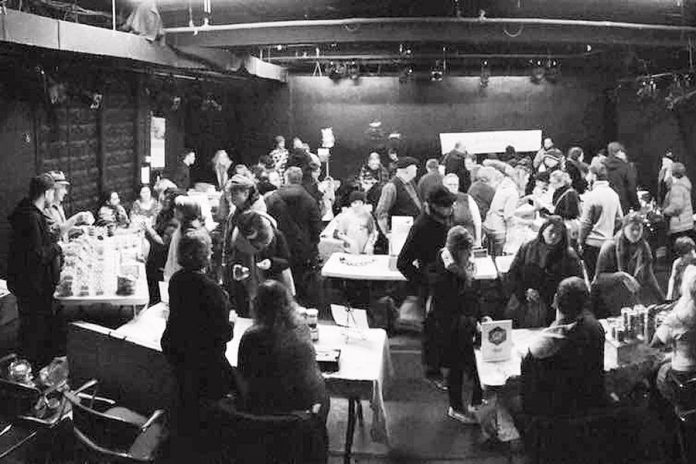 Since November of 2016, people in southern Ontario have been gathering for a series of secret pop-up farmers' markets known as the Farmers Black Market — accessible only to those who knew the secret password.
Now the black market has gone digital, and is being made available to everyone at farmersblackmarket.com.
Fox Jones, market manager of Farmers Black Market, describes the market's earlier days.
"We would hold pop-up markets in Toronto and in Peterborough, in warehouses, art studios, back alleys, tailgate parties — anywhere we could gather."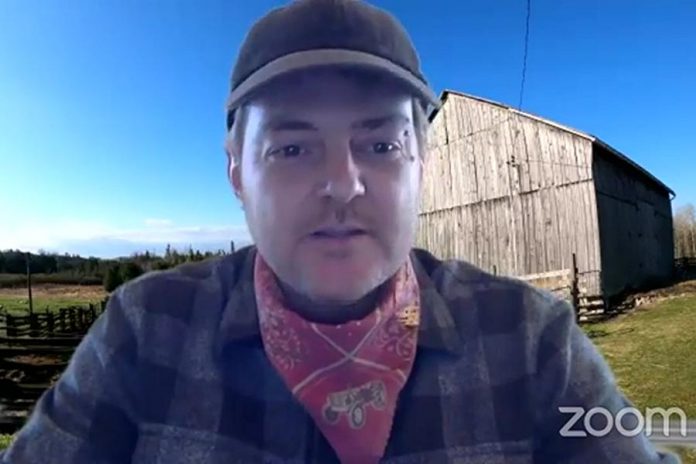 He notes that these provided a great opportunity for customers and for vendors.
"It was a great way to connect with your neighbours and farmers and food producers in your community. It was also a really great low-barrier entry for a lot of hobbyists and home bakers, and people that would normally be selling at bake sales or farmgate sales."
The in-person markets have been cancelled for the time being out of concerns for safety during COVID-19, but Fox felt that it was especially important at this time for people to have access to food sourced directly from farmers and producers.
"Today with traditional supply chains being disrupted, consumers are finding it even more difficult to connect with and trust their food sources than ever before."
A web developer by day, Fox decided it was time for the Farmers Black Market to open to the general public.
"I just wanted to give all of the sellers and listers the best opportunity, and I thought it was in the best interest of everyone to open the doors a little bit and finally come out in the open and make it public."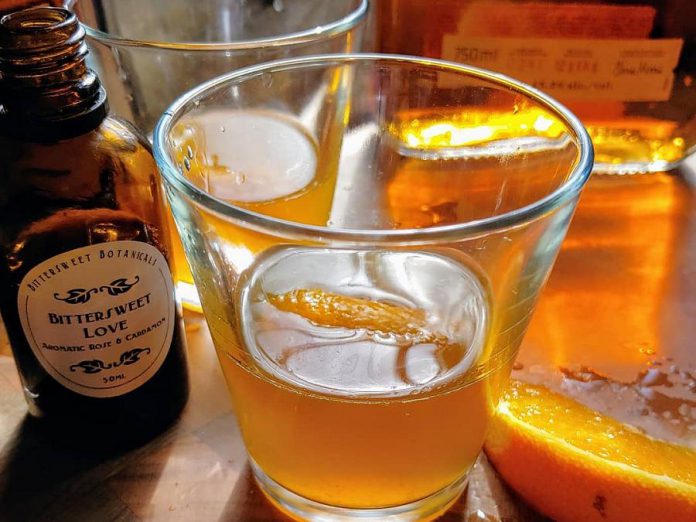 The website is based in Peterborough, but Fox has set it up to be available to producers and buyers across the country.
"The main focus is to support local business and to connect people with their neighbours, but it's also a vehicle to empower small farms and food producers to reach a wider audience and to go beyond their backyard."
To filter for local producers, you can go to the map view on the site at farmersblackmarket.com to see the listings closest to you.
Check out the walk up gelato window at the newly rebranded Canoe Co. Café at Euphoria Wellness Spa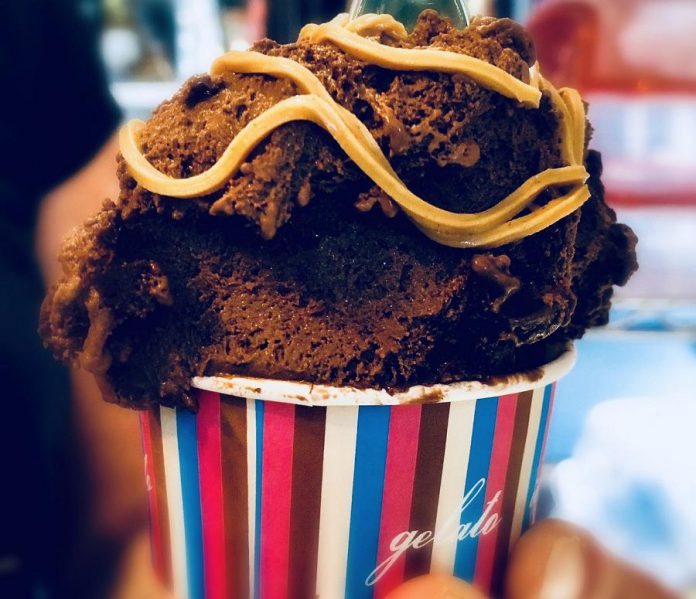 Euphoria Wellness Spa (290 Water St, Peterborough, 705-741-4772) has rebranded its onsite cafe, renaming it Canoe Co. Café. The building housing Spa Euphoria used to be the home of the Peterborough Canoe Company, and the new name honours that history.
Rebecca Desjardins, manager at Canoe Co. Café and Euphoria Wellness Spa, says that they will be adding a door so that people can access the cafe directly from Water Street.
"With it being within the spa, sometimes people don't realize that they can come in off of the street and enjoy it."
The cafe's pickup window is currently open for homemade gelato and Starbucks drinks. A full reopening — including baked goods, wraps, and salads from The Pin, Lakefield Bakery on Queen and Baked4U — will wait until it is safe to do so.
In the meantime, you can walk up to their takeout window for a scoop (or two) of gelato. The cafe is open Monday to Friday from 9 a.m. to 5 p.m.
"With summer coming it's a perfect time to enjoy gelato," Rebecca says. "We have 10 different flavours, our most popular being chocolate peanut butter."
There are vegan gelato options as well.
The cafe has adapted to provide safe service, with only one staff member working at a time, a plexiglass shield, hand sanitizer available for customer use, enhanced sanitation, and encouraging customers to pay with a card rather than cash.
"We're going with all of the government regulations as to what we should be doing."
Rebecca would like to thank the customers who continue to support local businesses through this tough time.
"We so appreciate everyone's support through all of this. Local businesses are really depending on that. We're so thankful for anyone who feels comfortable coming."
Nourish's new Cooped Up Cooking show brings cooking skills home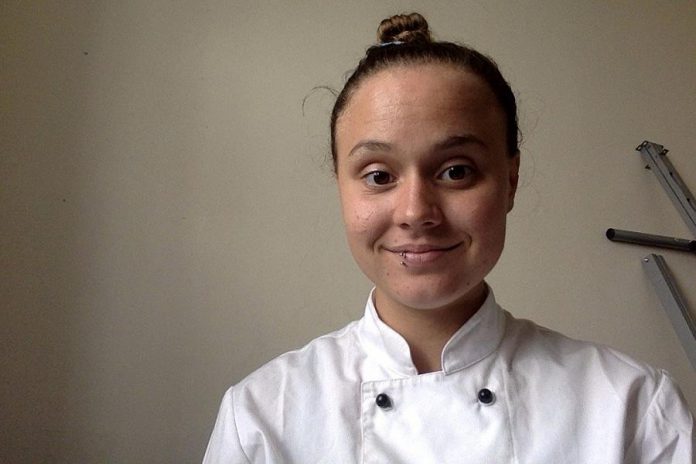 During the COVID-19 pandemic, sourcing ingredients has become more difficult. Now the Nourish Project in Peterborough has developed a new online cooking show to help you cook with confidence with whatever ingredients you have on hand.
"Cooped up Cooking" is hosted by Nourish's food skills facilitator Amy Comber and edited by knowledge transfer specialist Elisha Rubacha.
Amy describes the program's approach to cooking as quite loose, with a focus on experimenting with the ingredients you have on hand.
"I like to give people recipes that they can play with at home. It's not a strict 'you must follow this recipe to get the result'. I'm trying to teach the confidence to experiment with recipes."
Normally Amy teaches classes at the Peterborough Public Health Unit, but with COVID-19 restrictions in effect, these have been cancelled for the time being. Amy runs a variety of classes, including "Cooking Out of the Box", a class aimed at using the food provided in Nourish's food boxes.
"If people don't know what to do with the ingredients, they can come to my class and we go over different recipes they can use with the food boxes."
Advertisement - story continues below
During the COVID-19 pandemic, Nourish's food box program has switched to an emergency food box. The regular food box was offered on a sliding payment scale twice a month. Emergency food boxes are delivered to the homes of people who are in need on a weekly basis.
"We are delivering about 100 boxes throughout the city on one day," Amy says.
"Cooped up Cooking" recipes often focus on the ingredients being sent out in these boxes and on healthy low-cost ingredients.
"If I'm using something that might be inaccessible, I always try to offer suggestions on how to substitute ingredients. Accessibility is a big thing for me with the ingredients and the recipes I choose."
"Cooped up Cooking" is posted every Tuesday on Nourish's Youtube channel, where you can also view past episodes.
VIDEO: Cooped Up Cooking: Episode 05 – Oatmeal Cake

The latest episode features an easy oatmeal cake. Amy has provided the recipe below (printable version here):
Easy Peasy Oatmeal Cake
Pre-heat oven to 350°F (177°C).
Combine and let stand for 20 minutes:
1 cup (250 ml) quick-cooking oats (whole oats)
1-1/4 (310 ml) boiling water
Cream together until light and fluffy:
1/2 cup (113 g) butter, margarine or shortening)
1/2 cup (125 ml) brown sugar
1/2 cup (125 ml) white sugar
2 eggs
1 tsp (5 ml) vanilla
Add oatmeal mixture and beat well.
Sift together:
1-1/2 cup (375 ml) white or whole wheat flour
1 tsp (5 ml) baking soda
1 tsp (5 ml) baking powder
1/2 tsp (2 ml) salt
1 tsp (5 ml) cinnamon
Add these ingredients to the creamed mixture and beat well.
Pour into a greased 9″ x 13″ cake pan and bake for 35 minutes, or until you insert a knife into the centre and it comes out clean.
Feel free to get creative and add nuts or raisins into the cake if you like.
This cake is traditionally served with an apple sauce (recipe below).
Red Apple Sauce
2 lb (1 kg) red apples (use local produce if available)
1 cup (250 ml) water
1/2 tsp (2 ml) ground vanilla extract
1 tsp (5 ml) ground cinnamon or cardamom
1 tbsp (15 ml) lemon juice (optional)
1 tbsp (15 ml) fresh ginger, grated (optional)
Rinse the apples and chop them in bite-size pieces, discarding the cores.
Place in a large saucepan along with water, fresh ginger, vanilla powder, and cinnamon.
Let simmer on low heat for approximately 20 minutes or until soft.
When the apples are done, use a hand (immersion) blender to mix into a smooth apple sauce.
Stir lemon juice into the sauce, leave to cool, or scoop into a large jar and place in the fridge.