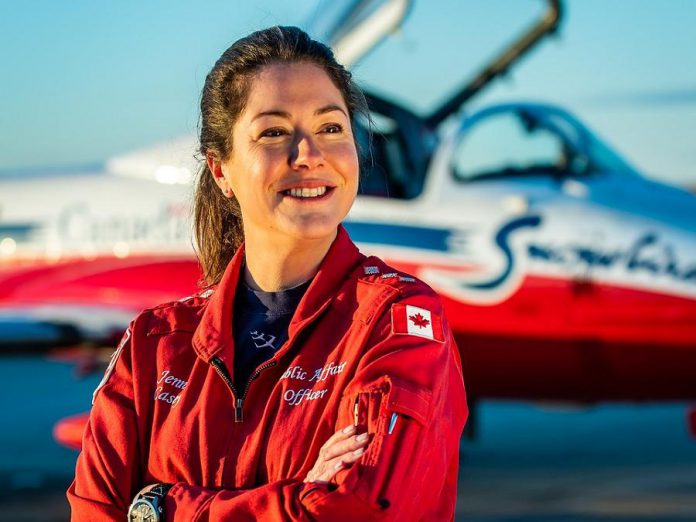 Canadians across the country are expressing shock and sadness after Captain Jennifer Casey was tragically killed in the crash of a Canadian Forces Snowbirds jet near Kamloops in British Columbia on Sunday (May 17).
Casey was the Snowbirds team's public affairs officer. She was 33 years old.
The tragedy is especially affecting Canadians because the crash happened while the Snowbirds were conducting Operation Inspiration, a mission to cross the country and salute Canadians doing their part to fight the spread of COVID-19.
The accident involved a Royal Canadian Air Force (RCAF) CT-114 Tutor aircraft which, minutes after taking off from the airport alongside another jet, appeared to lose control and crashed into a nearby residential neighbourhood.
The pilot of the aircraft, Captain Richard MacDougall, was able to eject at a very low altitude just before the plane crashed. He is being treated for his injuries which, contrary to previous reports, are not considered life-threatening. It is unclear whether Casey died after ejecting from the jet or whether she died when the plane hit the ground.
"Today, the RCAF has suffered another tragic loss of a dedicated member of the RCAF team," said Royal Canadian Air Force commander Lieutenant General Al Meinzinger. "We grieve alongside Jenn's family, friends and colleagues and are deeply saddened. Our thoughts also go out to the loved ones of Captain Richard MacDougall. We hope for a swift recovery from his injuries."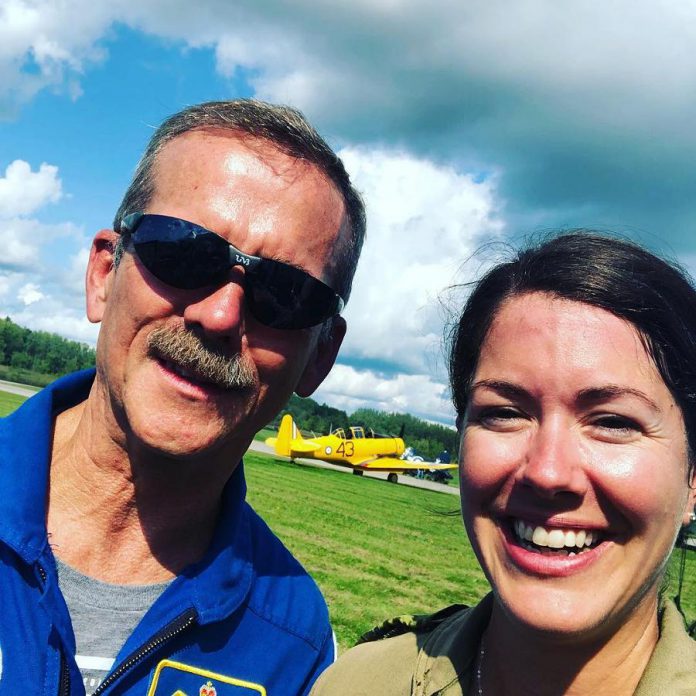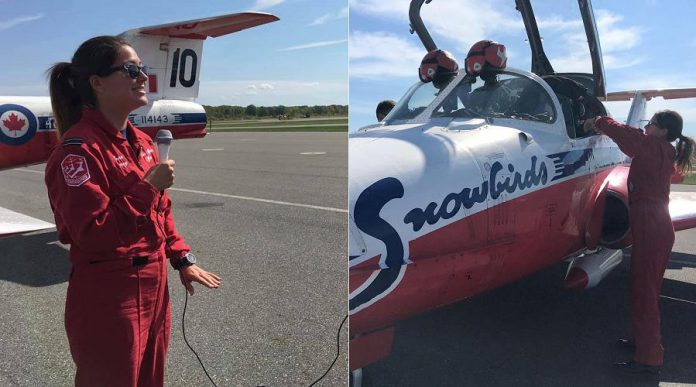 Casey was originally from Halifax, Nova Scotia. Prior to joining the military, she worked in broadcast radio in Halifax. She moved to the Quinte area in Ontario in 2013 when her then-husband Mike Howell, a member of 2 Air Movements Squadron, was posted at Canadian Forces Base (CFB) Trenton.
She worked as a news anchor and reporter for Quinte Broadcasting in 2013 until she joined the Canadian Armed Forces in August 2014 as a direct entry officer. After graduating from 14 weeks of basic training at Saint-Jean Garrison in Québec, Casey's first assignment was as a public affairs officer at 8 Wing Trenton at CFB Trenton. She spent the 2018 season with the CF-18 Demo Team, travelling North America and the United Kingdom with the NORAD 60 jet.
Casey lived in Quinte West until she joined the Snowbirds in November 2018.
After learning of Captain Casey's death, Canadians posted tributes and condolences on social media, including from Prime Minister Justin Trudeau and Ontario Premier Doug Ford.
Tonight, I join all Canadians in mourning the loss of a member of the @CFSnowbirds #OpInspiration team, Captain Jennifer Casey. I'm sending my deepest condolences to her loved ones, and wishing Captain Richard MacDougall a full recovery.

— Justin Trudeau (@JustinTrudeau) May 18, 2020
The loss of any member of the RCAF is a national tragedy. Ontario sends its deepest condolences to the family, friends and @RCAF_ARC teammates of Captain Jennifer Casey. Our thoughts are also with Captain MacDougall as he recovers from his injuries. https://t.co/UsAEHBjIQk

— Doug Ford (@fordnation) May 18, 2020
The Canadian Armed Forces has placed the CT-114 Tutor fleet on operational pause and Operation Inspiration has been delayed indefinitely.
A RCAF flight safety team will depart from Ottawa to investigate the circumstances of the accident and will begin their work immediately upon arrival.