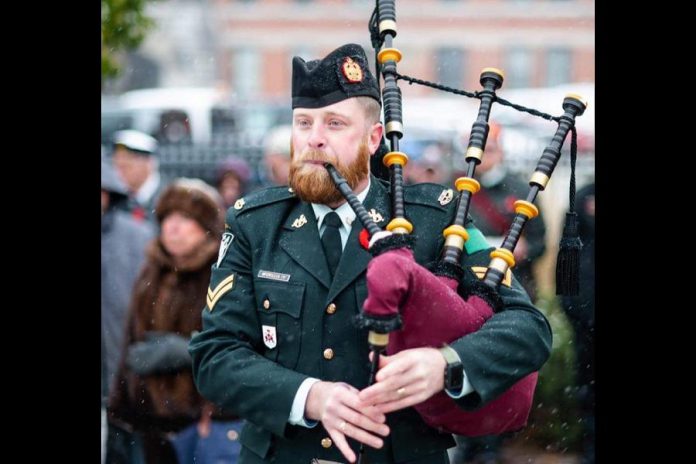 The Peterborough County OPP has released the name of the motorcyclist who died on Saturday (May 16) on Northey's Bay Road in North Kawartha township.
According to police, Maury McCrillis, 32, of Peterborough, was driving his motorcycle at around 2:45 p.m. on Saturday afternoon when he failed to negotiate a turn, resulting in a collision.
McCrillis was transported by air ambulance to a Toronto-area hospital with life-threatening injuries. He was pronounced dead at hospital.
Advertisement - story continues below
McCrillis grew up in Cape Breton, Nova Scotia and also spent time in the U.S. After high school, he joined the Canadian Forces as a piper with 2 Nova Scotia Highlanders Regiment, later called the Cape Breton Highlanders.
On a military course in Borden, Ontario, he met his future wife Elizabeth, who lived in Newfoundland at the time. When Elizabeth accepted a teaching position in Ontario, the couple moved to Ontario and married in May 2019.
McCrillis became a member of the Hastings & Prince Edward Regiment, the reserve unit of the Canadian Armed Forces based in Peterborough, and performed in the regiment's pipe band.
"He was a friend, mentor and teacher to everyone in the band," writes the Hastings & Prince Edward Regiment Pipe Band on their Facebook page. "We will all miss him terribly."
McCrillis leaves behind his wife Elizabeth, who is expecting their first child. He also leaves behind his parents Maury and Lisa and three sisters.
A GoFundMe campaign, authorized by McCrillis's wife Elizabeth, has been set up at gofundme.com/f/mcpl-maury-mccrillis-iv-cd. Funds raised will go directly to Elizabeth.
Police continue to investigate the cause of the collision that took McCrillis' life.
This story has been updated with additional details about McCrillis' life, including a photo of him and his wife, and an official GoFundMe campaign link.