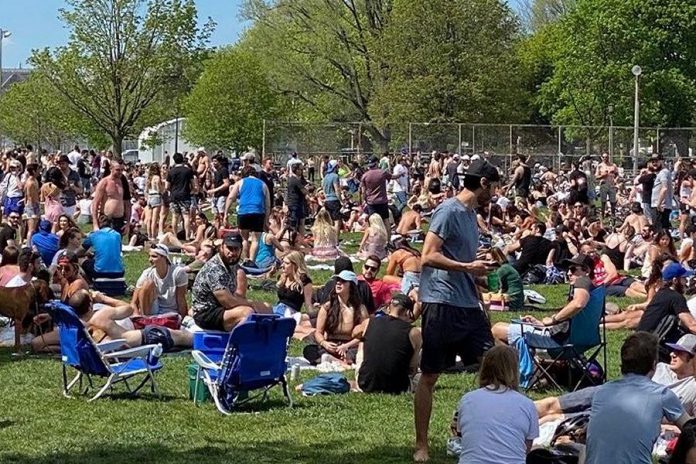 The Ontario government has extended all emergency orders under the Emergency Management and Civil Protection Act until Tuesday, June 9th.
The province issued a media release announcing the extension on Wednesday (May 27).
"We are extending these emergency orders to protect the health and safety of all individuals and families as we begin to gradually and safely reopen our province," Premier Doug Ford says.
Advertisement - story continues below
The emergency orders, which were set to expire this Friday (May 29), include the closure of outdoor playgrounds, play structures and equipment, public swimming pools, and outdoor water facilities, as well as bars and restaurants except for takeout and delivery.
The government is also continuing the restriction on social gatherings of no more than five people, and staff redeployment rules remain in place for long-term care homes and congregate settings like retirement homes and women's shelters.
The move was prompted by recent increases in the number of positive COVID-19 cases in Ontario and the large group gathering at Trinity Bellwoods Park in Toronto this past weekend. On Monday (May 25) at a media briefing, health minister Christine Elliott said plans to expand the social gathering restriction to more than five people would be delayed.
"It is something that will be coming forward, but it has been pushed back a little bit," Elliott said.
She added that the province's chief medical officer of health Dr. David Williams is reluctant to loosen the social gathering restriction, because of concerns about people gathering in large groups during the summer-like weather.
The Ontario government first declared a provincial emergency on March 17, 2020 under the Emergency Management and Civil Protection Act. This declaration of emergency was most recently extended on May 12, 2020 and is currently in effect until June 2, 2020.
Here's a list of all the emergency orders that have been extended until June 9, 2020: