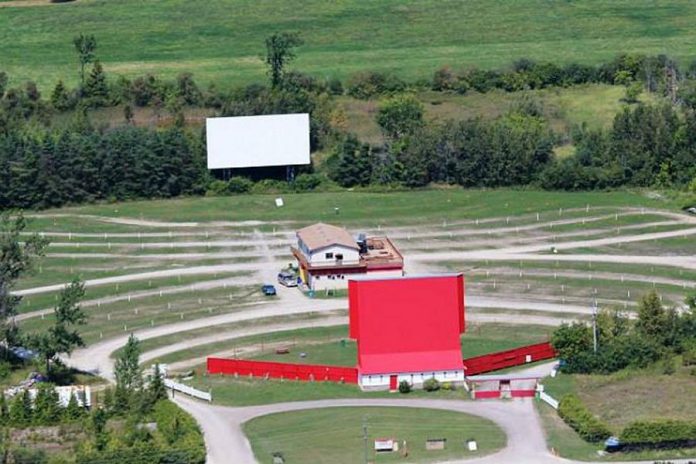 Like any prudent business owner, Lindsay Drive-In owner Danny Zita has adopted preparing for a rainy day as a very sound business practice.
Still, not unlike millions of business owners around the globe, Zita didn't see this coming — this being the COVID-19 pandemic that, since mid March, has closed stores, workplaces, and venues in a concerted bid to flatten the curve and get us back to some level of pre-outbreak normalcy.
For Zita, what that has looked like is a closed sign on the gate of the Lindsay Drive-In (229 Pigeon Lake Road, Lindsay, 705-340-6666) — a business that normally, with the warmer weather, would be thriving this time of year.
And while that is concerning enough for him and his wife Barb, the fact that he has a solid plan to reopen now that is being disallowed by public health officials is creating a level of frustration he struggles to contain.
"What's really frustrating is the fact that drive-ins all over the world are open except in Ontario — that's baffling to me," says Mr. Zita, noting not only are drive-ins opening again but are doing really well.
According to a May 23rd CBC story by Jessica Wong, reopened established drive-ins as well as new pop-up versions are seeing resurging numbers as self-isolating film lovers get in line for their fix.
"Drive-ins are being overwhelmed with many at the point where you have to buy a ticket online in advance or you're not getting in, especially with the fact that they're operating at half capacity," says Zita, terming the advent of the COVID-19 pandemic "bad timing" as far as his plans for his drive-in are concerned.
Advertisement - story continues below
"We had high schools approaching us about wanting to hold graduation ceremonies here," Zita adds. "Weddings too. I can't even begin to think of how many people have asked us to do some sort of concert. It's frustrating for them. They're just itching to do what they love but have no place to do it."
"We're happy the golf courses and the marinas are open. We're thrilled for them and I mean that sincerely. But we thought we would have been lumped into that category also, being seasonal and being able to accommodate, without question and with ease, self-distancing measures. But we've been excluded and that's disappointing."
In presenting his case to public health officials with the Haliburton, Kawartha, Pine Ridge District Health Unit, Zita explained the drive-in would operate at half capacity, allowing space for 200 vehicles as opposed to 400, leaving some 10 feet of space between each vehicle. Strangely enough, the drive-in's concession building has been green lit to open.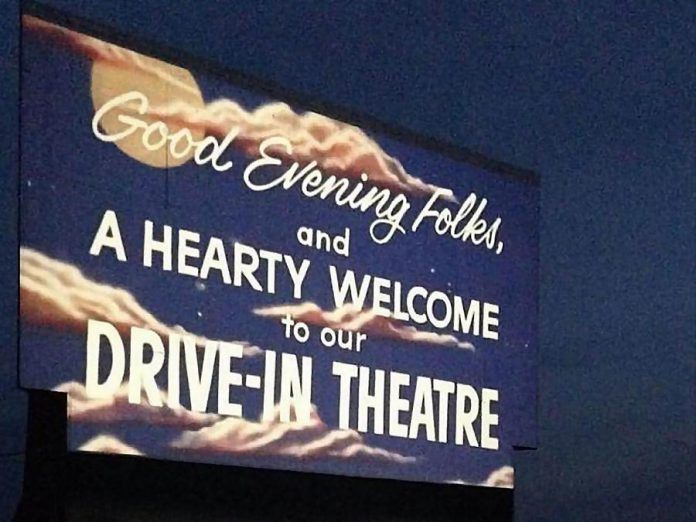 "We've put everything in place to allow us to open," says Zita. "This COVID thing didn't just happen yesterday. Along with everybody else, we've been thinking about how we can best protect our staff and patrons. We've reached out to other drive-ins that are open and learned what they've done, which seems to work fine. The snack bar isn't close to being an issue."
"A couple of weeks ago we wanted to start up our projectors at 9 p.m. for just half an hour to give kids some entertainment — to play some Looney Tune cartoons and, of course, do that free of charge just to get families out to enjoy themselves. We were told (by the health unit) it's okay to open up our snack bar, but if we turn those projectors on we will be fined."
The fact that Zita has had to layoff his nine employees — "They have been so loyal to us" — is only adding to his frustration.
It was some six years ago that the Zitas purchased the Lindsay Drive-in. Danny Zita brought to the business decades working in the industry in various capacities.
"When we took it over, it was a little bit of a going concern," he recalls.
"We owned another drive-in near Sauble Beach. When the owner approached us to purchase the one here (in Lindsay), we knew it was a little rough but we were able to see through all that with a little bit of TLC. The support every year since has been phenomenal. We are overjoyed with how kind our patrons have been to us."
Advertisement - story continues below
Now Zita wants nothing more to serve those patrons. But he remains doubtful that will happen any time soon, based on the concerns expressed by Premier Doug Ford and Ontario public health officials regarding the number of positive cases holding steady as opposed to declining.
"I sympathize with how difficult a call this must be on the government's part but, at the same time, smaller towns like Lindsay, like Peterborough, like Fenelon Falls and Haliburton, are paying the price for the numbers that are coming out of Toronto," says Zita, adding it's not his intention to press public health any further for the go-ahead to reopen.
"Some of the other drive-in owners are doing that (lobbying) but, as far as I'm concerned, they've heard us and they know we're here. At this point, rather than fight them, I would rather patiently sit back. They're under enormous pressure too. I wouldn't want to be in their shoes. I don't want to be the angry guy. We are going to get open at some point."
Much has changed over the past few months, but what hasn't changed for the Zitas is their attraction to what got them into the drive-in business in the first place.
"The romance of the drive-in on a beautiful summer night … you can't beat that," Zita says.
"We are going to reopen at some point and it's going to be just wonderful. To go up in the projection room and look out throughout the windows and see cars out there — we long for that sight."
Mr. Zita adds he's still planning to build a permanent stage at his drive-in for staging concerts.
"I've thought about for years. I do think there's a market for that."
As for the very real prospect of being closed all summer, he says that's something he tries not to think about, hard as that is.
"We certainly don't want to go through that but we could absolutely survive. We haven't spent any of the profits. We've reinvested into the property and that has put us in a better position."
For more information on the Lindsay Drive-In, including updates it pertains to the COVID-19 situation and its effects on the business, visit www.lindsaydrivein.ca.
With the Havelock Family Drive-In permanently closing in 2019, the Lindsay Drive-In is one of two remaining drive-ins in the Kawarthas. kawarthaNOW also reached out to the Port Hope Drive-In in Cobourg, which is also temporarily closed because of the COVID-19 pandemic, but didn't hear back by deadline.
A brief history of the drive-in theatre
This content was originally written by Bruce Head for kawarthaNOW in 2018 — the 85th anniversary of the drive-in theatre.
The concept of the drive-in theatre was invented in the late 1920s by Richard Hollingshead of Camden, New Jersey. The story goes that his overweight mother couldn't get comfortable in regular movie theatre seats, so Hollingshead came up with the idea of an open-air theatre.
He mounted a 1928 Kodak movie projector on the hood of his car, projected the film onto a screen made of two sheets nailed between two trees, and placed a radio behind the screen for sound. Eventually he developed a ramp system so cars could park at different heights to see the screen without being unobstructed by other vehicles.
In 1933, Hollingshead received a patent for the concept, formed Park-In Theatres, Inc. and opened "Automobile Movie Theater" — the very first drive-in theatre. He charged 25 cents per person and 25 cents per car, with a maximum cost of $1. Park-It Theaters later licensed the concept to Loews Drive-In Theaters, Inc. (the origin of the phrase "drive-in theatre"), but drive-ins didn't become popular until the advent of in-car speakers in the early 1940s. In 1946, Skyway Drive-In in Stoney Creek, Ontario (since closed) was the first drive-in theatre to open in Canada.
After some legal issues between Park-In Theaters and Loews Drive-In Theaters, Hollingshead's original patent was overturned in 1950, and drive-ins began popping up everywhere. They were popular because they offered affordable family entertainment. People could bring their babies and kids and amorous teenagers could find some privacy from their parents in what became known as the "passion pit".
During the drive-in peak of the late 1950s and early 1960s, there were more than 4,000 drive-in theatres in the U.S. and 250 in Canada. Today, there are fewer than 350 drive-ins left in the U.S. and fewer than 50 in Canada.
The decline of the drive-in began in the 1970s, with the rise of home entertainment options — colour television, cable, VCRs, and video rentals — that encouraged families to stay in the comfort of their homes. The energy crisis of the 1970s also had an impact, as did the widespread adoption of Daylight Saving Time (which forced movies to start an hour later, making them less family friendly).
To supplement their declining revenues, some drive-ins (which were already showing B movies rather than first-run movies, due to restrictions from movie studios) began screening mature films and adult films. However, this created a negative image and further discouraged families from attending.
The growing real estate market and increasing property taxes also affected the viability of drive-in theatres, many of which were located in the suburbs or in rural areas. Theatre owners ended up selling to developers who built shopping malls or residential housing developments on the properties.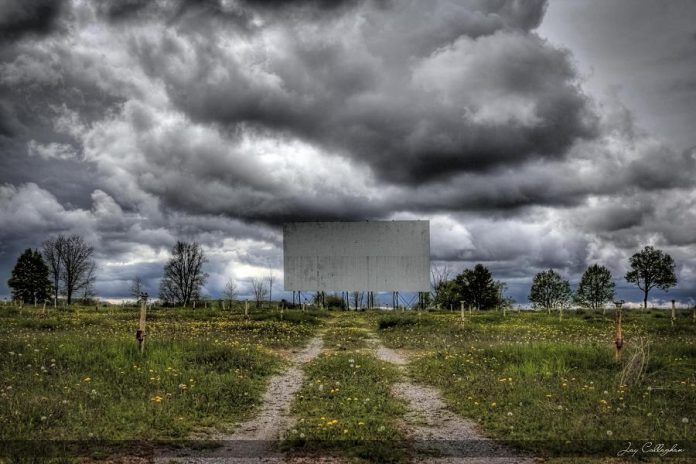 Despite the decline in attendance that shuttered many theatres, the quality of the drive-in experience continued to improve. In the 1970s, the original sound system used for drive-in theatres (an external speaker hung inside a car's window) was replaced by low-power AM broadcasts to car radios and, in the 1980s, by higher-quality FM radio broadcasts.
In the early 1990s, movie studios began offering first-run movies to drive-ins, and the drive-in theatre had somewhat of a resurgence. People could now see new and popular movies at drive-ins instead of going to a regular movie theatre.
The resurgence was short lived, however. In the 1990s and the 2000s, even more home entertainment options became available, including DVDs, larger and cheaper high-definition flat-screen televisions, and streaming internet video including Netflix. The final nail in the coffin for some drive-ins came in the early 2000s, when movie studios began to move away from producing 35mm film prints to digital, with an ultimatum issued to theatres to switch to digital in 2013.
This meant that drive-ins had to purchase high-definition digital projectors if they wanted to screen new movies. The conversion cost was $75,000 to $100,000 per screen — a difficult expense for drive-in theatres to justify with a limited number of daily screenings, and particularly for Canadian drive-in theatres that only operate for part of the year.
Still, even facing all these obstacles, drive-ins continue to make a go of it. But if you want to keep your local drive-in in business, make going to a drive-in movie a regular outing during the season.