Peterborough's vibrant theatrical community has suffered greatly during the COVID-19 pandemic, with local non-profit performance venues including Market Hall Performing Arts Centre and The Theatre on King closed since March. While Ontario is gradually reopening its economy, performance venues are still not allowed to open.
That's why Theatre Trent, Trent University's student-run theatre group, has announced the Theatre Trent Venue Relief Fund to support Peterborough's performance venues — and is launching a fundraising drive to help ensure local venues make it through the pandemic lock-down.
The group has already set aside $6,000 to assist The Theatre On King (TTOK) and Market Hall Performing Arts Centre, the two venues that host the majority of productions sponsored by Theatre Trent.
Advertisement - content continues below
Founded in the 1960s, Theatre Trent is one of the oldest student levy groups at Trent University. It provides funding for theatre and multidisciplinary performances, with a mission to nurture Trent student life by funding accessible and inclusive creativity for hundreds of students. Over the past five years, Theatre Trent has supported over 275 local productions, including three major month-long multi-arts festivals, amounting to over 1,100 separate performances reaching around 45,000 audience members.
Recognizing the devastating economic impact of the pandemic on local performance venues, the Theatre Trent COVID-19 task force joined forces with former Theatre Trent members, Trent University faculty, and members of the Electric City Culture Council board of directors to create the Theatre Trent Venue Relief Fund.
"This is an unprecedented situation," says task force founder and performing artist Sarah McNeilly, who is pursuing her M.A. at Trent University. "Although businesses are slowly being permitted to re-open, live performance venues will remain shuttered for quite some time. These venues need our support now to help ensure they can persist until they are allowed to reopen."
The Theatre Trent Venue Relief Fund will provide $5,000 to The Theatre on King and $1,000 to Market Hall Performing Arts Centre, reflecting the portion of Theatre Trent events that take place at each venue.
"TTOK runs on community energy and goodwill," says The Theatre on King artistic director Ryan Kerr. "We've been getting donations since this crisis began, and the support means the world to us. It's the difference between our existence on the other side of this crisis or not."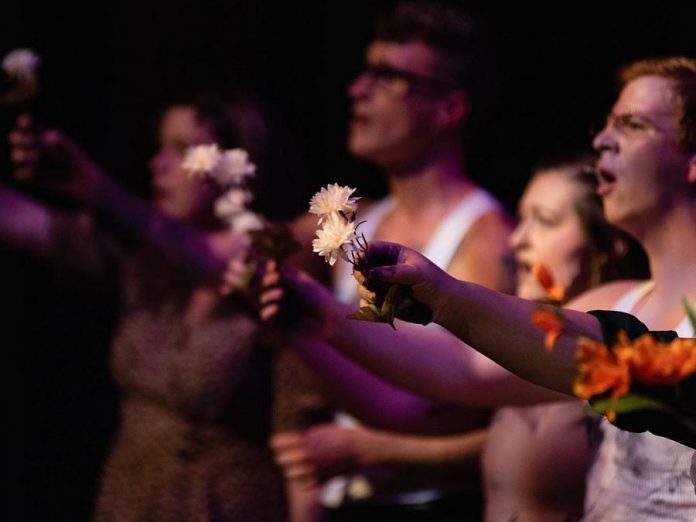 "This initiative is fantastic, and we are thankful to be a part of it," adds Market Hall general manager Chad Hogan. "The best way to support the hall is to become a member, which provides benefits to you, and helps us demonstrate the community-wide support the Hall enjoys."
"We need to make sure that performing artists and audiences will have rehearsal and performance spaces to return to when we are permitted to do so," says writer and performer Kate Story, a member of the Theatre Trent executive and TTOK board chair. "Imagine a Peterborough without live theatre, dance, music. It's not a pretty picture."
"The impact on the local community would be catastrophic," adds Public Energy executive director Bill Kimball. "Not only would our artists and audiences lose out, the local economy would take a big hit as well. Arts and culture bring in $58.9 billion annually to the Canadian economy."
While the $6,000 donation from Theatre Trent is generous, McNeilly admits it won't be enough to get local performance venues through the COVID-19 crisis.
"This is why we are going public with the Theatre Trent Venue Relief Fund — we've launched a fundraising drive," she explains. "We are asking our community to match and/or exceed our $6,000 donation in order to help us save our local theatres. Even the smallest donation will go a long way."
Rather than setting up a separate crowdfunding campaign, Theatre Trent is encouraging members of the community to donate directly to TTOK and the Market Hall.
To donate to TTOK, visit publicenergy.ca/support/donate/ and choose "The Theatre on King" from the drop-down menu.
To support the Market Hall, become a member by visiting markethall.org/get-involved/membership-information/. Memberships range from $25 to $250 and each level of membership comes with benefits.