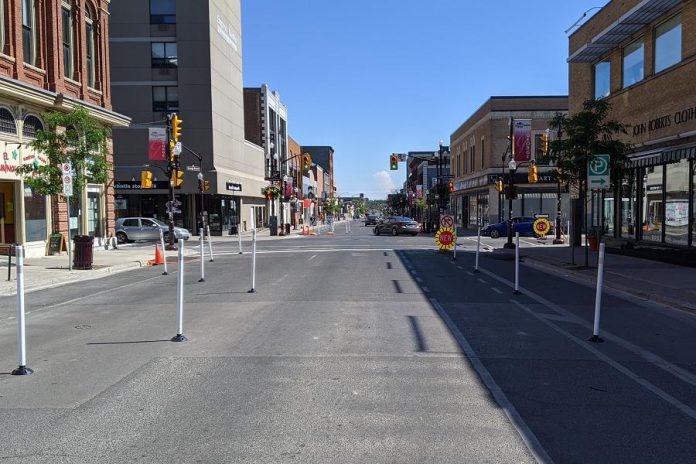 If you haven't been in downtown Peterborough recently, you'll notice big changes are underway to help create more space for pedestrians, restaurant patios, and pop-up commercial space during stage two of the province's reopening during the COVID-19 pandemic.
Sections of George and Water streets have been reduced to a single lane and Hunter and Charlotte streets are now one-way streets between Alymer and George.
The changes are temporary as part of the measures the City of Peterborough is being put in place during the pandemic, in consultation with the Peterborough Downtown Business Improvement Area (DBIA) and Peterborough Public Health.
Advertisement - story continues below
According to a media release issued by the City of Peterborough last Thursday (June 18), the reduced road space for vehicles will create more space for pedestrians to maintain two metres of physical distance, while also creating flexible-use areas for businesses, which could be used for patios or pop-up commercial space through a fast-tracked application process with the city.
"Downtown will feature more than 30 new or expanded patios, allowing patrons a safe and enjoyable dining experience," notes Peterborough DBIA executive directory Terry Guiel. "The patios are essential to help bring staff back to work and to draw attention to the downtown in a vibrant way that will also increase foot traffic for our retailers."
Reflective poles are already in place to delineate expanded pedestrian space from vehicular lanes, and there is also new road signage for reduced lanes, speed limits, and one-way streets. The city says it expects to have the changes fully implemented by the end of the week of June 22nd.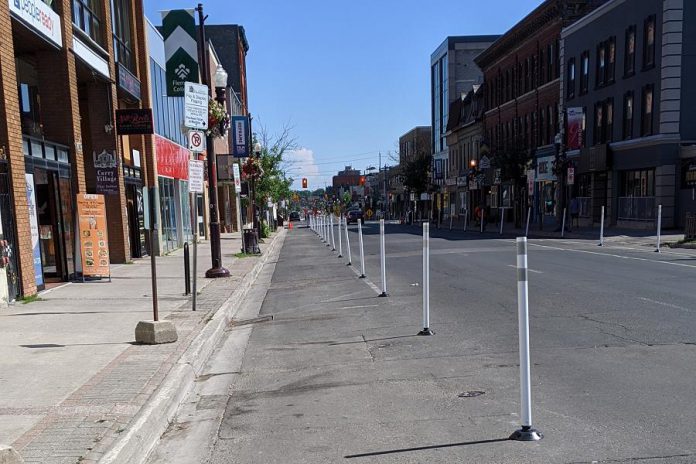 For drivers, here are the details of traffic changes:
George Street is reduced to a single lane between Murray Street and Sherbrooke Street
Water Street is reduced to a single lane between Simcoe Street and Hunter Street
Hunter Street is reduced to a single westbound one-way lane between between Aylmer Street and George Street
Charlotte Street is reduced to a single eastbound one-way lane between Aylmer Street and George Street
The cycling lanes on George Street and Water Street are unaffected by the changes.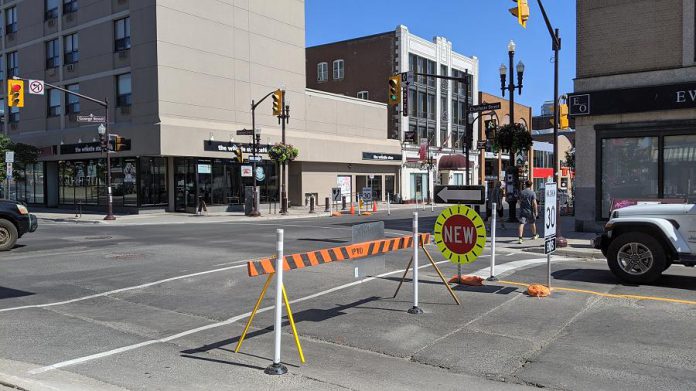 "The plan considers several priorities, such as pedestrian space, business activity, equitable use of space, accessibility, commercial deliveries, construction, and emergency access," according to the city's media release.
There are some new commercial loading zones to help businesses that rely on deliveries. The use of these zones for commercial loading only will be strictly enforced.
On-street parking is still available in many areas throughout the downtown, allowing for curbside pickup and deliveries. However, because there are fewer parking spots, the two-hour parking limit will be strictly enforced so ensure spaces are available for customers of downtown businesses.
Advertisement - story continues below
On-street parking and parking in surface lots continues to be free. While payment in municipal parking garages is still required, there will continue be one hour of free parking in all parking garages.
Maps of the changes to roads, sidewalks, and on-street parking in the downtown are available on the City of Peterborough's website at www.peterborough.ca/downtownptbo.
The changes are already attracting some controversy.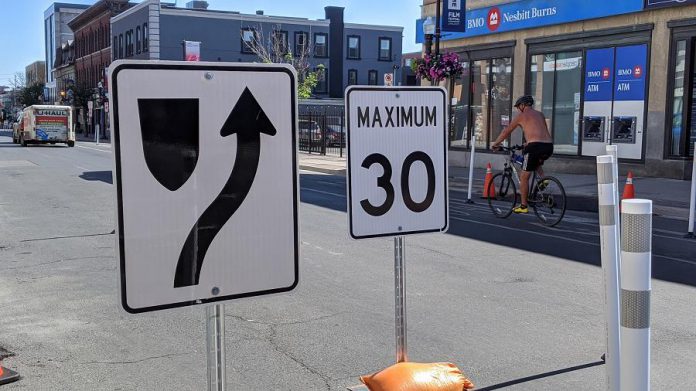 Both John McNutt of the Council for Persons with Disabilities and Dave Hurley, who sits on the city's accessibility advisory council, have posted on Facebook that neither council was consulted on how the changes affect accessibility.
"They have effectively removed all wheelchair parking on George without consulting the two disability councils," Hurley writes on Facebook.
The city has since clarified that new accessible parking spaces will be identified.
Several people on Facebook have also commented that it isn't clear where on-street parking is available. However, the city has since indicated additional signage will be put into place by the end of the week.
Fast-track application process for outdoors flexible-use commercial space and new or expanded patios
The city has created a new fast-track application process to help business make use of flexible-use commercial space next to their businesses in the areas where there are expanded pedestrian spaces. Businesses can create a new patio space, expand a patio, or open a pop-up commercial area in front of their building.
Businesses need to provide a drawing of the location and layout of the patio/commercial space, meeting the Ontario government's directions and public health guidelines on operating a patio during the pandemic, to Brian Buchardt or Nicole Huculiak with the city's planning division at bbuchardt@peterborough.ca or nhuculiak@peterborough.ca.
Along with the approved layout, businesses need to provide an insurance certificate naming the city as additionally insured with $2 million liability insurance.
PDF: Downtown Peterborough Public Space Plan
Downtown Peterborough Public Space Plan

This story has been updated with a recent update from the City of Peterborough, as well as information for businesses wanting to apply for flexible-use commercial space.