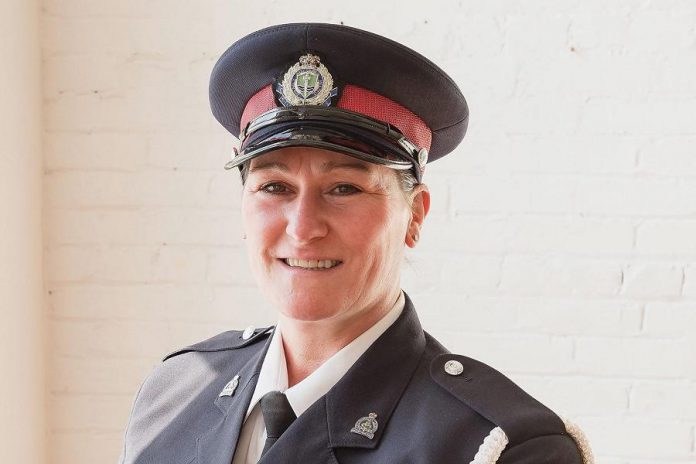 Detective Constable Stacey Rutherford has retired after 30 years with the Peterborough Police Service.
Peterborough police made the announcement on social media on Thursday (June 25).
Congratulations & all the very best to Cst. Stacey Rutherford who retired today after a 30 year career with our Service! Cst. Rutherford achieved many significant milestones in her career including being one of our Service's first Canine handlers! #Youwillbemissed! -LG pic.twitter.com/puYpij41Cw

— Peterborough Police (@PtboPolice) June 25, 2020
Rutherford began working with the police as a special constable in 1990, working at the provincial and superior courts, and was hired as an officer the following year.
In 1997, she became one of the first handlers (and the first female handler) of the service's newly formed canine unit.
She worked with police service dog Max, who won a gold medal for narcotics detection in the Canadian Law Enforcement Games in Guelph in 1997. In addition to finding illegal drugs, Rutherford and Max helped apprehend criminals, recover stolen property, and more (Max retired in 2005 and passed away in 2008).
Advertisement - story continues below
Rutherford became a detective constable in 2006 and worked in the sex offence unit of the criminal investigation bureau. In 2009, she began investigating online child sexual abuse and developed the service's internet child exploitation unit.
She received the prestigious OPP "Accolade Award for Team Achievement" for her work in the Robert McGregor homicide investigation (the Lakefield resident was convicted in 2015 of killing his ex-girlfriend Joanne MacKenzie, but was subsequently granted a new trial).
In 2019, Rutherford was nominated for Peterborough photographer Heather Doughty's "Inspire: The Women's Portrait Project" and spoke about her career as a female police officer.
"The competition in this world for women never ends, and policing isn't any different," she writes in her profile. "I believe that the biggest hurdle for females is that you are always being tested in this job, and you have to continually fight to prove yourself."
"What I would tell women who want to become police officers is that you have (to have) thick skin, and be able to take it as well as you dish it out," she adds. "It is a mentally tough job and you need to have a warrior mindset every day."
As an example, Rutherford shares an anecdote of when she had an opportunity to become the Peterborough Police Service's first female canine handler. At first, the sergeant in charge of the unit didn't believe she could do the job, saying "there will never be a woman on my unit."
"My first reaction to that was, 'Oh ya, watch me!'," she writes. "Not only did I get that 80-pound bag over the six-foot fence I went on to get 99.5 out of 100 on the fitness test … take that!"
"Once I showed him that I could do the job without complaint, I earned this staunch former military man's respect. We went on to have a great working relationship and a friendship that has lasted to this day."
Advertisement - story continues below
Rutherford admits that investigating online child sexual abuse changed her forever.
"The images sear your mind and scar your soul," she writes. "I am not the person I used to be but, during my time conducting those investigations, children were saved from further abuse and that's the ultimate win."
But she says she has had some amazing experiences in her job.
"From fantastic victories with police service dog Max, to watching a bank robbery happen and apprehending the suspects as they fled, to working with provincial and international police agencies to rescue children that were being sexually abused on line, it has been a good go," she concludes. "I simply wouldn't change it for anything!"