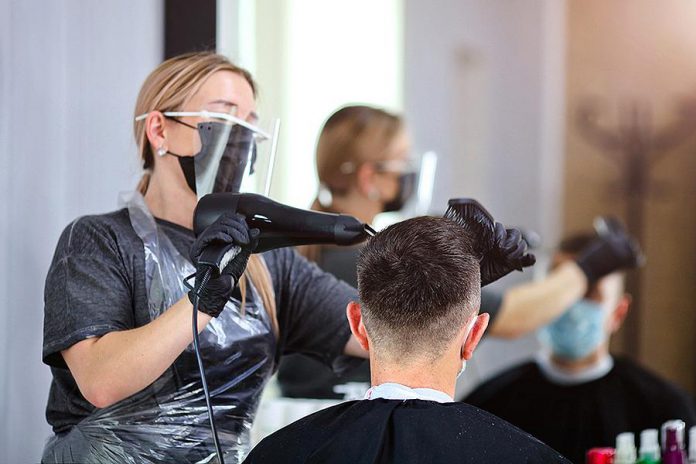 With no new cases of COVID-19 detected in the Peterborough region over the past 10 days, mandatory face masking remains "an area of active study" for now, according to Peterborough's medical officer of health.
During her weekly media briefing held Tuesday (June 30), Dr. Rosana Salvaterra said the wearing of a face mask, particularly by anyone receiving personal or health care services, remains a "strongly recommended" practice.
"In places where there's high transmission and higher risk, it may make sense to move to mandatory masking as a next step," she said. "We've seen that happen in places like Windsor-Essex where there has been a very high incidence of COVID-19. In those situations, the potential benefit of wearing masks may outweigh the possible harms."
Advertisement - story continues below
"There's definitely a lot to study and carefully weigh before we go to that next step here in Peterborough," Dr. Salvaterra added. "In the meantime, it remains a very strong recommendation."
As of 4 p.m. on Monday (June 29), the total number of positive cases in Peterborough city and county, Curve Lake, and Hiawatha remained at 95 with no new cases reported over the past 10 days.
Of the positive cases, 91 have been resolved while two cases remain active — two less over the past week — with two COVID-19 related deaths reported since the pandemic began. For the sixth consecutive week, there are no institutional outbreaks reported.
Meanwhile, an estimated 16,600 people have been tested, including 1,200 during the course of the past week. One of every nine residents in Peterborough Public Health's catchment area has been tested — a testing rate of 11.2 percent.
Locally there have been 64 positive cases detected per 100,000 people, compared to Ontario's rate of 235 positive cases per 100,000 people. Meanwhile, the local incidence rate over the past week is zero positive cases per 100,000 people, again much lower than the provincial incidence rate of 9.7 cases per 100,000 people.
"We're in excellent shape but we're only two weeks into phase two (of the provincial recovery plan)," Dr. Salvaterra cautioned.
"The provincial (recovery) plan estimates a minimum of four to six weeks for each of the phases. I know there are discussions at the provincial level as to what phase three will look like, but we have to look behind — recognizing that any cases that emerge now reflect transmission that occurred two weeks ago."
"Every day there's quite a lot of tension, not knowing if it's going to be a good day or whether we'll discover that transmission has taken place and we're dealing with something as bad as an outbreak that we can see is happening as close as Kingston."
There have been 27 positive COVID-19 cases related to a nail salon in Kingston. Six of the cases are salon employees, six are salon clients, and the remainder are close contacts — including an employee who works at another salon.
"I'm very encouraged and I'm hopeful we will be able to move to phase three in a couple of weeks," Dr. Salvaterra added.
That said, Dr. Salvaterra made it very clear that COVID-19 is going to be part of our collective lives for quite awhile yet.
"Until there's a vaccine, I'm afraid we're not going to be done with COVID-19. All we can do is try to contain it as fast as we can. We're not on the other side. We've had a little bit of a respite. If we are really good at practising all the public health measures we may be able to keep the second wave at bay for longer, (but) we're looking at 18 to 24 months before it will be over."
Dr. Salvaterra also spoke to a recently approved amendment to Ontario public health legislation that allows boards of health to collect information from positive COVID-19 test recipients and report that data.
"We know that socio-demographic and socio-economic factors, like race and income, can affect people's health outcomes," she said. "Collecting this information will help us improve our public health response to the pandemic."
Advertisement - story continues below
Going forward, those who test positive for COVID-19, as well as those who tested positive previously, will be asked the following:
Including yourself, how many family members live in your household?
Which race category best describes you?
What was your total household income before taxes in 2019?
What language did you first learn at home and still understand?
In which of Canada's two official languages, English or French, are you most comfortable?
"Providing this information is voluntary," stressed Dr. Salvaterra.
"I hope people will feel safe enough to share this information us so that we are able to tell a more complete story of the impact of COVID-19 on our community. We look forward to using the data respectfully and carefully to measure and improve our efforts to control the spread of the virus."
Also participating in Wednesday's media briefing was Peterborough Mayor Diane Therrien as well as Selwyn Mayor and Peterborough Board of Health Chair Andy Mitchell.