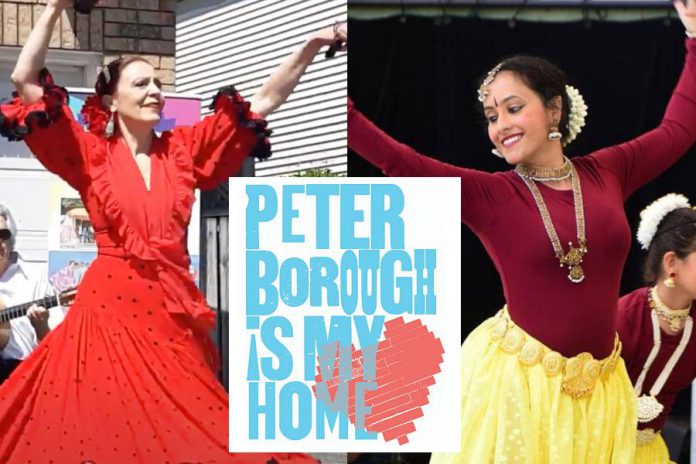 Although crowds won't be gathering this year for the annual Multicultural Canada Day Festival at Del Crary Park in Peterborough, the New Canadians Centre (NCC) has organized a series of virtual and individual activities to help celebrate both Canada Day and the multiculturalism that is core to Canada's identity.
From a virtual suite of programming that includes multicultural dance and performance, to spotting a "Maple Mobile" that will be travelling through various neighbourhoods across Peterborough, all of the activities offer people a chance to celebrate what they love about Peterborough and why they call it home.
"The opportunity to coordinate this important community celebration focused on 'Peterborough Is My Home' is especially significant this year," says Bhisham Ramoutar, NCC outreach worker and lead festival organizer. "We've missed being together and connecting in person. People with families overseas are worried about when they will see each other again. We've developed programs and activities that remind us how important it is to stay connected, in whatever way we can."
Here's a list of the Canada Day activities:
Advertisement - story continues below
Multicultural performances
One of the highlights of NCC's Multicultural Canada Day Festival in Del Crary Park is a range of multicultural performances on the main stage. This year, NCC is moving the performances online via Facebook and YouTube.
The Family Morning performances from 9:30 to 11:30 a.m. on Canada Day include family-friendly tunes from The Fam Jam, puppets and a sing-along with Glen Caradus, classic Canadian songs from Curtis Driedger, multicultural cooking with Abeer Alsalihi and Jess Devlin, a taste of Ethiopia with Zebiba Sultan, and music by Yamen.
The Multicultural Showcase performances from 1 to 4 p.m. include indigenous hand-drumming and singing by Janet McCue, a medley of south Asian dances by Ukti Centre for Movement & Arts, tunes from 13-year-old fiddler player Irish Millie, dances from Spain, Columbia, and Philippines by Northumberland Multicultural Dance Troupe, martial arts by Blue Wave Taekwondo, a presentation on Scottish highland dancing by The Rock and Roll Princesses from Trent Radio, music by Curtis Driedger, and a Zumba session with Shaoling.
Cheer for Ptbo
NCC is encouraging everyone to celebrate the Peterborough community from their porches or backyard of the sidewalk by going outside at 11:30 a.m. on Canada Day.
Bring your voice, pots, pans, spoons, and make some noise!
Post your photos and videos on social media and tag the New Canadians Centre (@newcanadianscentre on Facebook and Instagram and @ncc_ptbo on Twitter) and use the hashtag #PtboIsMyHome.
Spot the Maple Mobile
There will be five specially decorated Maple Mobiles driving around Peterborough neighbourhoods between 11 a.m. and 12 p.m. on Canada Day.
Visit nccpeterborough.ca/ptboismyhome/#maplemobile to see the routes.
Take a photo, submit it to NCC's Facebook page with the hashtag #PtboIsMyHome and you'll be entered in the draw to win a gift certificate to one of four local restaurants: Fusion Bowl, Village of Thai, Curry Village, or Rare.
Advertisement - story continues below
Canadian Citizenship Challenge
Did you know that when a permanent resident applies for Canadian citizenship, they must pass a test to demonstrate their knowledge of Canada? They must pass with a score of 80 per cent or more in order to be eligible.
NCC has compiled a list of 20 sample questions. Can you pass the test? If you answer 15 or more questions correctly, you'll be entered into a draw to win one of four $20 gift certificates to A Taste of Russia and Nish Tees.
Stories of hope, home, and belonging
kawarthaNOW has partnered with NCC to create the #PtboIsMyHome series, where you can meet five local immigrant entrepreneurs who are at different points in their settlement experience and careers. These are their stories of hope, home, community, and belonging in Peterborough.
Read about Shahab Stanikzai of Goodies on George, Sandra Arciniega of La Hacienda, Aleks Goloborodko of Paintings by Alex, Leticia Cordova of Maison du Chocolat, and Vange Rodriguez and Rosie Salcido of Faces By 2.
For more information about New Canadians Centre, visit nccpeterborough.ca. You can also follow New Canadians Centre on Instagram, Facebook, and Twitter.