If you're looking for a fun outdoor adventure, Treetop Trekking is open again in the Ganaraska Forest near Port Hope.
The forest adventure company — which was forced to delay its normal spring opening due to the COVID-19 pandemic — has also opened it adventure parks in Barrie, Brampton, Hamilton, and Stouffville. The Huntsville location remains closed for now while maintenance is completed.
Treetop Trekking offers a variety of outdoor adventure activities including zipline and aerial game treks, where guests travel from tree top to tree top on a series of elements such as wooden bridges, balance logs, Tarzan swings, and ziplines.
Advertisement - story continues below
Because of the pandemic, Treetop Trekking guests will see some changes at the company's parks, including fewer people in the area at one time, staff wearing personal protective equipment, hand sanitizer being readily available, and augmented cleaning procedures.
"It hasn't been an easy spring for us," says Treetop Trekking regional manager Jamie Hesser. "It really pained us when we had to close all of our parks and lay-off most of our staff in late March, just as we were preparing to open for the season".
"Shortly after closing, we shifted gears to planning and getting everything in place to be able to open up safely and responsibly, if or when we were to receive the opportunity," she adds.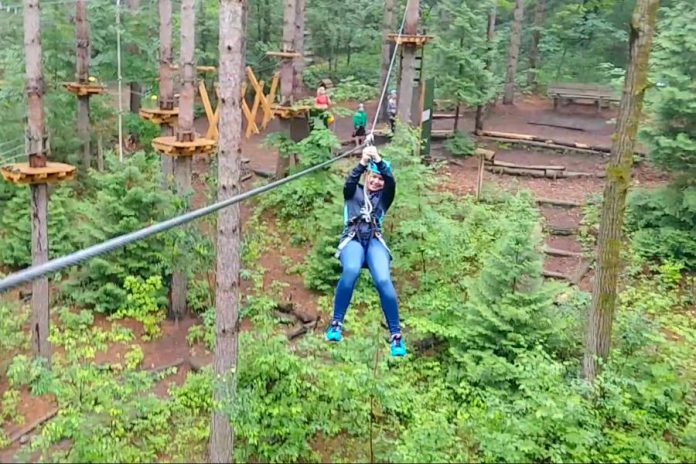 With the province now into Stage 2 of re-opening, Treetop Trekking hopes to salvage its summer and autumn season before closing up again in November.
"The next year is really going to be a challenge for us," says Treetop Trekking marketing director Mike Stiell. "We know we've lost pretty much all of our group clients such as schools, corporate groups, and summer camps for at least this season."
"We hope that over time the group market will begin to trickle back, but for now we are focused more than ever on families and small groups of friends that are looking for a fun staycation activity close to the city."
For more information about Treetop Trekking in Ganaraska, visit treetoptrekking.com/park/ganaraska/.