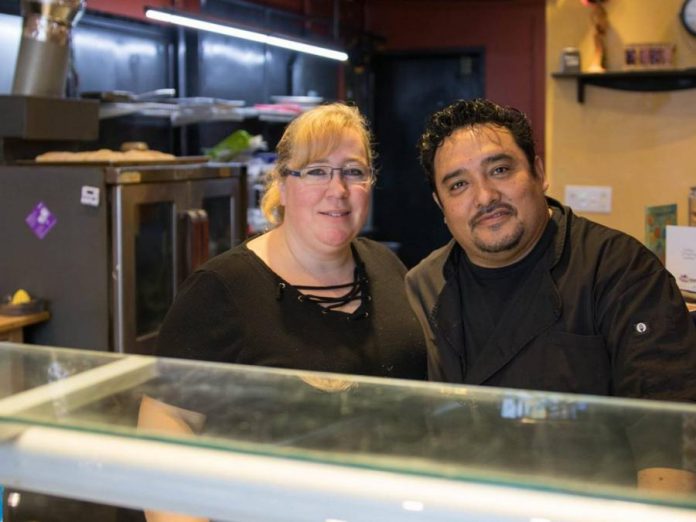 When Martin and Kelly Carbajal opened La Mesita Restaurante in downtown Peterborough in November 2017, they knew full well that they were up against it.
As a recipe for long-term business success, the family-owned and operated restaurant sector has always been, and remains, a dubious proposition. Nearly all lists of businesses most likely to falter rate restaurants at or very near the top.
As Martin succinctly puts it, "Failure is the F word in the restaurant business."
Advertisement - story continues below
Undaunted, the Carbajals went all in, preparing and serving authentic Mexican cuisine at their brick 'n' mortar location at 229 Hunter Street West after several years serving customers at farmers' markets in both Lakefield and Peterborough.
"We weren't super busy to start but we had a steady influx of customers," recalls Martin, a Mexican native who came to Canada in 2006, bringing with him culinary skills he has honed since age 12.
"It was more like word of mouth for us. When people came, they loved it. They got hooked and they came often. We opened in winter. For a restaurant to open in winter and still be here almost three years later, that doesn't normally happen. We've had fabulous support from our regular followers at the market as well as the community."
La Mesita's first full year of operation was an undisputed success. Not only did the restaurant's clientele and catering business grow but big time recognition came in the form of the Immigrant Entrepreneur of the Year Award in 2018 from the Greater Peterborough Chamber of Commerce.
"A great surprise," Martin reflects. "The business community is very tight and it normally takes longer for people to be considered part of it."
2019 saw La Mesita's upward curve continue and 2020 promised much of the same. Then came early March and the first rumblings of something called COVID-19. As tough times ahead became more of a certainty, the Carbajals were forced to have a "difficult conversation" heard at countless businesses throughout the region and beyond.
"We chose not to close because we couldn't — we didn't have a choice," says Martin. "We said if we lose the restaurant, we know we can do it again. We had done it once. We know we have the support. But we didn't know what to expect. Nobody did."
"We had to lay off our staff," he adds. "I was the only one working in here. We reduced our hours. We did take-out and delivery and had curbside pickup but sales dropped drastically. On one day alone we had 12 cancellations. Weddings and other events (they were catering) disappeared in a single day."
But remembering well the many kindnesses and support provided them some two and a half years earlier, the Carbajals looked to give back in a big way and did exactly that. They secured then-hard-to-find items such as flour, yeast, and toilet paper from their suppliers and delivered them to family, friends, and customers.
"The emails we received from people thanking us for doing that were emotional, humbling, and overwhelming," says Martin.
"We just felt we needed to take care of a community that has taken care of us. It was a way for them to help us and for us to help them. It's not about us. It's about everybody around us. We have to take care of each other."
Advertisement - story continues below
As it turned out, that giving spirit provided a huge boost to La Mesita in the form of a mutually beneficial partnership with The Garnet, their pub neighbour on Hunter Street West.
"In order for them to open their patio (in accordance with the province's recovery plan) they needed to have food, so we opened a joint patio with them. We supply the food and we have a patio twice the size of what it would have been. It's a really good relationship that has helped them get open again."
The La Mesita-Garnet patio can seat 30 people when at capacity. Meanwhile, stage three of the recovery plan allows La Mesita to seat another four people inside. In addition, the Carbajals have now brought back the two employees they had to lay off and even hired an additional two.
VIDEO: La Mesita Restaurante and The Garnet open a joint patio
Exciting things are happening on the patio! Come check out Dillon at The Garnet for a cold one and get your tacos with us! It's the best deal ever!

Posted by La Mesita Restaurante on Friday, July 24, 2020
Noting "life has thrown so many different things" at him, Martin acknowledges staying afloat as a business during the pandemic has been, and remains, a formidable challenge. The fact that he has family members in COVID-ravaged Mexico has added greatly to his and Kelly's worry.
"Every day is a gift and we should never take the next day for granted," says Martin, adding "We would love to think that things are moving forward and getting better but we don't know so we don't assume."
"We're very happy the government is doing all these grants and loans. Some people took them, which is great, but we have been able to reopen with no debt. We fought as hard as we could to keep ourselves in that spot. We didn't apply for any kind of grants or loans. We didn't know, from one day to the next, whether we would be open. We sure as heck didn't want a huge loan hanging over our head."
In accordance with COVID-19 protocols and Peterborough Public Health advice, customers' temperatures are checked before they enter La Mesita and hand sanitizer is present.
"I'm very grateful that they (local public health officials) have done what they needed to do," notes Martin, who still marvels over the "adventures" he has had since the days he helped out at the family taco stand in Mexico City.
"Life has thrown at me so many different things at me, so many opportunities," he says, that list including work aboard a cruise ship and, of course, co-owning his own restaurant which opened just a few months after he and Kelly married.
"Never stop and never give up," says Martin of the lessons life has taught him — lessons that he has called upon heavily during the unprecedented challenge offered by the pandemic.
"And never accept the status quo. Always strive for more."
And in the true 'We're all in this together' spirit that is COVID's greatest foe, Martin has a message that can't be read or heard enough … and it starts with two words all-too-often absent from our collective vocabulary during times of upheaval.
"Thank you for coming out and supporting us and helping us keep our doors open."
For more information about La Mesita, visit la-mesita-mexican-restaurant.business.site and follow them on Facebook.