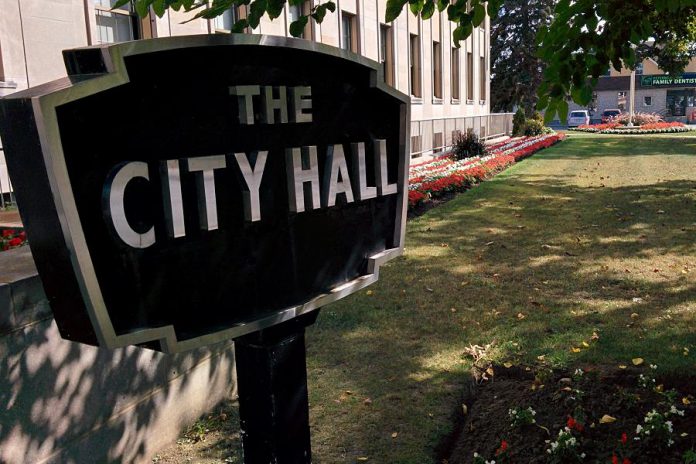 Both Peterborough City Hall and the Provincial Offences Office will reopen to the public on Tuesday, August 4th, with public safety measures in place to reduce the spread of COVID-19.
The safety measures at City Hall include plexiglass barriers installed at customer service desks as well as public health protocols such as physical distancing and increased cleaning.
The city is asking visitors to wear a non-medical face covering while inside City Hall and to use hand sanitizer when entering and exiting the building. There will be information on self-screening, including asking visitors not to enter the building if they feel unwell or have been in contact with someone who has or is suspected of having COVID-19.
Advertisement - story continues below
Visitors are also asked to come by themselves and not bring other people inside (except for support persons). To reduce the potential spread of the virus, electronic payment is preferred.
City Hall hours will be 8:30 a.m. to 4:30 p.m. Monday through Friday, except on statutory holidays when it will be closed.
The city is also encouraging people to continue to access city services online at www.peterborough.ca or by phone at 705-742-7777.
On Thursday (July 30), the city will be launching a new appointment scheduling tool at www.peterborough.ca/appointments so residents can book in-person services. This will help to spread out the number of residents and visitors accessing the same services at the same time.
Appointments are required for matters related to active transportation, building services, marriage licences and other Clerk's Office services including commissioning, geomatics/mapping, housing services, human resources, mayor and members of council, planning and development services, and waste management (garbage and reycling). City staff will try to safely accommodate people who don't know of the appointment requirement and arrive without an appointment.
Advertisement - story continues below
The tax office will be open for in-person services for tax payments or inquiries and parking ticket payments on a drop-in basis, or by telephone 705-742-7777 ext. 1865 or by email at tax@peterborough.ca. Online payment of parking tickets is available at www.peterborough.ca/parking.
Entrance to City Hall will be through the main front foyer that is on the west side of the building facing George Street for all business — except for infrastructure and planning services, which includes building, planning, housing, geomatics and infrastructure — which will be entered though the north wing entrance off George Street. Visitors that require a barrier-free entrance are invited to use the main entrance. All other entrances will remain closed at this time.
The Provincial Offences Office at 99 Simcoe Street will also reopen to the public on Tuesday, August 4th with modified in-person service hours from 9 a.m. to 11 a.m. and from 2 p.m. to 4 p.m., Monday through Friday, except on statutory holidays when the office will be closed.
Only one person at a time will be allowed in lobby for in-person matters, with all others required to wait outside while maintaining two metres of physical distance. Hand sanitizer to be used before approaching the front counter, and the preferred method of in-person payment for all fines is credit or debit card.
Residents are encouraged to continue to pay fines and make inquiries using online and phone services available Monday to Friday 8:30 a.m. to 4:30 p.m. by phone at 705-742-7777 ext. 2099 and by email at poacourt@peterborough.ca. Fines can be paid online at www.peterborough.ca/poa.
The courts will remain closed for all types of trial matters and walk-in guilty pleas until at least the middle of September.