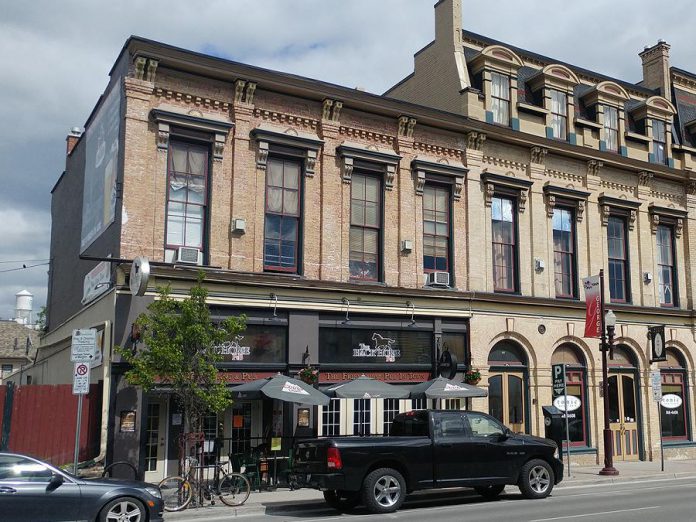 The Black Horse Pub and Restaurant in downtown Peterborough is closing its doors, but it's not related to the COVID-19 pandemic.
Owner and operator Desmond Vandenberg has been unable to obtain insurance coverage for the restaurant, leaving him with no decision but to close the doors on Saturday (August 1).
Our insurance came up for renewal for August 1st," he tells kawarthaNOW's Paul Rellinger. "On June 24th, the insurance company said they would not be renewing our insurance. So we then started seeking insurance and reached out to multiple brokers, in town and out of town, and none of them were able to secure insurance for us."
Advertisement - story continues below
"We were unable to secure insurance at any cost," Vandenberg explains. "At one point, it was suggested that we could get insurance at a rate of two and a half times times what we were paying, and we said okay. But then the insurer came back and said no. We made it clear to all the brokers that we were prepared to insure at any cost, but yet nobody was able to get us a quote."
Vandenberg is quick to point out that the issue he's having getting insurance has nothing to do with the age or condition of the building or the viability of the business. It's based on an unrelated matter, the details of which he is not willing to provide.
"Unfortunately, I don't think I can share that information," he says. "I can say that there's no issue with the building that makes it uninsurable. It's nothing like that at all. The business is in good standing, and it's I think in better shape than many restaurants."
The unrelated matter also has nothing to do with the pandemic, but Vandenberg believes his issue getting insurance might have something to do with COVID-19.
"The environment right now for insurance companies is not great," he notes. "They're kind of staying away from restaurants as they try to figure out where the dust is going to settle on that, on what possible claims they might be looking at because of it."
The insurance issue comes at at a time when the Black Horse is just starting to recover from the economic impact of the pandemic.
"COVID did put a burden on us, but we were prepared to weather it," Vandenberg says. "We were still looking long term, trying to plan for when COVID was going to end, following whatever rules (Peterborough Public Health) had in effect."
The restaurant recently re-opened its patio and has been hosting live instrumental music there for the first time since closing, with local fiddler Irish Millie making several appearances. Just this week, the Black Horse brought back vocal music featuring regulars the Rob Phillips Trio with Marsala Lukianchuk on Thursday night and musical duo Rick and Gailie on Friday night.
"We purchased a plexiglass barrier so that we could allow singing," Vandenberg points out — one of the requirements of Ontario government legislation. All the entertainment has been taking place on the patio rather than inside.
VIDEO: Rick & Gailie perform on the closing night of the Black Horse
Vandenberg, a graduate of Trent University, purchased the property at 452 George Street North from former owner Ray Kapoor in April 2018. Kapoor had been looking to sell for some time, and a deal with Parkview Homes to purchase the property for redevelopment in 2017 fell through. After Vandenberg purchased the Black Horse, he continued Kapoor's tradition of hosting regular live music at the pub.
"In some ways it hasn't hit me yet," Vandenberg says of the decision to close. "For the last month, we've really been trying desperately to keep going, so that's been our focus. When it came down to yesterday, I talked to my wife and at the beginning of the day I said 'All we're doing today is try to get through the day and hold it together'. Now and in the next week or two, we're going to try to regroup — what are our options, what can we do and what can't we do, and move forward from there."
Opening up a new pub and restaurant somewhere else isn't in the cards. Vandenberg owns the Black Horse building and has invested significantly in it. He rents the apartments on the upper floor, so there is limited income from that.
Advertisement - story continues below
As for selling the building, Vandenberg says he isn't exploring that option yet, but nothing's off the table.
"We certainly don't want to do that. We're hoping that we can figure out some way we can continue do do what we have been doing. Beyond financial reasons, it's what we wanted to do, something that we've enjoyed doing."
While Vandenberg remains optimistic that something may change, so far he's been unsuccessful in his efforts at securing insurance.
"There is still some chance somebody may come through at the last minute, but certainly all the traditional markets that you go to to get insurance are not interested in touching us."
Downtown Peterborough has already lost many of its small live music venues, including The Spill and The Dobro. And, while the Black Horse's closure is not related to COVID-19, Vandenberg believes the pandemic is going to change what's possible in the future when it comes to live music.
Advertisement - story continues below
That said, Vandenberg says he has been committed to doing whatever it takes to keep live music a part of the Black Horse experience — but he has no control over securing insurance.
"This decision was out of our hands. We explored ever option to keep it open, prepared to pay any cost to keep it open, and there was nothing offered to us."
This story has been updated based on an interview with Vandenberg by kawarthaNOW writer Paul Rellinger.