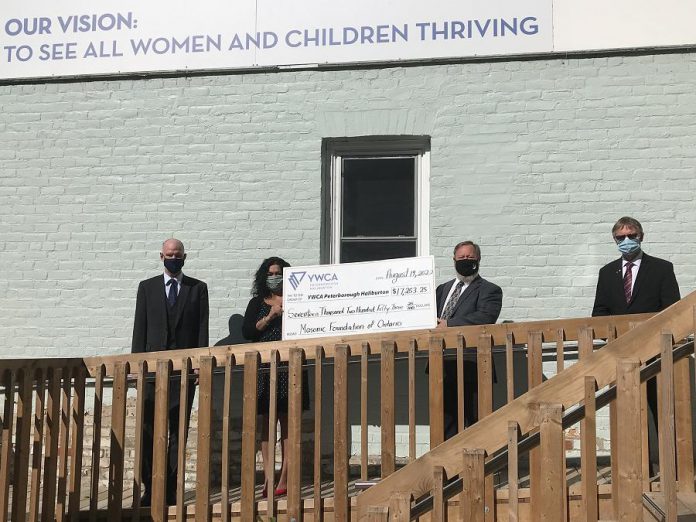 The Peterborough District Masonic Association has donated $17,253.25 to YWCA Peterborough Haliburton's Crossroad Shelter, which provides crisis and support services to local women and children fleeing abuse.
YWCA Peterborough Haliburton made the announcement on Monday (September 14).
"The leadership of caring men in our community who understand that responding to the impact of violence against women and their children, a responsibility we all share, is especially important in these uncertain times," says YWCA Peterborough Haliburton executive director Kim Dolan.
Advertisement - story continues below
According to the Masons' Grand Lodge of Canada, "Masons are spiritual and moral men who choose to associate with groups of like-minded individuals for mutual benefit. What they find in Freemasonry is a disciplined and systematic course of self-improvement based on the Golden Rule: always do to others what you would like them to do to you." There are 3.2 million masons across the world and more than 40,000 in Ontario.
Tom Mortlock, who is the District Deputy Grand Master of the Peterborough District Masonic Association, presented the cheque to YWCA Peterborough Haliburton. Together with his family and the MortWalk Construction Team, Mortlock has been actively involved in the YWCA's Walk a Mile in Her Shoes fundraising event in Peterborough for many years.
"The essential service provided by the caring YWCA family is a resource that the Masons of Peterborough District were very proud to support this year," Mortlock says.
This past May, YWCA Peterborough Haliburton announced it was ending the annual Walk a Mile in Her Shoes event after 11 years. The event has raised more than $950,000 for the Crossroad Shelter, including $103,028 in 2019.
Funds raised by the Peterborough District Masonic Association throughout the year were added to proceeds from the association's "Stand a While in Her Shoes" event, a drive-through and drop-off fundraising event and bottle drive held at the Peterborough Masonic Temple on Rubidge Street in June.