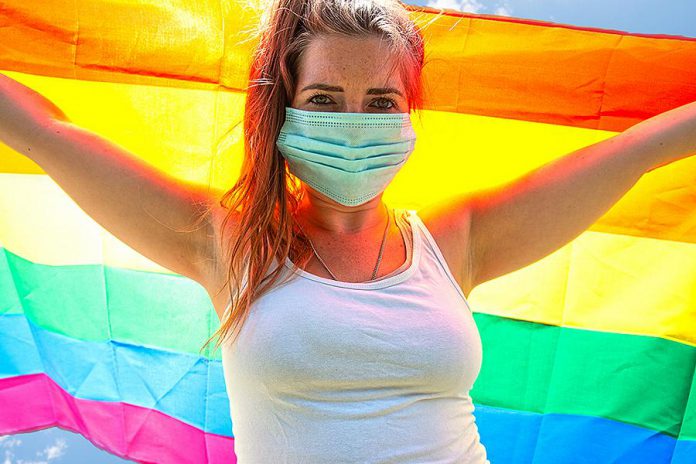 There will be no parade or large public gatherings for the 18th year of Pride in Peterborough, but that doesn't mean Pride Week is cancelled. Plans are in the works for various community-run virtual events from Friday, September 18th to Sunday, September 27th to facilitate safe participation for all.
A testament to the resiliency of the community and the Peterborough Pride Committee's commitment to provide space for participants to gather, share ideas, speak their minds, support each other, and have fun in a safe and accepting environment, "Pride in Other Spaces" aims to connect LGBTQ+ individuals and the community despite the challenges of our year of the virus.
"Obviously we've had mixed feelings about it," says Rick Lambert of the Pride committee. "The small group of people that are involved in Pride organizing have had the same complex personal traumas during the pandemic as anyone else."
"The consensus that we [the Pride Committee] came to was that individuals in the LGBTQ+ community can often feel isolated, and Pride brings an opportunity for people to come together and feel supported — that they're not alone — so we felt compelled to do something," Lambert adds.
"We were hearing from Toronto Pride and other Pride committees that were doing virtual events and there's a lot of stuff that can be done online. As with any other year, we, the Pride committee, don't actually run a lot of the events — rather, we invite the community to propose their own."
At this point, around 10 to 15 virtual events are slated to take place throughout the week. Events will be posted at peterboroughpride.ca/events/. To propose an event, complete and submit the event application on Google Docs with all of your information and ideas. If you have any questions, you can email participate@peterboroughpride.ca.
"There are going to be various panel discussions, livestreams, and we have films that are going to be available for people to watch," Lambert explains. "Instead of having a single event, there will be a link that they can go to watch the films at any time."
VIDEO: "Changing The Game" official trailer

A Michael Barnett documentary, Changing The Game, which follows the lives of three high school athletes at different stages of their athletic seasons, personal lives, and unique paths as trans teens, will be presented online from September 18th to 27th by ReFrame Film Festival, Gender Journeys HKPR, and Peterborough Pride.
For details about how to connect to the event, visit the Facebook event page.
On Friday, September 18th, local drag icon Sahira Q will be hosting a virtual drag bingo event via Zoom as a part of Dis-Orientation Week, hosted by the Trent Queer Collective, the Trent Centre for Women and Trans People, and OPRIG Peterborough. Register for the event on the Zoom website.
On Sunday, September 20th, and every second Sunday following, Sahira Q will debut their DJ talents on Insta Live as a part of Peterborough Pride. There will also be an online drag event hosted by Fleming College on Thursday, September 24th. Follow Sahira Q @dragsahiraq on Instagram to stay updated about events.
"It's definitely different than other years," says Sahira Q, also known as Said Jiddaway when they're offstage, "I remember last year, when I was on the Pride Committee, it was so much more hands-on — we were planning a parade and so many events."
"It kind of sucks — some people look forward to Pride all year long; it's their moment to connect with people like themselves. But we're doing what we can and we're doing our best to make sure that those people don't feel left out this year."
"I've done three digital events so far. It's hard in a way because it lacks the interactivity of a live crowd, but at the same time, I'm working with it. Now I'm DJ-ing — I'm still producing content, just in a different way."
"Ours is a community that needs connection and right now we can only connect through the internet. Online is not the same but it's so important that there is still that connection, so I'm letting it be different but still good."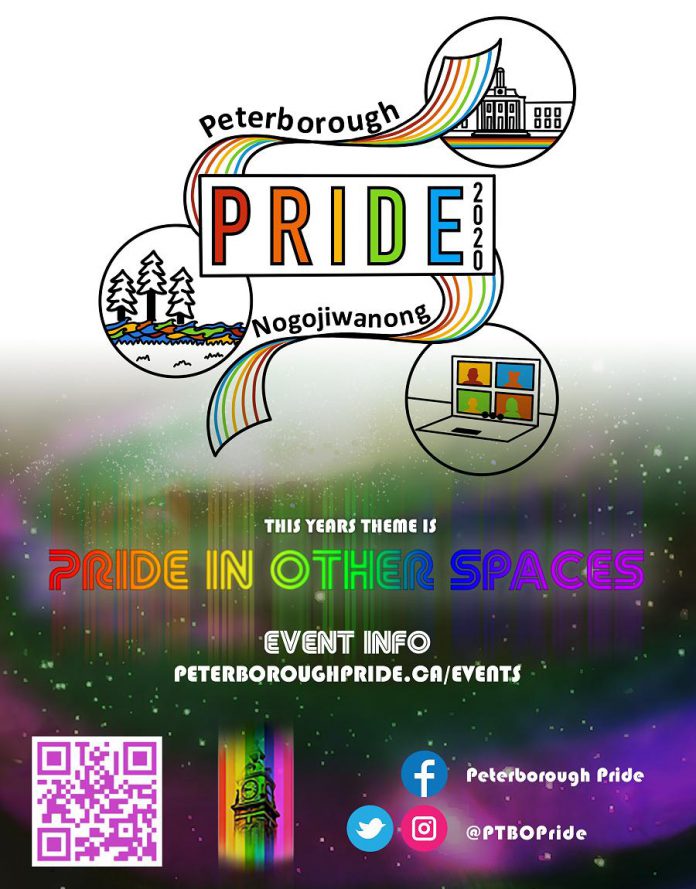 To show support this year, Peterborough Pride is inviting everyone to show their "Pride in Other Spaces" by flying Pride-related flags or by decorating their homes and businesses to signal that they are a part of a welcoming community where nobody needs to feel isolated or unsafe.
"That way," Lambert says, "if people are out and about, even if they're not meeting with people, they can still feel supported and welcomed from the broader community, which is one of the things that we always hope comes from Pride every year."
Throughout this pandemic, we have found safe ways to come together and care for each other as a community — to show our support. Pride in Other Spaces is another example of our ability to master the art of making the most of it. To support Peterborough Pride by making a donation, you can send an e-transfer to treasurer@peterboroughpride.ca.