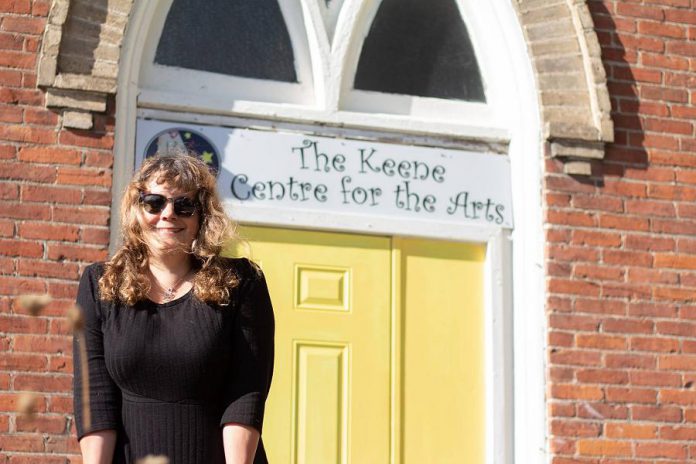 Although Ida Brown never wavered on her ambition to one day own and manage a performance arts space, not even she could have imagined her lifelong dream would be realized in the sleepy village of Keene.
And although The Keene Centre for the Arts — along with every other performing arts venue — had to temporarily close its doors earlier this year due to the pandemic, Brown has been back in full swing since August hosting COVID-safe events including local live music, comedy, and more.
"I knew, totally and completely, this was where we needed to be," recalls Brown of her first impression upon entering the then-for-sale former Keene Methodist Church at 12 First Street in the village southeast of Peterborough.
Advertisement - story continues below
That was in June 2018. Soon after, Brown and her husband Matt Pukarowski bought the historic building and have since given it vibrant new life as the home of the Keene Centre for the Arts and Brown's in-house theatre company MyIda Rose Theatre.
"I wanted to have a space for my theatre forever, since my kids were small," says Brown.
"I fell in love with it and we decided to purchase it and make it into a place for performance artists to come and create things," Brown adds.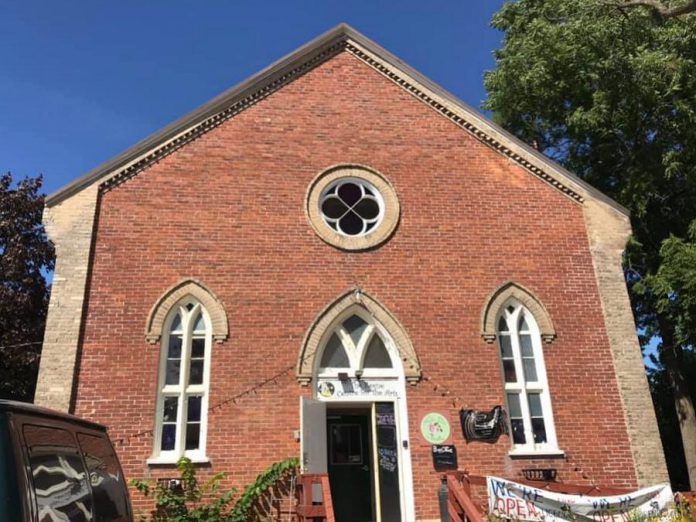 What followed were extensive renovations to the building, preceded by one very pleasant surprise.
"We went upstairs and discovered a rose-shaped window that was hidden by a brick chimney. Immediately I said 'We have to take that brick down.'"
That unique architectural feature revealed, Brown, with the help of her husband, her mom Myrna and her grown children, set about transforming what was, since 1927, the Keene Masonic Lodge into the space she had envisioned for so long.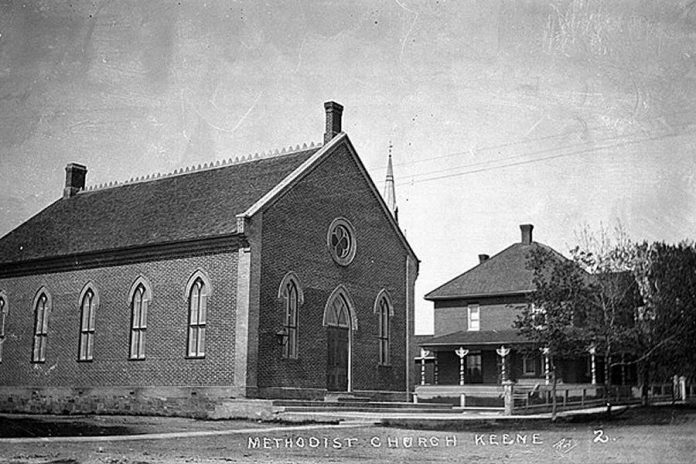 The arduous work included enlarging and strengthening the existing raised floor that would serve as a stage, and removing brick and rubble from the upper floor rooms. Along the way, slowly but surely, the required work permits were obtained as well as a liquor licence which was granted just this past February.
"At first I was completely gung-ho but there was a point where I realized it was actually happening … my stress level went through the roof and I became terrified," admits Brown.
"I did a play (The Grinch) in December 2018 (at Keene United Church). The Keene Centre for the Arts wasn't open yet but I really wanted the community to get to know me. That was very well received. I talked to every single person I could to and was on social media, constantly adding people. My husband said 'Would you please get off the phone?' but I was determined."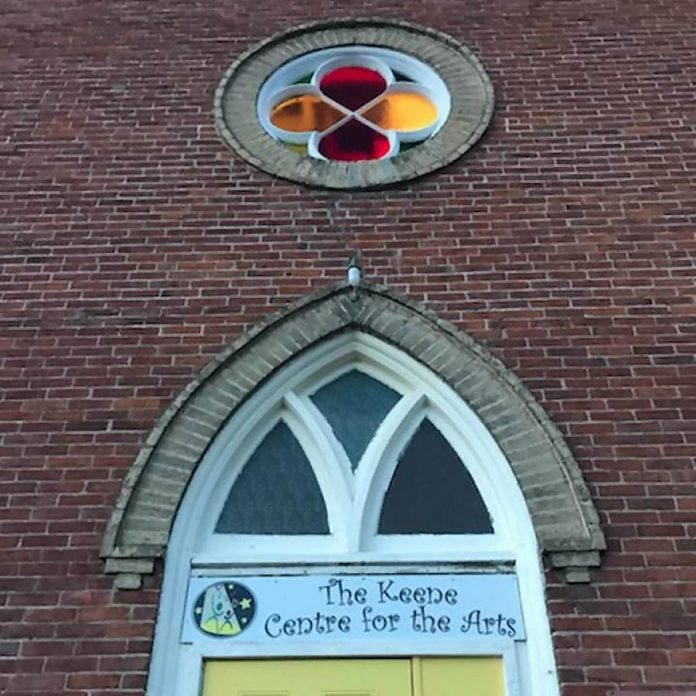 The Keene Centre for the Arts is not only home to MyIda Rose Theatre — the theatre name combines her mom's name Myrna and Brown's first name while paying tribute to the rose window — but is also available for rental by community groups looking for a space to hold activities.
The main room's cabaret-style seating can accommodate 60 people while there's capacity for 40 people upstairs.
Of course, the COVID-19 pandemic necessitated some changes to the venue. Along with public health and safety protocols including face masks, physical distancing, and frequent cleaning, these included the installation of a large plexiglass shield separating performers from the audience.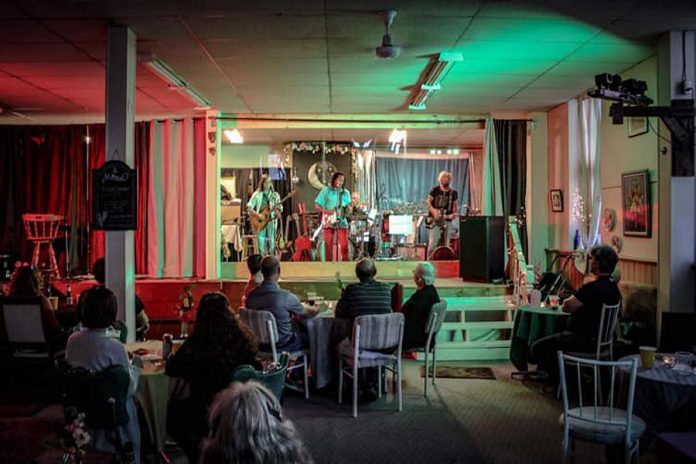 The journey that brought Brown to Keene can be traced back to her childhood when her mom exposed her to theatre in Stratford and Niagara-on-the-Lake. As a child, she created plays in the family backyard, casting neighbourhood kids in various roles as needed.
More formally, she later attended McMaster University where she studied English and drama. With the arrival of her first child Bethany — "She loved to jump on coffee tables and sing" — Brown decided to give her an outlet for her creative energy, founding Brown Children's Theatre which staged various productions at Hamilton venues, including at a pub, a church basement and The Staircase Café Theatre.
"I continued to adapt or produce one show a year … that's how we started to bring together parents and their children new to theatre to create huge theatrical productions," recalls Brown.
Advertisement - story continues below
Moves to Cambridge and Elora followed and Brown, kids in tow, produced a number of productions at the Cambridge Centre for the Arts, the Elora Centre for the Arts and the Fergus Grand Theatre.
All the while, each summer, she brought cast members to Hastings to her parents' cottage and fishing camp in Roseneath for "cast party weekends" which included performing for audiences in Hastings.
When her dad was diagnosed with dementia in 2013, she moved her family to Hastings to be closer to him.
"I rented space at the Warkworth Centre for the Arts and, as my five children got to the right age for the parts, I would do certain plays again," says Brown, who had named her theatre troupe The Little Town Theatre.
"I had been renting space forever, so it was time. I found the church on MLS and we took a look. I could see the promise the moment I walked through the door."
"There was a pillar going right down the centre of stage but I saw only the little theatre I had been dreaming of for so many years."
As of now, both Brown and her husband, who now live in Cordova Mines, are working at full-time at the centre.
Matt Pukarowski is a millwright by trade but currently has no work in that field, giving him the time to help out, including handling the sound for bands that perform there.
Now that Keene Centre for the Arts is a COVID-safe venue, Brown has been able to bring back the popular Sharon's Cafe, an open mic event with lunch specials held on Thursday afternoons, and recently launched the Keene Comedy Club featuring aspiring comedians on Thursday nights.
VIDEO: Cassie Noble performs at the Keene Centre for the Arts
Local bands scheduled so far for this fall include Checkmate (Sep. 19), Emily Burgess (Sep. 25), The Tonemasters (Oct. 17), The Rodgers Boys (Oct. 24), and Kelseidoscope aka Kelsey Eide (Oct. 24).
For a full list of upcoming events, visit the Keene Centre for the Arts' Facebook page at facebook.com/keenecentreforthearts/.
For more information on the Keene Centre for the Arts, including rentals, visit keenecentreforthearts.com.