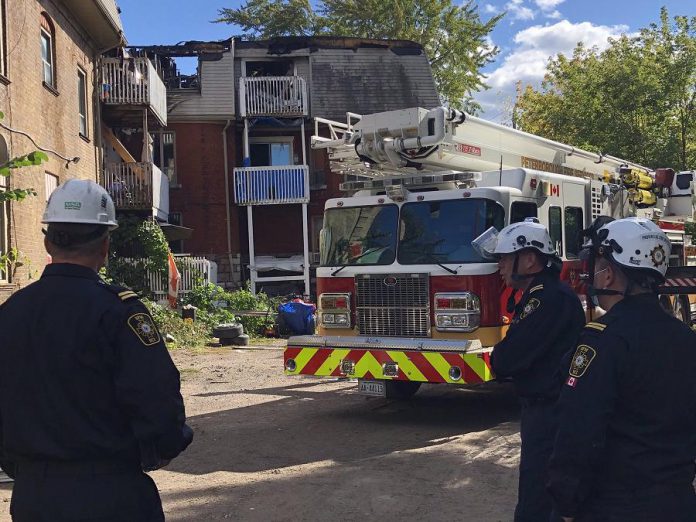 Police have charged a Peterborough woman with arson and attempted murder following a fire early Sunday morning (September 20) at a Hunter Street West apartment complex.
At 3:24 a.m. on Sunday, police and fire services responded to a structure fire at TVM Mansions at 369 Hunter Street West.
The 85-unit apartment complex, owned by TVM Group, also has entrances at 384 Park Street North and 386 Park Street North.
When police and fire services arrived, the building was on fire and several residents were gathered on the sidewalk. Police observed a woman, with visible burn marks to her clothing, walking in the area. Witnesses subsequently identified the woman as the person responsible for starting the fire.
Advertisement - story continues below
When police approached the woman, she began to walk away. After police caught up to her around Hunter and Downie Street, they spoke with her and had reason to believe she started the fire.
At 3:31 a.m., police arrested Kristina Saunders, 35, of Hunter Street West in Peterborough on a charge of arson with disregard for human life and took her into custody.
After further investigation, police allege Saunders had intentionally set a fire in an apartment where a man was sleeping in a bedroom. As a result, police have also charged Saunders with attempted murder.
Saunders was held in custody pending an appearance in provincial court.
Over the next few days, Peterborough police will be working with the Ontario Fire Marshal's office to determine the cause of the fire.
Police are not aware of any injuries as a result of the fire, and say the estimated costs of the fire damage is not yet known.
An investigative team has arrived in Peterborough to assist @PtboPolice @PtboFireRescue determine the origin, cause and circumstances of an overnight fire. pic.twitter.com/ItkXLXZFZg

— Steven Wilson (@A_Deputy_OFMEM) September 20, 2020