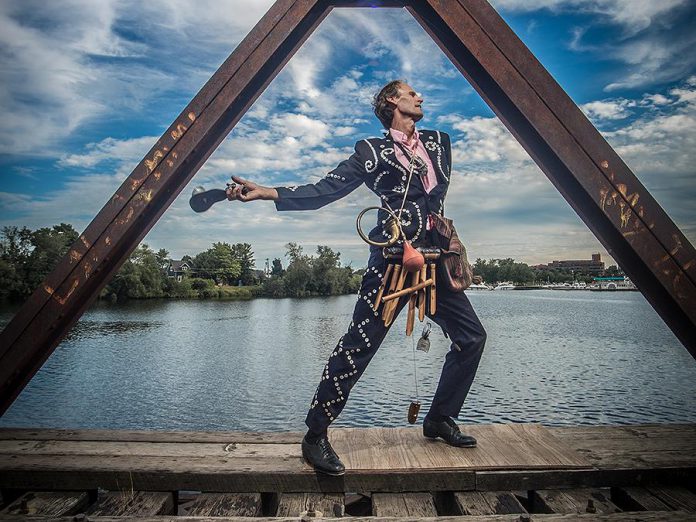 Public Energy Performing Arts is presenting The Pivot Series from Friday, October 2nd to Tuesday, October 20th. The outdoor performance series, sponsored by the Peterborough Downtown Business Improvement Area (DBIA), features 10 short — 15 to 30 minutes each — site-specific dance and theatre works at various outdoor locations in Peterborough.
There's an elephant in the room, and I'm going to go ahead and name it: since Premier Ford's Monday declaration that Ontario is now in the second wave of COVID-19, many citizens are, once again, evaluating the possible risks associated with various activities.
At this point, in terms of risk, attending physically distanced outdoor performances is far safer than doing your grocery shopping, dining inside a restaurant, or going to work. It's also guaranteed to be far more enjoyable.
Public Energy has gone to great lengths to ensure the safety of audiences and artists alike. Expect enhanced safety protocols such as screening, physical distancing, limited audience numbers, and mandatory face coverings for outdoor audiences, staff, and volunteers.
Advertisement - story continues below
"We are definitely adhering to all of the Peterborough Public Health protocols and more," says Bill Kimball, executive director of Public Energy. "We're just trying to safely get people back into the spirit of seeing live theatre."
"It's such an honour to be a part of this series," adds Kate Story, whose original dance piece 'Love in the Time of Covid', created and performed with Ryan Kerr, will kick-off the performance series this Friday night.
"Public Energy has been ahead of the curve from the second Covid became the reality in our lives here in Peterborough, finding ways to keep the arts and artists visible," Story notes.
"These artists have all been missing live audiences," continues Kimball. "They've been very inwardly focused for months and are really missing that connection — even if it is with a small audience."
And Peterborough audiences are biting at the bit for more chances to safely see live performances while they still can (if you miss the performances, Public Energy has partnered with the ReFrame Film Festival to create a short documentary about The Pivot Series for screening at the 2021 festival).
Patrons are asked to arrive 15 to 20 minutes prior to each performance. Washrooms will not be available on site and no food or drink will be provided. While there will be some seating available, you are encouraged to bring your own chair and to dress for the weather (there are no rain dates).
All tickets are pay what you can can be reserved online via Public Energy's website at publicenergy.ca or by calling 705-745-1788.
Below is a comprehensive list and schedule of performances for The Pivot Series, with project descriptions courtesy of Public Energy.
Love in the Time of Covid
Created and performed by Kate Story and Ryan Kerr with music by Arvo Pärt, Lou Reed, and Curtis Driedger.
When: Friday, October 2nd and Saturday, October 3rd at 7 p.m.
Where: The parking lot behind The Theatre On King (171 King St., Peterborough)
Love in the Time of Covid plays with an idea that the forbidden is also erogenous, that love and trust are always hard, and that the aged body can love.
Kate Story revisits previously unfinished work, a duet set to the music of Arvo Pärt, reinterpreting this bizarre mating ritual for present times by expanding on themes of forbidden zones: mouths and hands.
Returning to his first independent choreographic work, Ryan Kerr presents audiences with a lyrical and hopeful affirmation of connection, love, and the present.
The choreography is accompanied by musician Curtis Driedger, interpreting Lou Reed's Perfect Day.
Le Flâneur
Created and performed by Bill Coleman with music by Curtis Driedger,
When: Saturday, October 3rd at 2 p.m.
Where: Millennium Park (30 King St., Peterborough, in front of the Boathouse at the Silver Bean Cafe)
Flâneur (French noun) – "to wander with no purpose", a deliberately aimless pedestrian, unencumbered by any obligation or sense of urgency.
A costumed dancer and musician perform a series of unplanned performances that traverse the city. The spontaneous nature of the performances, and the travelling-through, avoids gathering of crowds and affects the public through unintentional encounters.
The traditional way of travelling — by foot — has long been the mode of transportation for minstrels, vagabonds … and la flâneur.
Reflecting on this method of traversal, this performance hopes to leave a trail, an experiential presence, reverberating through the people who are indirectly and unintentionally affected.
Wanderers and travellers have traditionally appeared throughout history on our streets and roads following upheaval and change. As a response to COVID-19 pandemic, to unleash our art freely in this manner seems an appropriate response
Note: This performance moves through Millennium Park northwards following the railroad tracks and pausing at each crossing. Audiences are encouraged to view the performance from any position. For those who are not mobile or who would like to sit or view from a stationary position, gather at the crossing by the Boathouse at the Silver Bean Cafe.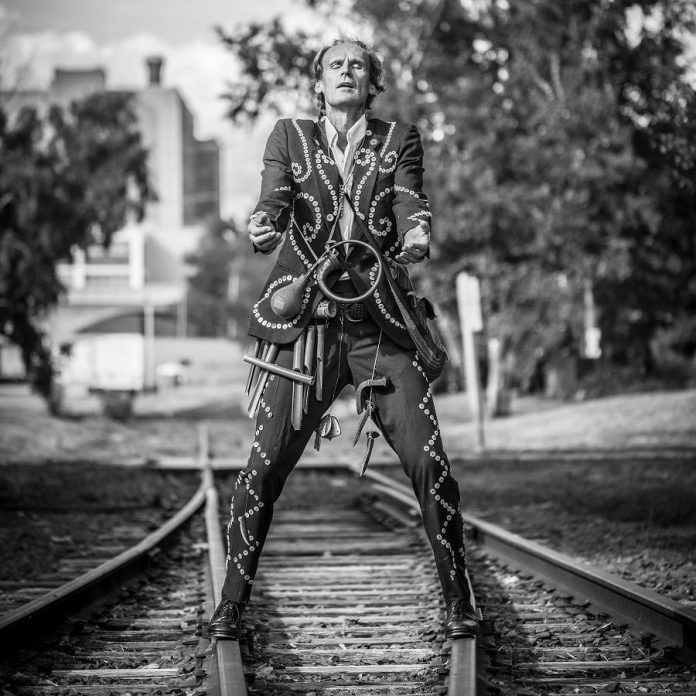 Essential Circus Stage Three
Created and performed by Jennifer (Opal) Elchuk, Tegan Moss, and Jeremy Pastic.
When: Thursday, October 8th at 7 p.m.
Where: Peterborough Square courtyard (Charlotte St. between George and Water in Peterborough)
The illuminated clock tower at Market Hall provide an iconic backdrop for a stunning fire performance. Arriving at dusk, spectators have a chance to experience the extraordinary in a seemingly ordinary location.
Opal, Tegan, and Jeremy will dance with an exciting array of fire props. The spinning flames are accompanied by electro swing music that has an energetic excitement accessible across generations.
This playful and entertaining act invites the whole family to enjoy the magic of the circus.
Advertisement - story continues below
Bridge Over Troubled Water
By Aria Evans, created with and performed by Irma Villafuerte and Kevin Jones, Nikki Shaffeeullah and Sasha Tate-Howarth, Belinda Corpuz and Malcolm Connor, and Aria Evans, with accompaniment by Eirene Cloma.
When: Friday, October 9th at 6 p.m.
Where: Inverlea Park (corner of Denistoun and Parkhill in Peterborough)
Taking place at Inverlea Park, with a bridge present in the background, three duets occur.
Working with pairs of two artists from different artistic disciplines, different cultural backgrounds, and different sexual orientations — who have been living together during the pandemic — each duet uses the metaphor of how a river flows and changes to portray how relationships also shift over time.
Inside The Sculpture
By Irèni Stamou, performed by Dreda Blow and Irèni Stamou.
When: Tuesday, October 13th at 12:30 p.m. and 5:30 p.m.
Where: Peterborough Square courtyard (Charlotte St. between George and Water in Peterborough)
A daytime performance dance piece inside the sculpture "Figures Dancing" by Don Frost, located in Peterborough Square outside Market Hall. A variation of Irèni Stamou's ongoing creation Bone Stories, this site-specific performance inside the sculpture, like the city's soul, is relevant as a metaphor for the sign of our times. From inside the sculpture, we see social change, we acknowledge the separation of the live arts during the pandemic crisis, feel the void, and long to create, perform, connect.
Reflecting a sign of our times, exposed, vulnerable and courageous, the dance takes different rhythms, dynamics, and forms like forces of nature, spiraling in an intertwining of dancer and sculpture as part of life. Like dance and nature, the sculpture invites us into its space to move from inside itself, step on the limbs and become part of it. In this landscape, we also reimagine, reorient, pivot and witness the audience and performer, between movement, presence and stillness as a healing process.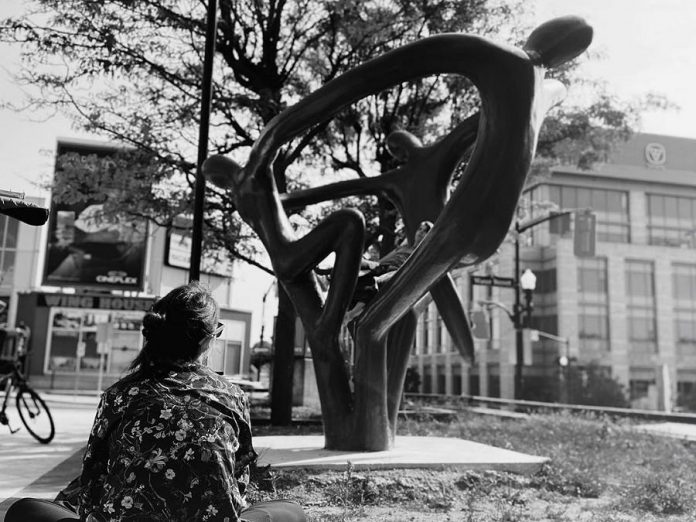 Between the Dragon and the Tiger: how to maximize your energy in public
By Coman Poon and Naishi Wang.
When: Thursday, October 15th at 12:30 p.m. and 5:30 p.m.
Where: Outside Bata Library at Trent University (1600 West Bank Dr., Peterborough)
A new dance/ritual collaboration between two Chinese-Canadian artists that enjoy working site-specifically.
They offer an artistic approach that embodies an exploratory and culturally hybridized process that centres on feng shui ("wind-water") principles of establishing and sustaining environmental harmony.
In this time of conflict and separation, the artists invite all to interact and dialogue with each other, as a bridge to intercultural understanding.
Armour – CANCELLED
By Christy Stoeten, performed by Revy Barber, Madie Brown, and Sharazade Vahid and designed by Sonia Gemmiti.
Note: This performance has been cancelled due to performers in the piece needing to self-isolate. Public Energy plans to present this work in spring 2021.
When: Friday, October 16th at 7 p.m.
Where: Heritage Pavilion Stage on Armour Hill (via Museum Dr. at 300 Hunter St. E. in Peterborough)
In the words of creator Christy Stoeten:
"When I was in high school, there really wasn't much to do on a Saturday night in Peterborough. The options included the Mustang Drive-In, midnight trips to the new 24- hour Sobeys or a drive up Armour Hill. There was always something exciting about driving up the winding road to get to the top of Armour Hill, like we didn't know what to expect when we arrived at the top …
This piece captures the essence of what it's like to be young in Peterborough. Or at least what it sometimes felt like for us. With stories from my teenage experience and those of my collaborators, we've created a work that feels like a series of snapshots from another time. The piece doesn't take place during a specific era, but transports the audience to a time and place that feels: nostalgic, bizarre and at times sentimental. Think The Twilight Zone meets Fast Times at Ridgemont High."
Advertisement - story continues below
Point of Origin
Concept and choreography by Returning River (Jen Hum, Naishi Wang, Emily Law, Pam Wong-Shoebottom, Henry Mak) and performed by Jen Hum, Naishi Wang, and Pam Wong-Shoebottom.
When: Saturday, October 17th at 7 p.m.
Where: The Boathouse at Millennium Park (130 King St., Peterborough)
In the words of Returning River:
"Point of Origin is a project we at Returning River have been developing for two years. Presently, we are working from three separate points of entry into exploring the multilayered concepts of identity, face, and voice with broad strokes gesturing to an alternative voice, societal stereotypes, the philosophies of East and West, transformation, history, and representation.
Stream 'one', our identity location solos, flows from personal connections with specific, physical locations in Toronto that are tied to our memories, name, ancestry, and hence our sense of self.
Stream 'two' is based on the examination of 'What is it like to live with this face?'. We examine face as our main physical identifier and the friction between how we self-identify and how others identify us. 'Face' is also a complex and nuanced concept in East Asian culture seen as one's social currency.
Stream 'three' is to be a performative transformation of the concept of bi-culturalism. Working with ideas of food, names, voice and movement, the artists embark on a journey that includes stories of receiving a second name, the effect of one's name on self, vocalizing naming and renaming articles, and using cooking as a metaphor for the passing down of culture."
Meeting At Thebes
By Lee Bolton, performed by Peyton Le Barr with Mithila Ballal and Jim Angel.
When: Sunday, October 18th at 6 p.m.
Where: Confederation Square (499 George St. N., Peterborough)
Meeting at Thebes is an interactive storytelling journey that blends practical community action with ritual, physical theatre and contemporary text. By combining an ancient story told at a local site of profound modern and historical resonance with a performance that fully embraces the present moment, Meeting at Thebes speaks directly to relevant social issues while offering room for us as a community, amidst months of isolation and uncertainty, to come together and enact the core ingredient of healing: a collective catharsis.
Meeting at Thebes is based on Bolton's play Jocasta, first produced in Leeds, UK in 2009. Jocasta is a feminist reimagining of Sophocles' Greek tragedy Oedipus Rex. Sophocles wrote about kings, gods and inescapable fate against the backdrop of a plague threatening the city of Thebes. Jocasta shifted the focus from the powerful to the powerless, not only the doomed mother/wife of the title but the marginalized of the city.
The Pratfall Affect – RESCHEDULED
Written, directed, and choreographed by Wes Ryan with musical direction by Patrick Walsh and featuring Matt Gilbert and Phil Lyons.
When: Tuesday, October 20th at 12:30 p.m. and 5:30 p.m.
Where: Intersection of Simcoe St. and Bethune St. in Peterborough
Presented by These are the Horizon Days, this show is an examination of economics, addiction, ice cream, and community told through harmonica and dance in six-foot intervals. Note: This performance was originally scheduled for Wednesday, October 7th.
kawarthaNOW.com is proud to be a sponsor of Public Energy's 2020-21 season.