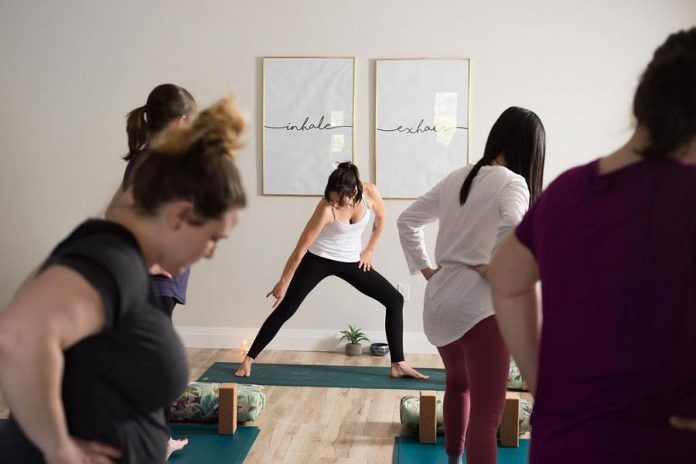 When The Willow Studio reopened in July, the Peterborough yoga, fitness, and Pilates studio had to make some important changes to protect the health and safety of its students during the coronavirus pandemic.
For instance, the yoga mats inside the studio's location at 1600 Lansdowne Street West are now spaced more than six feet apart, making room for five to seven students, depending on the class.
"Before COVID-19, the studio could easily fit between 10 and 14 people in a class while still ensuring comfortable distancing," says Stephanie Reynolds, the studio's owner and director. "Now with the new precautions and even smaller class sizes, students tell me they're feeling very safe. The smaller classes also mean instructors can give more attention to each student."
The increased spacing between mats is just one of the precautions The Willow Studio has put into place for those who want to continue to attend classes in person. Students must also wear masks while they are inside the studio, only taking them off once they're on their mats. A new air purifier has been installed and high-touch points are thoroughly sanitized between classes.
For fitness studios and gyms across Ontario, the pandemic was an unexpected shakeup for their industry, which relies heavily on in-person teaching. However, getting creative on how to serve and stay connected to their clientele by embracing online learning has allowed The Willow Studio to stay afloat and do well — the studio has expanded its virtual offerings along with COVID-safe in-person classes.
Over the past two years, The Willow Studio built and maintained a loyal base of students of all levels through their yoga, Pilates, and fitness classes. The bright, airy, and cozy space welcomes a range of participants, from expectant mothers looking to manage their pregnancy-related aches and pains, to moms wanting to recuperate from childbirth and meet other moms, to folks over 50 working to keep strong and healthy in their later years.
The studio is the first of its kind in Peterborough to specialize in core and pelvic floor health. Classes are taught by experts in movement for pregnancy, postpartum, 50 plus, and pelvic floor rehabilitation.
"Many of the yoga teachers are trained at the 500-hour level, and we have one of Peterborough's few registered yoga therapists on staff," says Reynolds. "Our instructors are highly skilled and personable, and they regularly pursue new training to expand their skills."
The studio's core and floor yoga, fitness, and Pilates programs are developed in consultation with a pelvic floor physiotherapist.
As people remain concerned about the pandemic and become used to doing things online, Reynolds has seen a substantial uptick in attendance in their online classes in recent months. As a result, The Willow Studio has expanded their digital offerings for those who prefer to practise routines from the comfort of their own homes.
This includes a subscription to hundreds of recorded Zoom-based workout classes and a signature collection of high-quality, professionally filmed videos called "Willow at Home".
From the studio's website at willowpeterborough.com, you can choose from three Willow at Home collections that will give you relaxation, energy, flexibility and strength: the Core & Floor Collection, the Prenatal Collection, and the Healthy Aging Collection.
Since the pandemic hit in March, there's been a lot of uncertainty and many people are feeling anxious and stressed — regularly touted reasons to try yoga, explains Reynolds, who has been teaching yoga for six years and practising it for 15 years.
VIDEO: Willow at Home

"What yoga is really good at is improving sleep, mood, and resilience to handling stress, anxiety, and pain," she says. "It allows you to be calm. We even have a specific Bedtime Yoga class to help people get a better night's sleep — research is showing that sleep disorders are on the rise due to COVID-19."
While The Willow Studio's online classes are increasingly popular, many students still prefer to attend in-person classes so they can bring structure back into their weekly routine.
"Our students are happy the studio is open again," Reynolds says. "Some were doing online classes but distractions at home — like kids, housework, and unreliable internet — made it more challenging to do. Online classes have their benefits but returning to the studio meant they could practice distraction-free, and the quality of their workout and relaxation time has improved tremendously."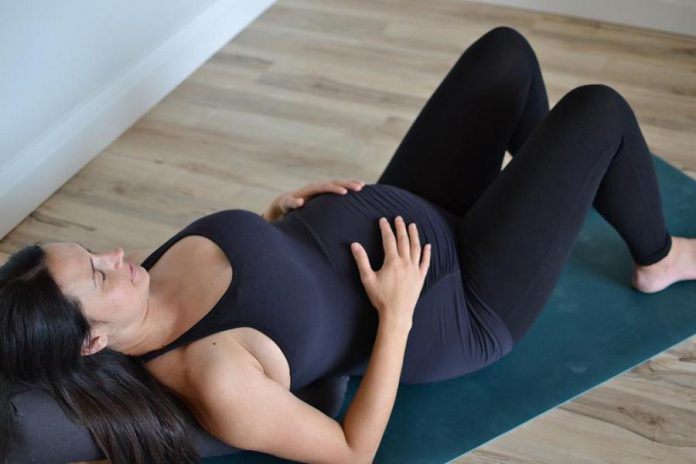 Many of The Willow Studio's students who are over 50 would also like to return to in-person classes, Reynolds notes, but they are being extra cautious due to the pandemic and are enjoying the virtual classes.
"The online classes give them options and the ability to stay connected to Willow," she says. For those who prefer in-person classes, another safety measure is that students must have their own equipment. To reduce health risks for those attending in-person classes, The Willow Studio no longer lends mats or yoga props to students.
"We require that all students bring their own gear," explains Reynolds.
You can purchase items such as yoga bolsters, blocks, and mats online through the studio's Mindbody Boutique. Items are delivered at no cost within Peterborough.
"We appreciate that customers are supporting local and ordering products from us instead of through Amazon," Reynolds points out.
While pivoting the studio's services during the pandemic has come with its fair share of challenges, Reynolds says it has taught her to be flexible and to keep moving forward with the ultimate vision she has for her studio.
Reynolds chalks up The Willow Studio's continued success to a bit of luck and a lot of preparation, but she also gives her loyal customers much of the credit.
"Many of our clients are like family to us," she reflects. "They all recognize how delicate the situation is financially and we've been supported in every way. And that's a huge part of why I think we're making it through this."
The Willow Studio is located at 1600 Lansdowne Street West #16 in Peterborough. For more information, email info@willowptbo.com or visit willowpeterborough.com, where you can learn more about yoga, Pilates, and fitness classes, register for a class, or purchase a video collection. You can also follow The Willow Studio on Facebook and Instagram.
This story was created in partnership with The Willow Studio.