Local moms and their kids have reason to celebrate with the recent launch of Peterborough's new Lavender and Play Family Boutique and Studio.
Lavender and Play is the result of a partnership between the owners of two family-focused businesses, Sonja Martin of Rooted Lavender and Sarah Susnar of Play Café. The two women have merged their two businesses under the new brand, which launched in September.
Located at 1434 Chemong Road, Lavender and Play offers a variety of sustainable and socially responsible apparel, toys, puzzles, books and accessories, a toy rental subscription with curated high-end toys and equipment, paper crafts for under $5, a wooden activity box subscription (available for 3, 6, or 12 months), as well as custom gift boxes.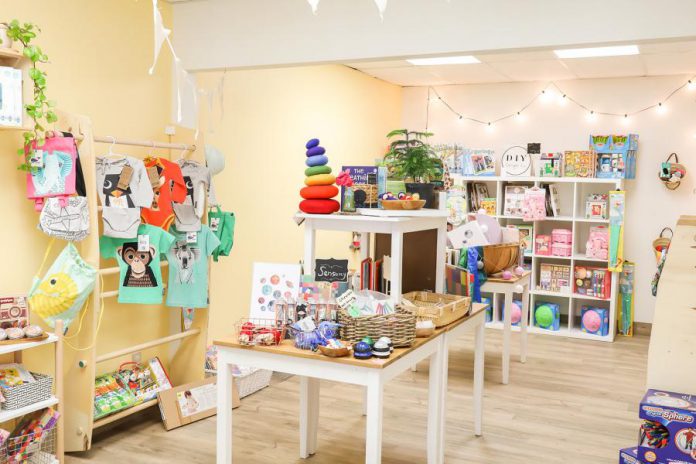 Customers can also purchase items through Lavender and Play's new online store at lavenderandplay.ca.
Lavender and Play also takes its services a notch further by specializing in postpartum doula support, yoga, and behavioural consultations.
A spacious studio hosts physically distanced family wellness classes such as parent and toddler yoga, mom and baby groups — where topics such as sleep, pelvic floor health and nutrition are covered — and postpartum workshops where moms can share triumphs and lighten the load when it all feels like things are too intense to manage. Some sessions are offered virtually.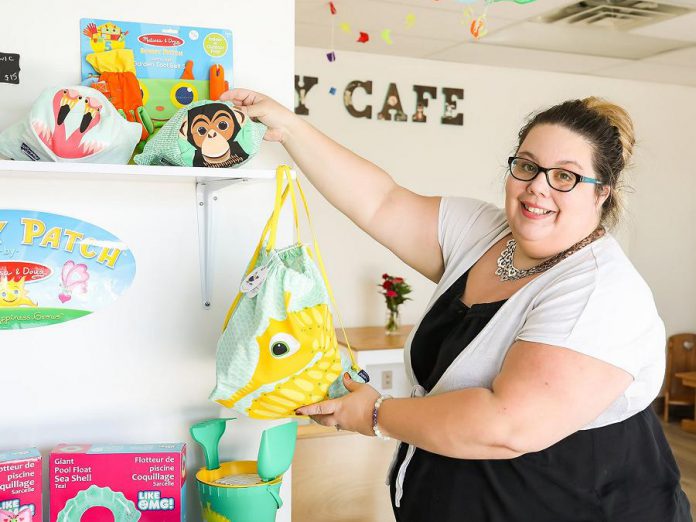 The merging of the two businesses is a sign of resilience, agility, and creativity to survive the pandemic, explains Martin, who owned and operated her Rooted Lavender for four years.
Last November, Play Café — which Susnar founded in 2015 — moved from Brookdale Plaza to a larger space further north on Chemong Road to accommodate its quickly growing business. Then in March, the café was forced to close its doors due to the COVID-19 pandemic.
Much of Play Café's success had depended on drop-in customers as well as birthday parties, mom and baby groups, and family paint nights. Being forced to close took a crippling toll on Susnar's business, according to Martin.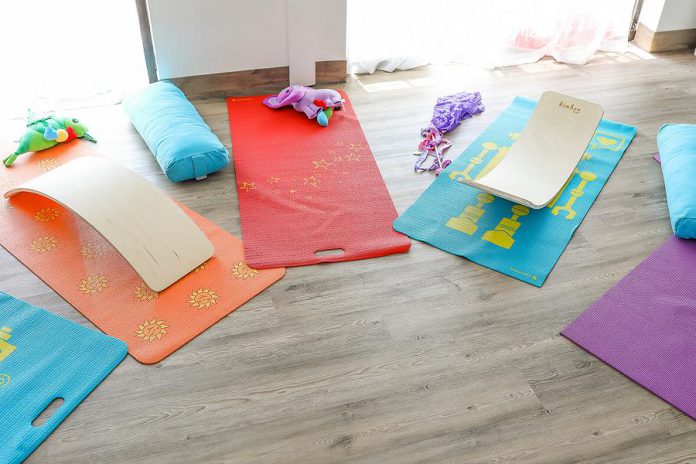 "The loss of revenue from the café's services and the growing overhead costs were getting harder to manage," Martin explains. "Sarah was closely watching other play-based cafés in different cities and noticed that they were either closing or pivoting to online retail."
It left Susnar at a crossroads: either innovate or implode. So, over the summer, she approached Martin, who she had gotten to know well over the years while Martin was teaching part-time yoga, meditation, infant massage, and baby sign language classes at the café.
Susnar offered her an enticing business proposition: blend their complementary skills and open a kids' boutique, coupled with family support services and classes for moms trying navigating the stages and challenges of parenthood.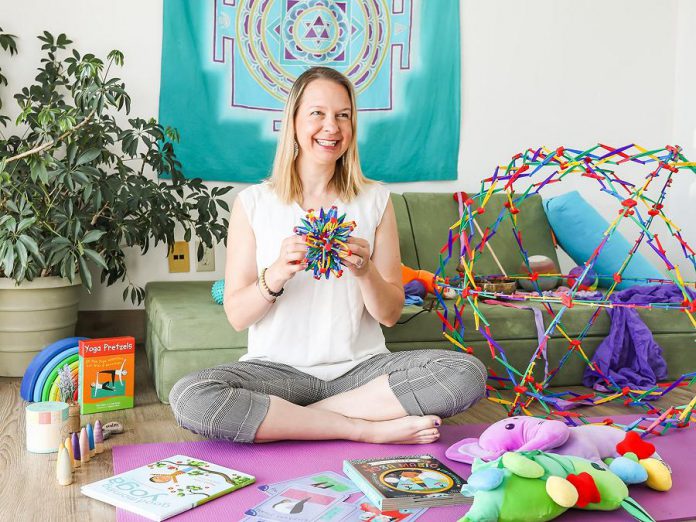 The merging of the two businesses made sense, with both women having vast experience in both child care and health and wellness.
Aside from running Play Café, Susnar worked as an early childhood educator for nine years and recently added birth and postpartum doula to her wheelhouse. Martin, a behaviour therapist, has 25 years of practice under her belt. She's also a registered yoga and meditation teacher, core confidence specialist, postpartum doula, La Leche League leader, and certified infant massage instructor.
In an effort to remain true to Susnar's vision when she opened Play Café five years ago, Martin says Lavender and Play will give mothers some much-needed stress relief, if only for a short time.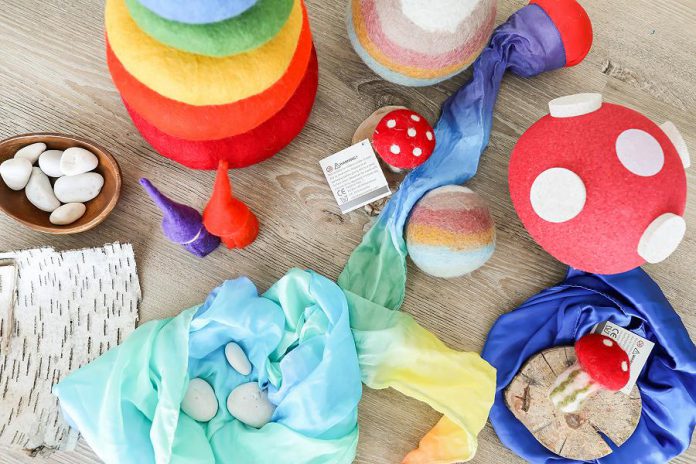 "Parenting is hard and the coronavirus is adding an extra layer of stress on families," Martin notes. "Sarah and I are moms and we understand how difficult it can be. It's such a wonderful yet challenging time of your life — and you need support."
The boutique and online store display a thoughtfully curated collection of ethically made and environmentally friendly products made from natural materials such as wood, felt, cork, and bamboo.
Both the physical and virtual stores are also stocked with merchandise created by 12 local makers and artisans, including watercolour prints, body and bath products, wooden and crochet toys, sensory tools, playdough, and much more.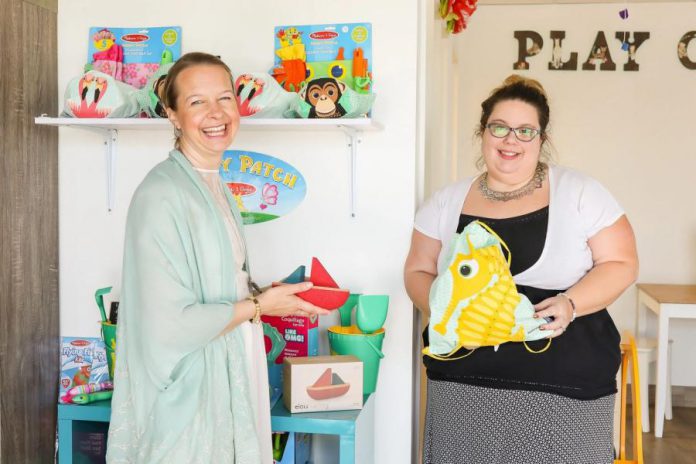 "We painstakingly analyze every product that we add to the store," Martin explains. "We want to be sure that each item meets a need for a child and is offered at a price point that parents can afford."
Lavender and Play offers curbside pick-up and items are delivered at no cost within Peterborough.
Charming product offerings aside, Martin says Lavender and Play is all about delivering superior customer service with a personal touch. Both Martin and Susnar thrive on the one-on-one connections they have made with their customers, including those who have supported them since day one.
"Play Café's customers have supported Sarah for five years," Martin reflects. "And that has worked in our favour because they know the great customer service they're going to continue to receive."

Lavender and Play's grand opening takes place on Saturday, October 24th from 10 a.m. to 2 p.m. at 1434 Chemong Road, Unit #1, in Peterborough. Visitors can take advantage of a few sales during the celebration.
Health and safety guidelines will be place to keep everyone safe, and masks will be mandatory to enter the store.
Lavender and Play Boutique and Family Studio is located at 1434 Chemong Road, Unit #1, in Peterborough. For more information, email lavenderandplay@gmail.com or visit lavenderandplay.ca, where you can learn more about their classes, register for a class, or purchase a product. You can also follow Lavender and Play Boutique and Family Studio on Instagram, Facebook, and Twitter.
This story was created in partnership with Lavender and Play Boutique and Family Studio. The support of local sponsors and local advertisers like Lavender and Play means kawarthaNOW can keep all of its content free and available to everyone with no paywall or registration required.