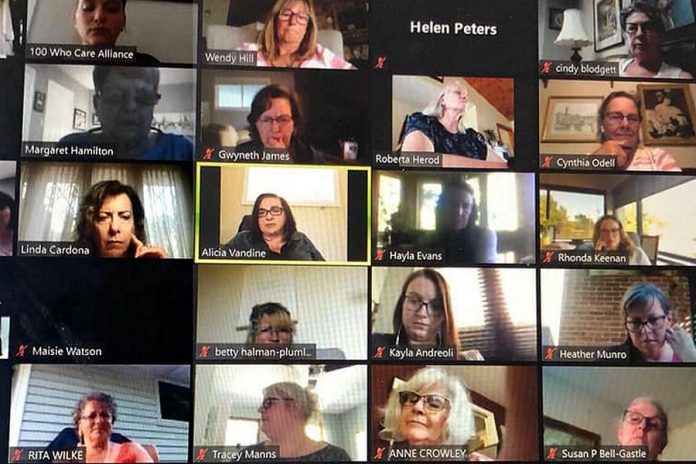 At its second virtual meeting during the pandemic, 100 Women Peterborough has raised more than $5,000 for Kawartha Sexual Assault Centre.
The collective philanthropy group met on Zoom last Tuesday (October 13) to raise funds for an organization in need.
The group, which previously met four times a year in person, hears presentations from three organizations randomly drawn from a larger list of organizations nominated by members of 100 Women Peterborough, and the organization receiving the most votes from members receives donations contributed by the members.
Advertisement - story continues below
The three organizations that presented to 100 Women Peterborough at the virtual meeting were Kawartha Sexual Assault Centre, Peterborough Pregnancy Support Services, and Kawartha Youth Orchestra.
Kawartha Sexual Assault Centre was chosen by majority vote to receive the funds, and 100 Women Peterborough expects the total donation to be more than $5,000.
Kawartha Sexual Assault Centre is a feminist, not-for-profit, charitable organization dedicated to supporting those affected by sexual and gender-based violence and harm. In Peterborough, the organization offers individual clinical counselling, psycho-educational and therapeutic groups and workshops, advocacy and accompaniment services, 24/7 crisis support, peer supports, prevention education, and professional training. In the three surrounding communities of City of Kawartha Lakes, Haliburton and Northumberland, Kawartha Sexual Assault Centre works with local centres to provide responsive healing supports and prevention education events.
"With the incredible support of 100 Women of Peterborough, we will be building the sustainability of our new 24/7 crisis support text line that we launched this summer in response to the COVID-19 pandemic," says Lisa Clarke, executive director of Kawartha Sexual Assault Centre. "We are so grateful to this group of committed, empowering women leaders in our community to invest in the healing of survivors of sexual and gender-based violence."
Advertisement - story continues below
100 Women Peterborough was founded in February 2018 by Rosalea Terry, Catia Skinner, Wendy Hill, and Alyssa Stewart, who were inspired by similar groups in other communities.
The concept of collective philanthropy began in the United States in November 2006, when Karen Dunigan of Michigan formed the "100 Women Who Care" group. After their first meeting, the women raised over $10,000 for the purchase of 300 new baby cribs for a local organization.
The movement has grown over the past 14 years to include almost 100 chapters in North America, including at least 15 in Canada.
Since its formation, 100 Women Peterborough has collectively donated more than $110,000 to 10 local organizations: Hospice Peterborough, Peterborough Youth Unlimited, One Roof Warming Room, New Canadians Centre, Cameron House, Five Counties Children's Centre, Casa De Angelae, Lakefield Animal Welfare Society, Community Care Peterborough, and Kawartha Sexual Assault Centre.
Women who interested in joining 100 Women Peterborough should visit www.100womenptbo.ca for more information.