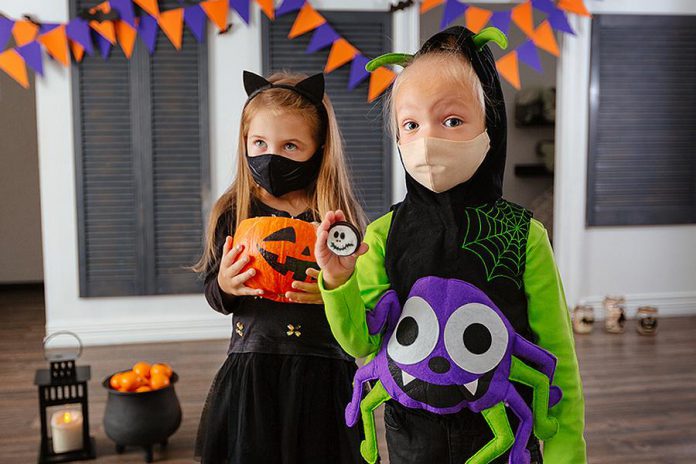 Our first pandemic Halloween need not be scarier than it normally is, according to Peterborough Public Health — as long as young trick-or-treaters and those handing out treats follow strongly recommended COVID-related protocols.
During her weekly media briefing held Wednesday (October 21), Peterborough's medical officer of health Dr. Rosana Salvaterra said that, because the Peterborough region remains in Stage Three of the pandemic recovery process, trick-or-treating can occur but only with a series of safety measures front of mind.
"Everyone on both sides of the treats must wear a face covering," Dr. Salvaterra said. "That means no Halloween masks for children. Stick to face coverings only. We don't want children wearing both a face covering and a mask. Store-bought masks have holes for the nose and mouth and those are the places face coverings cover."
Advertisement - story continues below
For those trick-or-treating and those handing out treats, Dr. Salvaterra also strongly recommends following the measures announced earlier this week by Dr. David Williams, Ontario's chief medical officer of health:
Screen for COVID-19 symptoms before trick-or-treating or handing out treats. Stay home if you are experiencing symptoms or feel ill.
Only travel or trick-or-treat with those in your household.
Maintain two metres' distance from other groups. Avoid crowding in hallways and at doorways.
Wash or sanitize your hands frequently. Clean your hands before eating any treats.
Use tongs or another tool when handing out treats. Avoid leaving treats in a bowl for trick-or-treaters to grab.
Avoid handing out or eating homemade or repackaged treats.
In addition, Dr. Salvaterra urges that household Halloween parties not be held.
"Most homes in Peterborough can't safely accommodate 10 physically distanced individuals," she pointed out. "This is not the year to throw a party."
Turning to the numbers, Dr. Salvaterra said the aftermath of Thanksgiving celebrations are beginning to be reflected with "case counts creeping up again."
"We believe we have evidence of increasing community transmission, where there have been no links that we can find either to a close contact or travel. That's disappointing but it's not unexpected given the recent Thanksgiving long weekend."
As of Wednesday morning, the local catchment area of Peterborough city and county, Curve Lake and Hiawatha had seen a total of 137 positive cases reported with four cases currently active.
A total of 131 local cases have been resolved with two COVID-related deaths reported, both occurring early in the outbreak. Some 33,200 area residents have been tested for a testing rate of 22.4 per cent.
Meanwhile, across Ontario, 790 new COVID-19 cases were reported Wednesday morning with nine additional deaths occurring. The rolling seven-day average of new province-wide cases is now at 753.
Advertisement - story continues below
As for the possibility the Peterborough region will return to a modified Stage Two similar to Ottawa and some GTA municipalities that are seeing increasing case counts, Dr. Salvaterra said she doesn't see that happening if the current numbers hold steady or improve.
"Our incidence rate is fairly low. At four (positive cases) per 100,000 people (compared to the provincial rate of 35 per 100,000), I don't see a need to implement any further restrictions at this point. That said, we've had several months to put in place public health measures. We've created this new normal, and any business operating should be in full compliance. If we continue to use these tools, they will protect us."
Peterborough board of health chair and Selwyn mayor Andy Mitchell reinforced the need to stay the course.
"We're not immune to what is happening elsewhere in the province," he said. "The key to fighting COVID-19, while getting on with life, is to act responsibly and not place others at risk."
As for pandemic fatigue, Dr. Salvaterra acknowledged it has been "a long haul and it's not over yet," adding the need to socially connect with others is of paramount importance.
"The isolation can be profound and can have emotional and mental health impacts," she said. "This is going to be one winter where people should be outside, whatever the weather is."
"Doing activities that you have maybe not tried before, whether it's skating, skiing, hiking or snowshoeing, will be vital and keep you outdoors where the risk level is lower."
On the testing front, Dr. Salvaterra noted the plan is re-open an indoor testing centre at Northcrest Arena on Monday, October 26th for those displaying symptoms. Attendance will be by appointment only. Visit peterboroughpublichealth.ca to book an appointment time.
And at 7 p.m. the same day, Dr. Salvaterra will host a live online conversation on COVID-19 and schools for parents, caregivers and students. The event is free, but advance registration is required at eventbrite.ca/e/schools-covid-19-virtual-live-presentation-for-parents-tickets-126130747461.
Also participating in Wednesday's media briefing were Peterborough-Kawartha MP Maryam Monsef and Peterborough Mayor Diane Therrien.