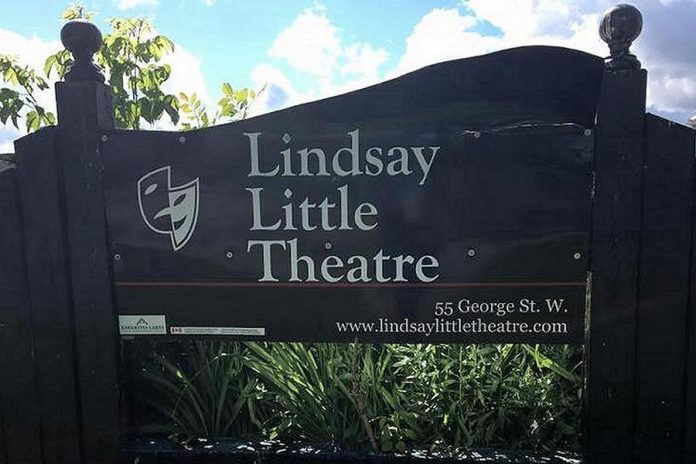 Like many live performance venues, Lindsay Little Theatre at 55 George Street West in Lindsay has not seen any box office revenues since the pandemic hit. But the community theatre group hasn't given up — they've taken a creative and interesting approach to keep the lights on for the day when audiences can return.
"We've had to be really inventive and come up with different ideas to make money," says Marion Bays, Lindsay Little Theatre's director of fundraising and sponsorship. "We're trying to have some fundraising events going on every month."
Fundraising is exhausting work, pandemic notwithstanding, and running a different fundraising campaign every month is an immense but necessary undertaking for the board of directors of Lindsay Little Theatre.
Advertisement - content continues below
"This is a fairly dire situation," explains Katheryn Woolridge-Condon, former president and current director of events at Lindsay Little Theatre.
"We are about a half a year away from having to close Lindsay Little Theatre's doors and that is not okay. We do so much good work for this community and we really want to keep doing it."
"We have a building that we have a mortgage on, and that has to be paid every month along with building expenses," Bays adds.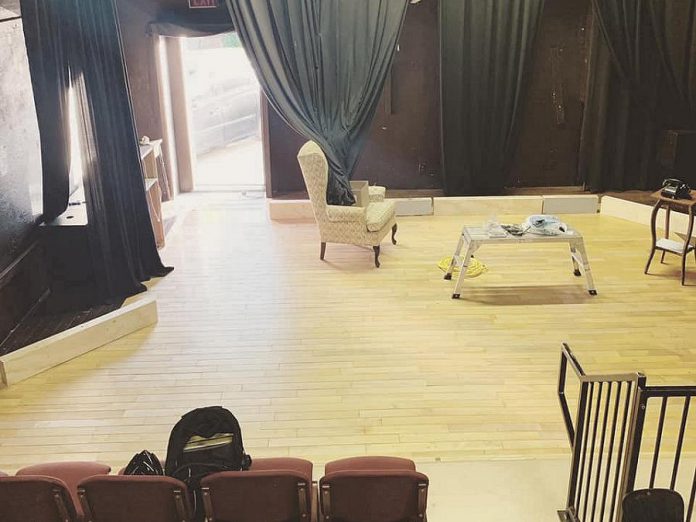 "Our board is so passionate," Woolridge-Condon says. "We have a really great team, but the truth is we need the public's help."
Lindsay Little Theatre's board understands that many individuals and businesses in the community are also struggling in some capacity, and demonstrates this in their approach to fundraising.
"In these trying times, we respect that the local community — local businesses especially — have gone through enough," Bays says. "We don't feel comfortable going to them and asking for money when they're suffering too. So we're trying to find effective ways and means to fundraise on a smaller scale."
Advertisement - content continues below
And so far, Lindsay Little Theatre's fundraising strategy has been successful.
In September, the theatre ran a bottle drive where people could drop off their empty bottles that they'd normally take to the beer store for deposit return, along with a clothing drive.
"The bottle drive has finished for September, but the clothing drive is still going on until January," Bays says. "So if people have clothing they'd like to donate, they can drop them off at Lindsay Little Theatre or they can contact us through our website and we can come pick them up."
"We were surprised by the public turn-out and success," Woolridge-Condon recalls of the bottle drive. "We are really grateful for all of the people who supported us with that drive, and especially for all of the volunteers who dedicated entire days of their time to help out."
"And to the supporters that did come out, we'd like to thank them and to remind them to continue saving their bottles because we will be having another bottle drive in the new year," Bays adds.
The overwhelming support for Lindsay Little Theatre has not just come from private individuals — many local businesses have helped however they can too.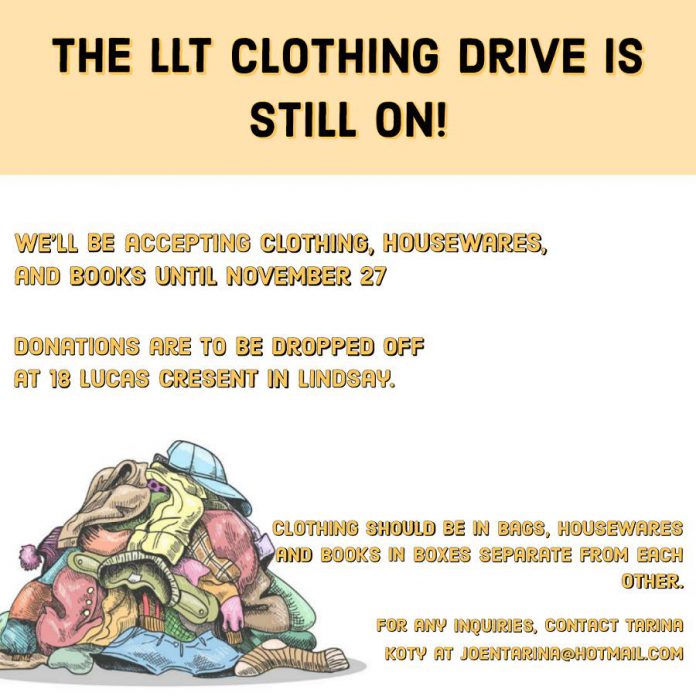 La Mantia's Country Market in Lindsay, for example, allowed board members and volunteers to collect donations outside the store.
"That grocery store was so kind to us, it was really wonderful," Woolridge-Condon says. "There's such kindness out there and sometimes we need to see that when things are this awful."
"It was so helpful," says Bays of La Mantia's support. "Even though we were just asking for loose change, it was a very successful day."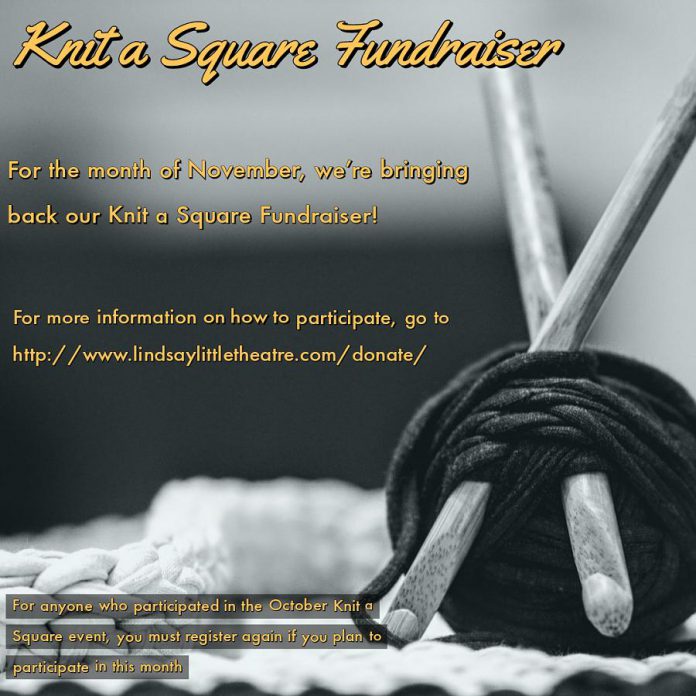 In the spirit of community, Lindsay Little Theatre is finding ways to "pay it forward" when it comes to their fundraising.
October's fundraising campaign has been a "Knit a Square" event. Participants have been asked to knit an eight-by-eight inch square, in various colours, and get their friends and family to sponsor them.
"At the end of the month, the money will come back to Lindsay Little Theatre and the squares will all be stitched together to make small animal blankets, which will be donated to the Humane Society in Lindsay," Bays explains. "It's a win-win for both charities."
Advertisement - content continues below
"I'm really excited about this one because we're helping the Humane Society," Woolridge-Condon says. "Aberdeen's Wool Company has been wonderful supporting it — it's really nice that other businesses in the community have joined us and helped get the word out to help us fundraise. We're so grateful for the support."
Although the Knit a Square event concludes at the end of October, Lindsay Little Theatre will be holding another one in November so local knitters will have another opportunity to support two charities at once.
Also in November, Lindsay Little Theatre will mount their first live production since the pandemic hit. Bubbled audiences have a chance to book the theatre for their own private show.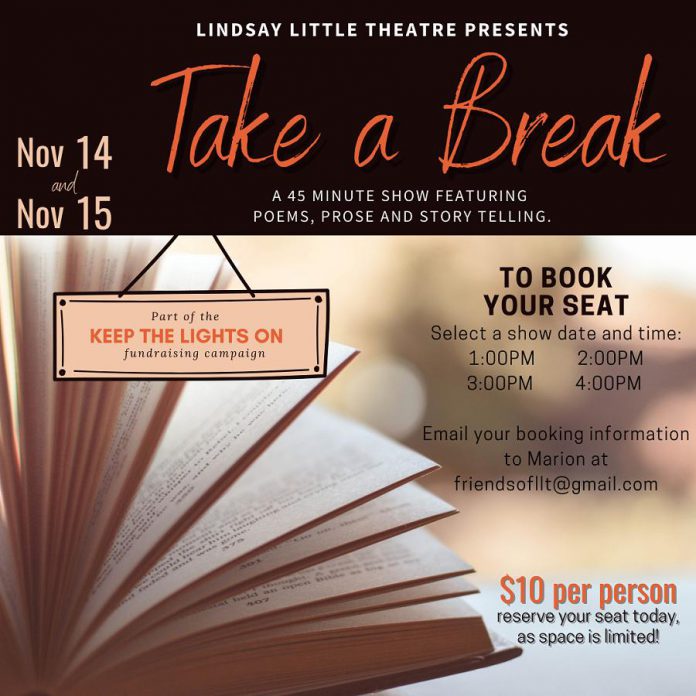 The 45-minute show, called Take a Break, will feature Lindsay Little Theatre members performing poems, prose, monologues, and some music. The theatre will run four 45-minute shows each afternoon on the 14th and 15th of November, with time scheduled in-between to fully sanitize the entire building. The cost is $10 per person.
"We've worked closely with public health for this show and have taken every precaution to ensure the safety of our artists and our audiences," says Woolridge-Condon.
"We will be making sure that we adhere to all public health guidelines and can safely accommodate 10 people," Bays notes. "People have to book tickets through email — they cannot book through the website — because we have to manually assign seats to make sure that we can keep to the physical distancing."
Advertisement - content continues below
Building on the success of their numerous fundraising campaigns, Lindsay Little Theatre will finish 2020 with their biggest fundraiser yet: an evening of dinner theatre at the Lindsay's popular brew-pub Pie Eyed Monk.
"I am so excited," Katheryn exclaims. "The Pie Eyed Monk has teamed up with us so that we can provide an evening of two one-act plays by Norm Foster, My Narrator and The Death of Me, that will include a three-course meal."
For three nights in December, for only $50 a person, patrons can enjoy an appetizer, dinner, dessert, and two one-act plays in the beautiful and exclusive event space above Pie Eyed Monk's dining room.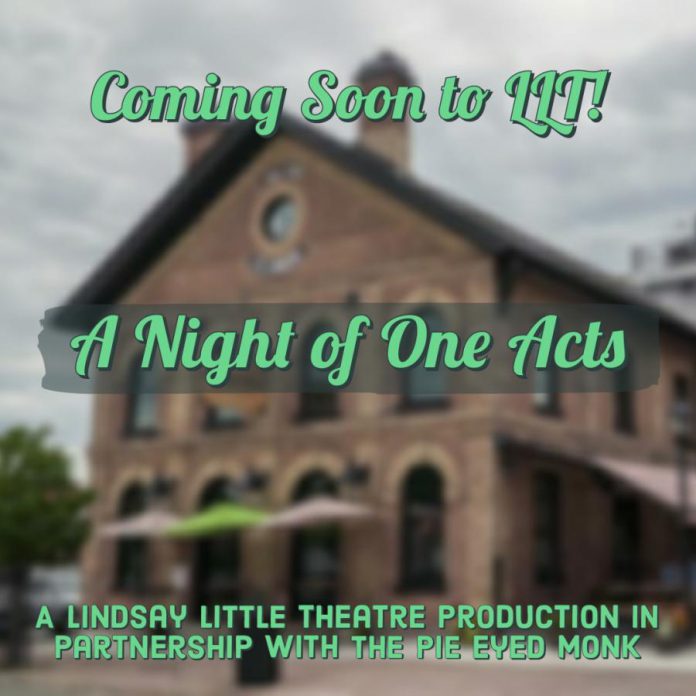 Tickets will go on sale starting in November. Pie Eyed Monk is handling all bookings so that they can arrange safe seating and accommodate dietary needs (vegetarian, vegan, and gluten-free menu options will be available).
"We're also going to do a 50/50 draw," Bays adds. "The Pie Eyed Monk is selling tickets for that too, and you can buy a ticket even if you're not going to the show — so when the shows are finished, you can win 50 per cent of the money raised from the 50/50 draw."
"I can't think of a better business partner," says Woolridge-Condon of Pie Eyed Monk. "We're so blessed. They've been so generous with us, even when it comes to rehearsal space. They've donated the their space to us every Sunday so we can rehearse there. They've gone above and beyond and we're just thrilled to be in partnership with them."
Lindsay Little Theatre persists thanks to the immense support they've garnered from individuals and businesses in their community. Moreover, they've demonstrated that a little can in fact go a long way.
Visit Lindsay Little Theatre's website at lindsaylittletheatre.com to donate money for a charitable receipt or email info@lindsaylittletheatre.com to inquire about their ongoing clothing drive, Knit a Square, and the upcoming show Take a Break.
To find out when tickets will be available for December's dinner theatre event, follow Lindsay Little Theatre and Pie Eyed Monk on Facebook for upcoming announcements.