The Peterborough community has come through once again for local people in need, donating 13,560 pounds of food and $4,710 in cash to Kawartha Food Share to help restock their empty shelves for the winter.
During the "Spare A Square #2" city-wide porch food drive on Saturday (October 24), Peterborough residents were asked to leave bags filled with non-perishable food items on the porches.
Beginning at 9 a.m., 200 volunteers drove around the city to collect the items and deliver them to Kawartha Food Share's warehouse.
Advertisement - story continues below
"Once again, we are absolutely blown away with the support and generosity shown by our community," Kawartha Food Share writes on Facebook. "We say it all the time, but we truly could not do what we do without you, Peterborough. Thank you so very much."
If your bag wasn't picked up, you can drop the donations in a collection bin located in all local grocery stores, or in the donation bins located outside of Kawartha Food Share's warehouse at 665 Neal Drive in Peterborough.
During the food drive, people also donated $4,710 cash — for every $1 donated, Kawartha Food Share can purchase up to $6 worth of food. Cash donations also let Kawartha Food Share purchase food that is needed most.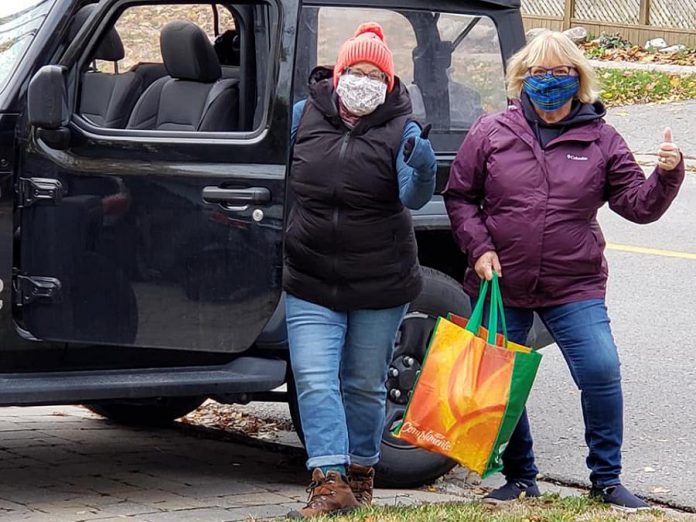 To make a cash donation to Kawartha Food Share, and for volunteer opportunities, visit www.kawarthafoodshare.com.
"Winter is Coming" food drive
Kawartha Food Share has also just launched its "Winter is Coming" food drive during the month of November. The food drive will take place across Peterborough County in Selwyn, North Kawartha, Trent Lakes, and Havelock-Belmont-Methuen.
Local politicians, including Peterborough-Kawartha MPP Dave Smith, the Warden of Peterborough County and the Mayors of Selwyn, North Kawartha, and Havelock, as well several council members, will be volunteering to collect donations at local grocery stores on the following dates:
Buckhorn Foodland (3329 Buckhorn Rd., Buckhorn) – Saturday, November 7th from 10 a.m. to 2 p.m.
John's Valu-Mart (871 Ward St., Bridgenorth) – Friday, November 13th from 2:30 to 5 p.m.
Lakefield Foodland (1 Queen St., Lakefield) – Saturday, November 14th from 10 a.m. to 2 p.m.
Havelock Foodland (38 Ottawa St. W., Havelock) – Saturday, November 21st from 10 a.m. to 2 p.m.
Sayers Foods (132 Burleigh St., Apsley) – Saturday, November 28th from 10 a.m. to 2 p.m.
Advertisement - story continues below
Volunteers will be taking all COVID-19 safety precautions and those making a donation are asked to wear a mask.
Kawartha Food Share assists more than 8,900 people every month through 11 food banks and 20 food cupboards in the city and county of Peterborough as well as through four meal programs and six housing projects.
Those people, including families with children, who rely on Kawartha Food Share every month are particularly vulnerable. And if people on limited incomes cannot get needed items at grocery stores, they will turn to a food bank.