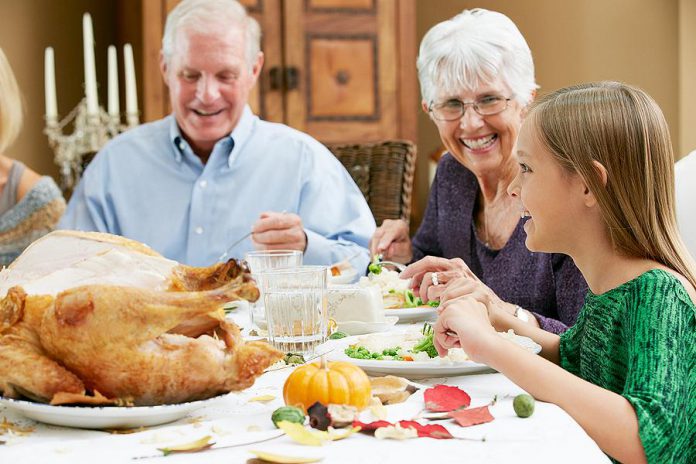 The spike in new COVID-19 cases in Peterborough over the past week was related to the Thanksgiving weekend, according to Peterborough's medical officer of health.
"We did see an increase in cases that were linked to the gatherings that occurred at Thanksgiving," noted Dr. Rosana Salvaterra said during her weekly media briefing held Wednesday (October 28).
The health unit reported four new cases on October 21st, with another four on October 25th and two more on October 26th.
Advertisement - story continues below
"Even with the greatest amount of care, not all risks can be avoided," Dr. Salvaterra said. "People tried their best — they did reduce their socializing — but despite that we had some transmission occur."
While there were 10 new cases reported in Peterborough over the past week, only six cases are currently active. However, Dr. Salveterra says there still may be more new cases to come as a result of the Thanksgiving weekend.
"I can't rule out completely whether or not we'll see any further cases that will link back to gatherings that took place that weekend."
As for Halloween, Dr. Salvaterra says following simple public health guidelines will greatly reduce the risk of infection.
"Everyone on both sides of the treats should wear a mask," she said, also urging people to not hold household Halloween parties.
In addition, Peterborough Public Health is strongly recommending the following:
Screen for COVID-19 symptoms before trick-or-treating or handing out treats. Stay home if you are experiencing symptoms or feel ill.
Only travel or trick-or-treat with those in your household. Maintain two metres' distance from other groups. Avoid crowding in hallways and at doorways.
Wash or sanitize your hands frequently. Clean your hands before eating any treats.
Use tongs or another tool when handing out treats. Avoid leaving treats in a bowl for trick-or-treaters to grab.
Avoid handing out or eating homemade or repackaged treats.
Advertisement - story continues below
As for the other upcoming holidays where people traditionally gather, Dr. Salvaterra also had some recommendations.
For Remembrance Day, she noted there are a number of virtual events being planned and that is the safest way to honour veterans.
"Because of the vulnerability of our veterans, I'm recommending that there not be any socializing before or after any of the commemorative events," she said. "I understand that the Legions in our area will be hosting some small private events for their members. I ask the public to respect these as closed gatherings, although they may be taking place in otherwise public spaces."
Meanwhile, with Tuesday's snowfall reminding us that the Christmas season is looming, Dr. Salvaterra advises that at this point we should "plan for it to be a different Christmas," adding "Hopefully we'll get this second wave under control and may have a little more freedom."
As of Wednesday morning, the local catchment area of Peterborough city and county, Curve Lake and Hiawatha had seen a total of 147 positive cases reported with six cases currently active. The last confirmed case was reported this past Monday (October 26).
A total of 139 local cases have been resolved with two COVID-related deaths reported, both occurring early in the outbreak. There are currently no active outbreaks reported. Close to 34,000 area residents have been tested for a testing rate of 22.9 per cent.
A new statistic being reported by Peterborough Public Health relates to the number of close contacts being monitored, which as of Wednesday stood at 81.
According to Dr. Salvaterra, a close contact is defined as an individual who has had close contact with a positive case and, as a result, are considered to be at higher risk for infection during the positive case's incubation period.
"Public health nurses keep in touch with them during that 14-day period to make sure they are self isolating and are checking daily for symptoms," she said.
Advertisement - story continues below
As for pandemic fatigue, Dr. Salvaterra is not unsympathetic but warns against "letting our guard down."
"This has been a long haul," she acknowledged.
"It's important to talk to someone, to be able to vent your frustration. There's a great deal of stress in the community. People are feeling down and depressed. It's important to find someone you can trust, that you can share your emotions or experiences with. We need to engage in constructive thinking, looking at the opportunities rather than focusing on the restrictions."
Also participating in Wednesday's media briefing were Peterborough board of health chair and Selwyn mayor Andy Mitchell, and Peterborough Mayor Diane Therrien.