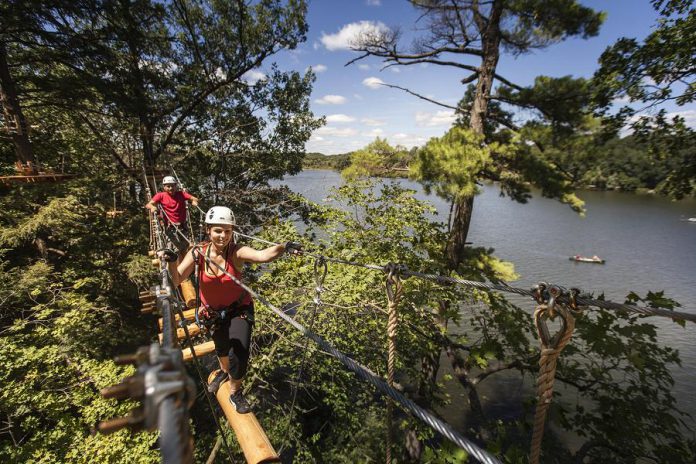 Treetop Trekking has received the 2020 Attraction of The Year Award from Attractions Ontario, a non-profit trade association in Ontario dedicated to the attractions sector of the tourism industry.
The company operates an adventure park at the Ganaraska Forest near Port Hope, as well as at five other locations in Ontario including Barrie, Brampton, Hamilton, Huntsville, and Stouffville.
The award was announced on Wednesday night (October 28) during the Tourism Industry Association of Ontario's annual Tourism Awards of Excellence Gala.
Advertisement - story continues below
"It amazes me to see how much our small dedicated team can accomplish and to see what an impact we can have in the lives of so many people that visit us," says company founder and president Stéphane Vachon.
"To get a big win like this in such an unpredictable year is more than a relief, and I remain optimistic that the tourism industry will rebound stronger than ever. I am grateful and so proud to be a part of this team."
Treetop Trekking became a finalist for the award after being voted the Top Outdoor Attraction in September as part of Attractions Ontario's annual Ontario's Choice Awards. The other two finalists for the Attraction of The Year Award were Science North and Carrousel of Nations.
Advertisement - story continues below
"We are so proud to have been named Ontario's Top Attraction this year," says Mike Stiell, Treetop Trekking marketing director. "I think that in 2020, authentic outdoor activities like the ones we offer appealed to people even more than usual."
"The public was looking for fun and unique experiences that would help them forget about the outside world for a few hours, and to create lasting memories with their families or close friends, and this is what we offer every day."
Offering outdoor activities for a variety of ages and abilities, Treetop Trekking opened its first location in 2006. For more information about Tree Top Trekking, visit treetoptrekking.com.