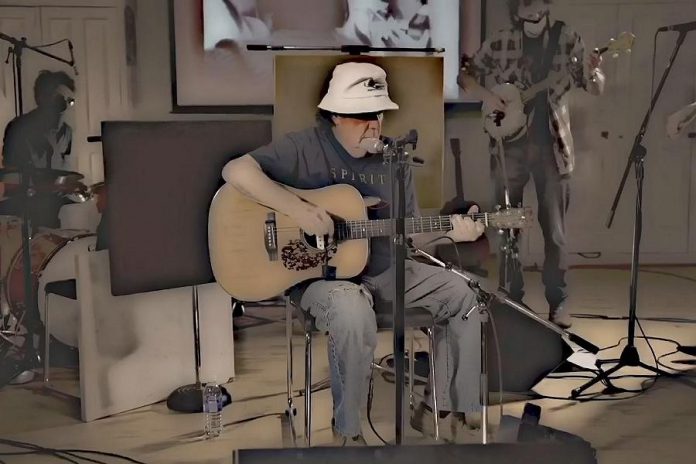 If you have the passion, it's never too old to try something new, as demonstrated by Omemee resident Bob Young. At 78 years old, he has released "Hey America", his first-ever song.
Of course, it doesn't hurt if your younger brother is a legendary musician. A video of "Hey America" released by Neil Young last Thursday (October 28) features a performance of Bob's folk song by his band, Young Bob & The Peterboroughs.
Bob performs on lead vocal and acoustic guitar, with Peterborough musicians Ryan Weber of The Weber Brothers on bass and Melissa Payne on fiddle and harmony vocal, and members of Toronto band The Sadies, Travis Good on banjo and harmony vocal and Mike Belitsky on drums.
Advertisement - story continues below
And Bob's famous brother also makes an appearance in the video, on harmonica and harmony vocal.
Bob says he was inspired to write "Hey America" a couple of years ago when he was watching Donald Trump on TV and wrote down a few lines.
"When I got home, I found I could play those lines on guitar," Bob says. "Gradually, it became what it is now. It took a while to be able to play and sing the song from start to finish. When I could finally accomplish that, it was a victory."
VIDEO: "Hey America" performed by Young Bob & The Peterboroughs

The song's lyrics include lines such as, "Hey America / Give love a chance / It's the beacon of freedom / Set your liberty free / Make equality real." It's no coincidence the song was released a few days before the U.S. election.
Bob says he was encouraged to record the song by his family and close friends, including Neil and his wife Daryl Hannah, singer-songwriter Carrie Alice Williams, the song's co-writer Diane Marshall, and Blue Rodeo's Greg Keelor.
"The recording process all happened at once," Bob explains. "I had never done that either. It was a band performance that had spontaneity. In another session, some vocal harmony was added, and Neil played harmonica."
Advertisement - story continues below
The video was directed by filmmaker Adam CK Vollick (who also worked on Neil Young's December 2018 Home Town concert in Omemee), along with Neil Young and Daryl Hannah. It was shot at Gores Landing Hall, south of Rice Lake.
"The filming of Hey America was done in the COVID-19 environment," Neil writes on his website, after releasing the video days before the U.S. election.
"One shot where we're all standing together, singing without masks, was done in three separate shoots with the same background and assembled in post-production to look like three people singing together."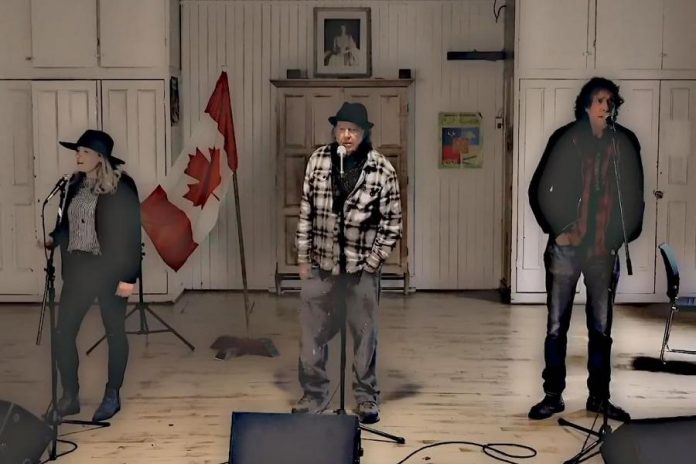 A former golfer, Bob's foray into songwriting isn't his first artistic endeavour. He's also been working on his book True Golf – Mind Power and the Art of the Direct Hit , which details his golfing experiences with his longtime friend, the late Canadian professional golfer Moe Norman.
Bob, who says he has more songs "all from the same creative spark", is encouraging others in his generation to try something new.
"All you aging baby boomers out there, give it a shot," Bob says. "As Yogi Berra put it, It ain't over 'til it's over, and even then it ain't over. I agree."