businessNOW™ is our round-up of business and organizational news from Peterborough and across the greater Kawarthas region.
This week, we're featuring Hanoi House owner Susan Tung's plans to open a second Peterborough location of the popular Vietnamese restaurant.
Also included this week is Selwyn Township's second phase of funding for its Business Reopening Program and the 14 participants in Peterborough & the Kawarthas Business Advisory Centre's Starter Company Plus fall intake.
We also cover the opening of The Christmas Corner in Norwood, the Peterborough DBIA receiving Ontario government funding for new decorative holiday lights in downtown Peterborough, RBC Foundation donating $10,000 to YWCA Crossroads Shelter and Nourish Food Programs, and other highlights of recent business and organizational news.
New business events added this week include the Innovation Cluster's website development workshop on November 17th, a blockchain for business workshop on November 17th, the Peterborough DBIA's SEO workshop on November 19th, and the Peterborough Chamber's virtual AGM on November 19th.
Advertisement - story continues below
Hanoi House to open second Peterborough location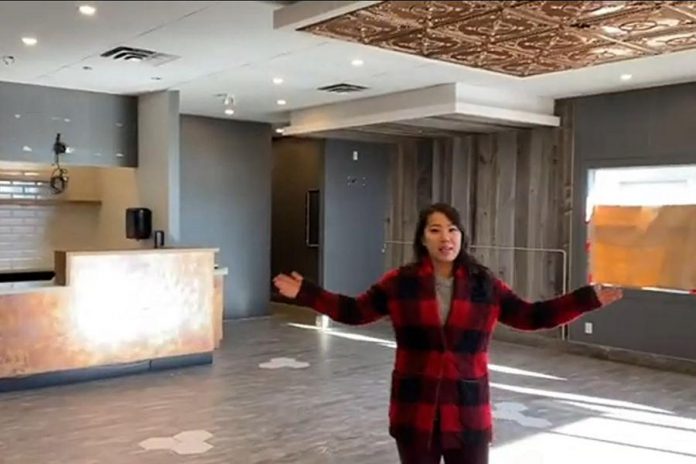 Hanoi House Vietnamese Restaurant and Oyster Bar, located at 213 Hunter Street West in downtown Peterborough, plans to open a second location in Peterborough.
Owner Susan Tung made the announcement on social media. She has leased a space at 1040 Lansdowne Street West — the former location of Copper Branch, a franchise of the plant-based restaurant chain that closed earlier this year.
Tung, who previously owned and operated The Golden Wheel on Highway 7 with her parents, opened Hanoi House in downtown Peterborough this past February, just before the pandemic hit.
VIDEO: Susan Tung introduces Hanoi House's second location

The restaurant, which offers authentic Vietnamese cuisine, has been a hit with local foodies and is obviously thriving despite the pandemic, allowing Tung to expand.
Tung says the new Lansdowne Street location will need some renovations. Stay tuned to businessNOW for details on opening plans.
Selwyn Township announces second phase of funding for Business Reopening Program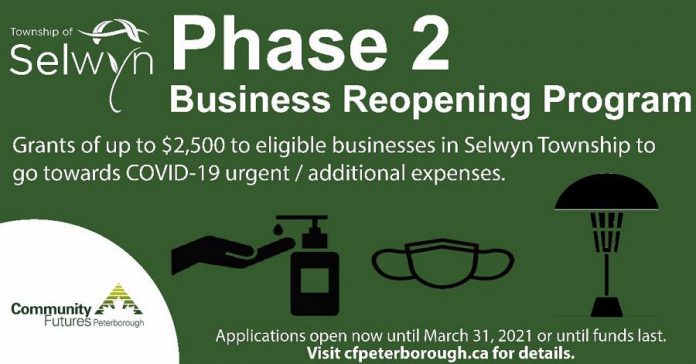 The Township of Selwyn in partnership with Community Futures Peterborough has launched the second phase of the township's Business Reopening Program.
The first phase of the program provided support to local Selwyn-based businesses dealing with the economic impacts of the COVID-19 pandemic, with 112 businesses receiving grants of up to $2,500 each to cover pandemic-related expenses such as personal protective equipment, plexi-glass barriers, signage, online upgrades and more.
The second phase of the program will also provide grants of up to $2,500 for local businesses to help with urgent and additional pandemic-related expenses such as professional cleaning services (to respond to a COVID-19 outbreak or a close contact with an infected person) and equipment necessary to extend the business season (such as portable heaters and tents).
Interested businesses can apply directly to Community Futures Peterborough at communityfuturespeterborough.ca/home/covid19/. Applications will be accepted until March 31, 2021 or while funds last.
Peterborough & the Kawarthas Business Advisory Centre announces 14 participants in Starter Company Plus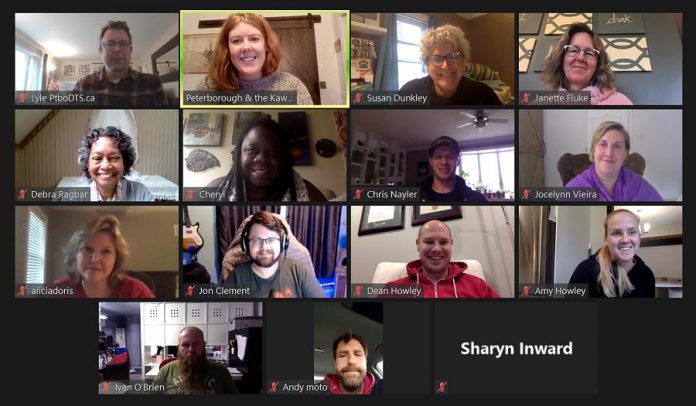 The Peterborough & the Kawarthas Business Advisory Centre has announced the 14 successful applicants who will participate in the fall intake of the Starter Company Plus program.
The eight-week program, funded by the Ontario government, teach new entrepreneurs the necessary skills to start and grow their businesses. Of the 14 participants, seven will be selected and awarded a $5,000 grant based on the creativity and viability of their business ideas and the strength of their business plans.
The 14 participants and their businesses are:
Debra Ragbar of the Kawartha Spice Company in Peterborough, which manufactures curry powder and, spice rub mixes and rim rubs for cocktails.
Lyle Saunders of Saunders Tax Service c/o Peterborough Disability Tax Services in Peterborough, which specializing in the disability tax credit for individuals and caregivers.
Ivan O'Brien of Archer Equipment Inspections Ltd. in Douro-Dummer Township, which inspects heavy equipment for companies interested in purchasing equipment.
Janette Fluke of Florna Sweets in Asphodel-Norwood Township, which creates custom-designed sugar cookies for celebrations and holidays.
Sharyn Inward of Peterborough, whose to-be-named lifestyle and wellness startup business offers yoga and health education to plus-size women.
Jocelynn Vieira of The Kawartha Craft Company in Trent Lakes, which creates easy-to-follow do-it-yourself craft kits for children of all ages using local supplies.
Cheryl Edwards and Charmaine Magumbe of Zingha in Peterborough, a social enterprise that offers originally created positive Afrocentric images on t-shirts, mugs, and bags, and free anti-Black racism resources.
Alicia Doris of Living Local Box in Peterborough, which sells local items from Peterborough and the Kawarthas through custom gift boxes and seasonal subscription boxes.
Andrew Flaman of Circle Life in Cavan-Monaghan Township, a micro-enterprise being incubated at Circle Organic Community Farm in Millbrook.
Susan Dunkley of Suzi Homemaker in Peterborough, which provides services to help people downsize, de-clutter, organize, move, settle estates, and more.
Dean and Amy Howley of King & Tupper in Cavan-Monaghan Township, which offers custom and handcrafted wood decor, art, toys, and furniture.
Jonathan Clement of Elbuns Media in Peterborough, which helps small businesses and non-profits tell their stories through video and written content and develops recruiting and fundraising strategies.
Christopher Nayler of Douglas Works in Peterborough, which offers residential and commercial landscaping, hardscaping, and property maintenance services.
Emiline Willson of The Willson Wagon in Peterborough, which specializes in hand-crafted playdough, curated playdough kits, hand-dyed sensory bin fillers, and more.
The Christmas Corner opens in Norwood
Lynn Wilson of Lynn Wilson's Flowers and Gifts in Norwood has opened a new store dedicated to all things Christmas.
The Christmas Corner (2351 County Rd. 45, Norwood) is located next door to her existing shop and sells all things Christmas, with prices for all budgets. Wilson is restocking with new items weekly.
Hours are 10 a.m. to 5 p.m. Tuesday to Friday, 10 a.m. to 4 p.m. on Saturday, and 10 a.m. to 2 p.m. on Sunday. COVID-19 guidelines are in place, including a limit on the number of people allowed in the store at one time.
For updates and any changes in hours, visit The Christmas Corner on Facebook.
Advertisement - story continues below
Peterborough Downtown Business Improvement Area receives Ontario government funding for new decorative holiday lights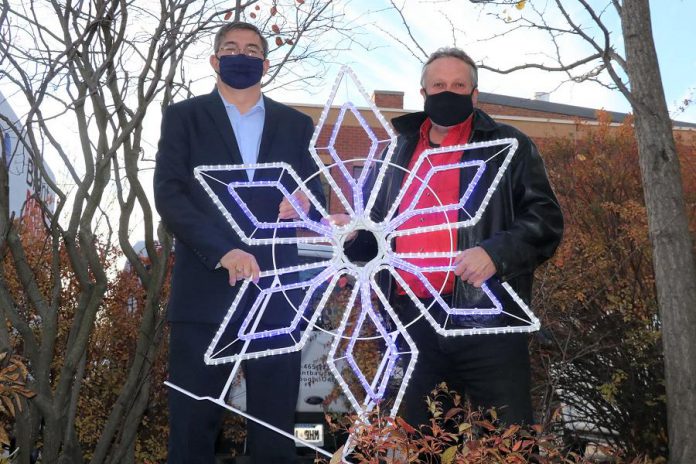 The Peterborough Downtown Business Improvement Area (DBIA) has received $23,921 from the Ontario government for new decorative holiday lights in downtown Peterborough.
Peterborough-Kawartha MPP Dave Smith made the announcement on October 30, with the funding coming from the province's Rural Economic Development program.
"Our downtown has faced unprecedented challenges in the last several months," Smith said. "Critical investments in making the downtown brighter, safer and more inviting for the Christmas season is another step forward in our economic recovery."
As well as the Ontario government funding, the City of Peterborough will be supporting the DBIA by installing the lights.
"With all the stresses our community has been under this past year, we could sure all use something to help brighten the spirit," said DBIA executive director Terry Guiel. "These beautiful lights should help with that while hopefully attracting some holiday shoppers to the area".
RBC Foundation donates $10,000 to YWCA Crossroads Shelter and Nourish Food Programs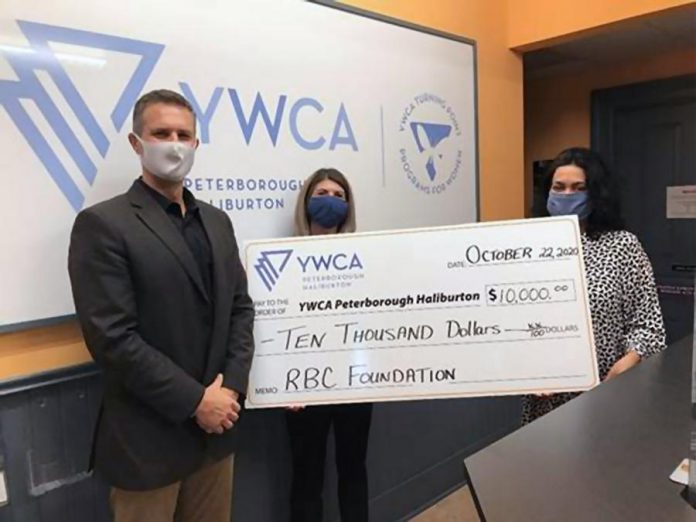 RBC Foundation has donated $10,000 to YWCA Peterborough Haliburton to help address the growing need for gender-based violence supports as well as nutritious food in Peterborough and surrounding area.
"This year has presented our community with unparalleled challenges, specifically for our most vulnerable," says Scott Mancini, vice-president of commercial banking at RBC. "The work being done by the YWCA and their partners is providing support where the need is greatest. We thank these organizations for making our community stronger."
YWCA Peterborough Haliburton will use the donation to support women who experience violence at YWCA Crossroads Shelter as well as Nourish's work in providing nutritious food and innovative programming to battle the chronic issue of food insecurity in the Peterborough community.
Since the beginning of the pandemic, Nourish has been working with local agencies to get nutritious food to those who are most vulnerable to COVID-19. Home deliveries of food boxes (both free and subsidized) have fed more than 225 families on a weekly basis since April. Other members of the community have received nutritious and local (when possible) ingredients through Nourish on a monthly basis.
YWCA Crossroads Shelter has remained open and continues to provide essential resources, safety, and information around the clock for women and their children in the community. The shelter is able to serve up to eight families while still allowing for proper physical distancing and other COVID-19 safety protocols.
Sandra Dueck moves from Peterborough Chamber of Commerce to Peterborough Police Service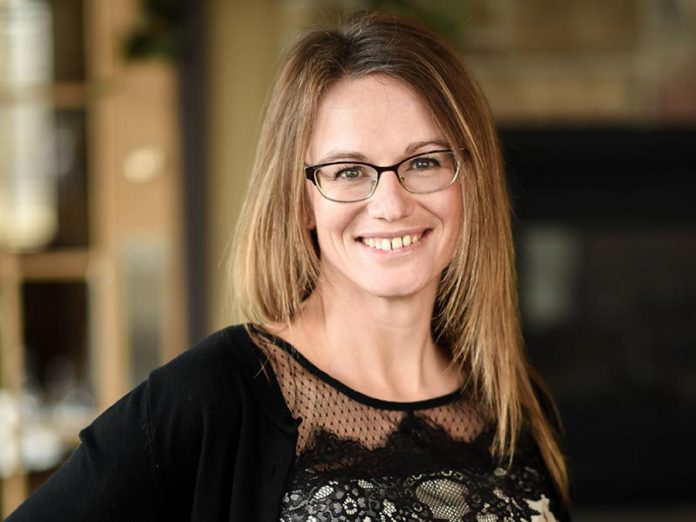 Sandra Dueck is the Peterborough Police Service's new communications coordinator.
Dueck was the Peterborough Chamber of Commerce's policy analyst and communications specialist for the past eight years, and was recently promoted to vice president and director of government relations and communications.
Dueck's work with the chamber has has been recognized nationally, provincially, and locally — most recently with Dueck receiving the Women's Business Network of Peterborough's 2020 Business Woman of the Year in the organization category.
The police's communications coordinator works with internal and external stakeholders, coordinates with media, manages the police website, and develops the annual report and business plan.
Dueck will start in her new role on Monday, November 23rd.
Highlights of other business and organization news from across the Kawarthas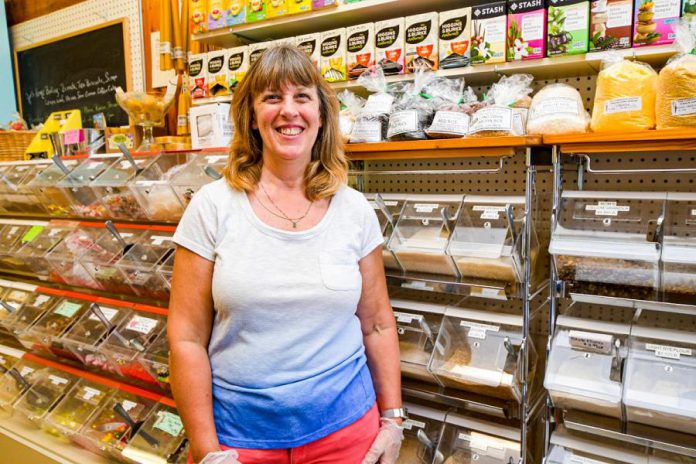 Lakefield Pantry and Bakeshop (44 Queen St., Lakefield) celebrated its 40th anniversary on Sunday, November 1st. The store was founded by Cam Fraser and June McCartney, who operated it for the first nine years, before Jennie and John MacKenzie took over the business in 1989.
The Loomex Group in Peterborough is acquiring Montreal-based Explorer Solutions, known for economic development and airport planning services. The move will allow the Loomex Group to enter the global market through the U.S. and France. Explorer Solutions will remain its own entity under the parent company of The Loomex Group, maintaining its name, employees, and offices in Canada, the U.S., and Europe.
Joan Carragher is the new director of education and secretary/treasurer of the Peterborough Victoria Northumberland and Clarington Catholic District School Board, replacing the retiring Michael Nasello. A Catholic educator for over 30 years and a superintendent with the board, Carragher assumes her new role on January 1, 2021.
Modern Makers Market (651 Chamberlain St., Peterborough), a market selling on behalf of artisans, held its grand opening on Sunday, November 1st.
Despite the pandemic, vendors at the 2020 Lakefield Farmers' Market reported a 35 per cent this year over 2019 sales, likely due to the market's efforts to provide a COVID-safe experience for market partons. The market received a $1,234.36 in the summer from the Township of Selwyn's Business Re-Opening Program to recoup the costs of personal protective equipment provided to volunteers, hand sanitizer and sanitizing station supplies offered to customers, and signage to educate the public and help the market operate smoothly under the new COVID-19 safety protocols.
Enbridge Gas has donated $100,000 to be shared by 20 fire departments in Ontario, including those in the Kawarthas, to purchase educational materials for firefighters to enhance life-saving techniques.
Fenelon Falls Brewing Co. (4 May St., Fenelon Falls) marked its one-year anniversary on Thursday, November 5th.
Two new Port Hope businesses located at 10 Robertson Street held their grand openings on Friday, November 6th: Epic Gymnastics and Dance (an inclusive dance, gymnastics and fitness facility for participants of all ages, stages and skill levels) and Focused Momentum (a 4,000-square-foot gym featuring personal training, including weight, agility, endurance, and aerobic activities and more).
Peterborough video game studio Bloom Digital Media has launched "Later Daters Part 2", a follow-up to its seniors roantic comedy dating game, available for PC and Mac and the Nintendo Switch.
Advertisement - story continues below
Innovation Cluster presents website development workshop on November 17
The Innovation Cluster Peterborough and the Kawarthas is presenting "Hands-ON: Introduction to HTML & CSS with Canada Learning Code" from noon – 2 p.m. on Tuesday, November 17th.
This free workshop will cover HTML and CSS, the backbone of all websites, including basic techniques and concepts, how to create a website with images, video, and a CSS-defined layout, and more.
This event will be held on the Zoom video-conferencing platform.
For more information and to register, visit eventbrite.com/e/127903210947.
CryptoChicks presents blockchain for business workshop on November 17
CryptoChicks is presenting "Blockchain 101 for Business" from 1 to 2 p.m on Tuesday, November 17th.
Businesses can learn about blockchain technology and how it's transforming industries.
This free virtual event is part of the "Hacking the Digital Curve: Empowering Women Entrepreneurship" webinar series from Northumberland CFDC and the DELIA program, with the support of FedDev Ontario.
For more information and to register, visit eventbrite.com/e/125424603365.
Peterborough & the Kawarthas Economic Development hosts TD Economic Outlook 2020 on November 18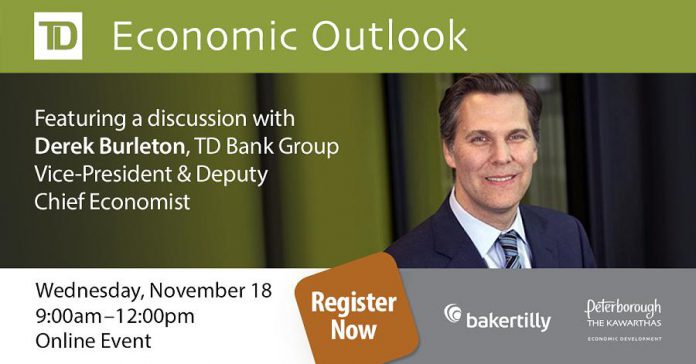 Peterborough & the Kawarthas Economic Development is hosting TD Economic Outlook 2020 from 9 a.m. to noon on Wednesday, November 18th.
This free online event will feature a discussion with Derek Burleton, TD Bank Group Vice-President and Deputy Chief Economist, about what will shape our economic landscape as we plan for the year ahead.
The event will also include an update from Peterborough & the Kawarthas Economic Development President & CEO, Rhonda Keenan on the resiliency of companies in Peterborough & the Kawarthas during and post COVID-19.
For more information and to register, visit peterboroughed.ca/event/td-economic-outlook-2020.
Peterborough DBIA presents SEO workshop on November 19
The Peterborough Downtown Business Improvement Area (DBIA) is presenting "Get Found Online" on Thursday, November 19th, with sessions at 9 a.m. and 5 p.m.
In this online 30-minute workshop, Digital Main Street squad members Kate Storen and Hillary Flood will provide an introduction to Search Engine Optimization (SEO) and include tips for free and paid search strategies, followed by a question-and-answer session.
This free event will be held on the Zoom video-conferencing platform and is open to anyone interested, regardless of membership in the DBIA.
For more information and to register, visit downtownptbo.ca/event/free-workshop-get-found-online/.
Advertisement - story continues below
Peterborough Chamber hosts virtual AGM on November 19
The Peterborough Chamber of Commerce is hosting a virtual annual general meeting from 11 a.m. to 12 p.m. on Thursday, November 19th.
Chamber members will get a look back at 2019 followed by a special presentation by guest speaker Pierre Cléroux, vice president of research and chief economist with RBC.
At the meeting, Chamber members will be asked to accept the audited financial statements for 2019 and to adopt proposed new by-laws.
Register at peterboroughchamber.ca.
Elevating Canadian Experiences hosting online workshops for local tourism operators on November 23 and 24
In partnership with the Tourism Industry Association of Canada and Peterborough & the Kawarthas Tourism, Elevating Canadian Experiences is delivering free online workshops for local tourism operators on Monday, November 23rd and Tuesday, November 24th.
The workshops will focus on two themes: culinary tourism and winter and shoulder season tourism.
The workshops take place on the Zoom video-conferencing platform. Register at eventbrite.ca/e/125676270107.
For more business-related events in the Kawarthas, check out our Business Events column.