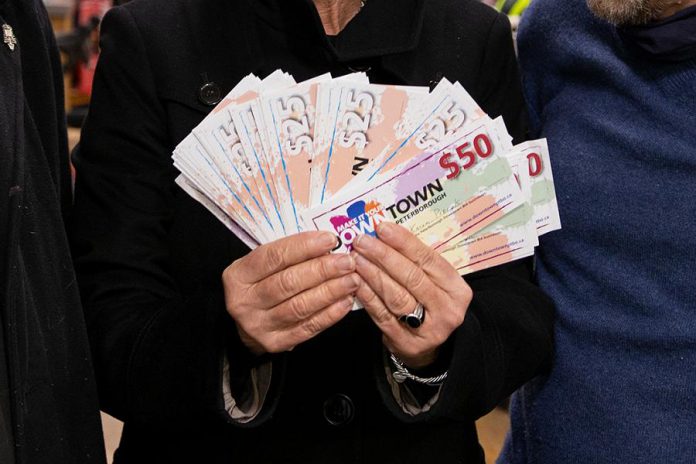 This holiday shopping season, it's more important than ever to support our local independent retailers — so it's great news the Peterborough Downtown Business Improvement Area (DBIA) has brought back its popular Holiday Shopping Passport program this year.
The annual program is a win-win for both shoppers and local businesses, by rewarding people when they shop, dine, or treat themselves at one of nearly 150 downtown Peterborough businesses.
"The Holiday Shopping Passports are always a favourite for our downtown shoppers," says Terry Guiel, executive director of the Peterborough DBIA. "It has been a difficult year for many people and many of our downtown businesses. The passports are a great way to reward people for shopping local this holiday season."
Pick up a Holiday Shopping Passport at one of the participating downtown businesses and, for every $10 you spend at any of the businesses, you get a stamp in your passport. When it's filled with 20 stamps ($200 worth in spending), you complete the form and drop the completed passport off at a ballot box at one of the participating locations. See a list of all participating locations below.
Each completed passport is a ballot for one of four draws to win "downtown money" — gift certificates you can redeem anytime at downtown businesses. Three prizes of $500 in downtown money will be drawn on the first three Wednesdays of December (2nd, 9th, and 16th) with a grand prize of $1,500 in downtown money to be drawn on Wednesday, January 13th.
You can get your passport started at no cost with a complimentary stamp when you use the Peterborough Public Library at 345 Aylmer Street North or when you drop by the Peterborough & the Kawarthas Visitor Centre in the VentureNorth building at 270 George Street North (limit of one complimentary stamp per person).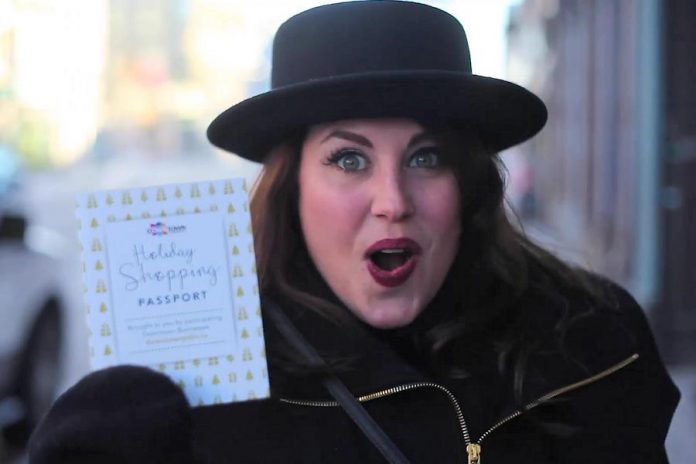 To help keep both shoppers and business owners and employees safe during the pandemic, the Peterborough DBIA and participating businesses are taking steps to limit physical contact with the passports. When you're getting your passport stamped, place it open on the check-out counter of the business so it can be stamped without being picked up by the business owner or employee. This ensures only you are handling your passport.
Along with the chance to win downtown money while supporting local businesses, there are three more reasons to do your holiday shopping in downtown Peterborough.
The annual Downtown Peterborough Holiday Window Contest begins on Thursday, November 19th and runs until Saturday, December 5th. Downtown businesses will get you in the Christmas spirit by creatively decorating their street-front windows for the season. After the contest starts, you can vote online for your favourite window.
Downtown businesses will also be hosting some of their biggest sales of the year on Black Friday on November 27th, giving you an opportunity for great deals while getting even more stamps for your Holiday Shopping Passport.
Finally, courtesy of the City of Peterborough, you can take advantage of two hours of free parking in downtown Peterborough starting Black Friday and continuing until the end of December.
The Holiday Shopping Passport program is a great way to reward yourself while supporting the local economy. Last year, shoppers stamped more than $2.3 million worth of local purchases on their passports.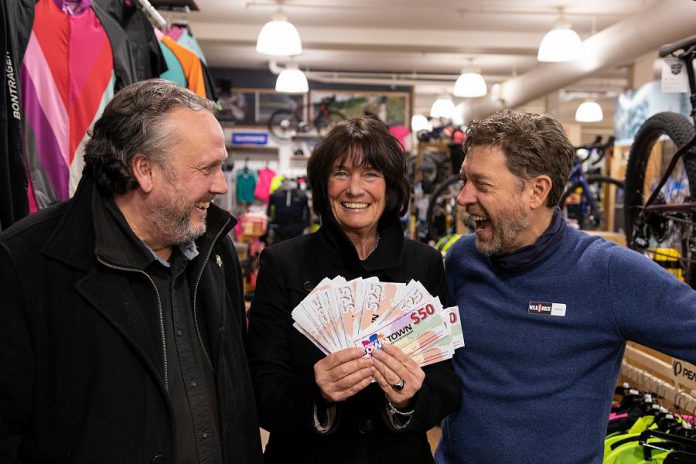 For more information about the Peterborough DBIA and downtown Peterborough businesses, visit downtownptbo.ca.
Holiday Passport Locations
Absolute Hair
Africa Mission-Growth Market
African Dishes
Amandala's
Antoinette Bridal
Arken Beauty Supply
Art School of Peterborough
B!KE
Beautique Canada
BioPed Footcare
Black Honey Bakery
Black Honey Dessert and Coffeehouse
Blue Shoes/Pensieri Shoes
Bluestreak Records
Boardwalk Board Game Lounge
Boater's World
Brant Basics
Brick House Craft Burger Grill
Brothers Pizza
Buck or Two Plus
Burgundy's Hair Salon
By The Bridge
Cahill's Outerwear
Chalk Therapy
Champs
Charlotte Jewellers
Charlotte Paint & Wallpaper
Charlotte Street Comics and Collectibles
Charlotte's Web
Cheslers Shoes
Chumleighs
Cork and Bean
Cottage Toys
Couture Candy PTBO
Cozy Home: Designs by Lacey
Creative Lounge
Curry Mantra
Curry Village
Dan Joyce Clothing
Dodrio
Dream Cyclery
Dreams of Beans
Dueling Grounds
Earth Food Store
Electric City Bread Co
Euphoria Wellness Spa
First Stop Swap Shop
Flavour
Fontaine's Source for Sports
Food Forest Café
Fork It
Fresh Dreams
Full Tilt Cycle
Gentry Apparel
Gerti's
Grady's Feet Essentials
Green Street
GreenUp
Grey Guardian
Hanoi House
Hi Ho Silver
Hobies Sports Ltd.
Hock Express
Hot Belly Mama's
Iceman Video Games
Insight Optical
Island Cream Caribbean Cuisine
Jack's Hot Spot
Jasmine Thai Cuisine
John Roberts Clothiers
K and C Costumes
Kettle Drums
Kingan Home Hardware
Kit Coffee
Knock on Wood
La Hacienda
La Mesita
Larry Electric & Motor Service
Laurie Jones & Co Hair Designers
Lift Lock Escape
LiLi's Convenience
Marie Cluthé Antiques and Collectibles
McThirsty's Pint
Meta 4
Minh's Chinese Grocery
Mr. Brock Barber Shop
Mr. Sub on George Street
My Left Breast
My Own Clouds
Naked Chocolate
Nateure's Plate
Needles in the Hay
Needleworks
Next Level Mobile
Nielsen's Watches and Jewellery
One Eighty
Pammett's Flowers
Peterborough & the Kawarthas Tourism
Peterborough Inn & Suites
Peterborough Photo Service
Peterborough Public Library
Pettigrew Spa & Salon
Plant Goals
Providence
Rare Grill House
Rawscoe's Sport Collectibles
ReBoot
Renew MediSpa
Ritual Apothecary
Runner's Life
Running Room
S.O.S.
Sam's Place
Sandy's Cigar & Variety
Silk Roots
Smiles To You
Solid Leather
Starks Barber Company
Statement House
Studio East
Sugar Me Right
Sullivan Law
Sustain Eco Store
Taso's Restaurant & Pizzeria
T-Elle Boutique
The Avant-Garden Shop
The Cell Shop
The Cheese Shop
The Food Shop
The Pasta Shop
The Toy Shop
The Unicorn
The Olde Stone Brewing Co
Things from Mom's Basement
Tiny Greens
Tonic Hair Salon
Tribal Voices
Turnbull Café
Union Studio
Village of Thai
Watson & Lou
Whistle Stop Café
Wild Rock Outfitters
Yo Yo's Yogurt Café
This story was created in partnership with the Peterborough Downtown Business Improvement Area.