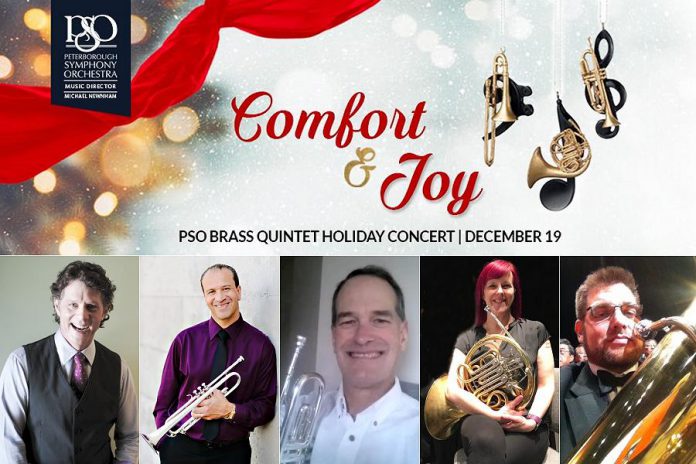 If you've been missing the Peterborough Symphony Orchestra (PSO), you'll be thrilled to learn the PSO's Brass Quintet will be returning to the stage at Showplace Performance Centre to perform "Confort and Joy", an online concert at 7:30 p.m. on Saturday, December 19th.
Adding a unique twist to this holiday performance is the fact that Maestro Michael Newnham, PSO's music director, will be stepping away from the conductor's podium to perform on trombone. He will become the Brass Quintet's fifth member, joining Paul Otway and Doug Sutherland on trumpet, Jane Mackay on horn, and Al Carter on tuba.
There's nothing quite like the sound of the brass section. At once soft, romantic and warm, it is also capable of a vivid, metallic brilliance that can pervade the entire orchestra unlike any other instrument grouping.
Advertisement - content continues below
"Brass instruments really lend themselves well to this time of year," Newnham explains. "You can play Christmas carols and Baroque music sounds fantastic. Bach and Handel sound just amazing on brass instruments. The other thing is that we have lots of arrangements that are jazzy or upbeat, which that kind of group lends itself well to."
This is the first concert by PSO musicians since "Winter Passion", the orchestra's final pre-pandemic show at Showplace in February, and prompted Newnham to return to instrumental performance.
"The PSO has done nothing since the beginning of the lockdown back in March," Newnham says. "So this is really one of our first forays into doing any kind of performance, even as a small group, and I really wanted to take part."
VIDEO: Comfort and Joy – Christmas with the PSO Brass

Newnham studied trombone with the Canadian Youth Orchestra, the Canadian Brass, and at the University of Toronto and the Indiana University of Music before taking up the conducting baton. As a conductor he has excelled, receiving numerous prestigious awards including the Order of Merit from the Republic of Poland and the Best Conductor Award from the East Slovakian State Opera.
"It's a little bit of a return to my roots," says Newnham of his upcoming performance on trombone. "I love it — it's part of my own musical identity. It brings back all kinds of memories for me personally."
"I grew up in Hamilton, which is where the Canadian Brass began. I had private lessons with the trombone player [and founder of Canadian Brass] Gene Watts. Later, as a student, I went out to the Banff Centre as part of the Brass Quintet program one summer and that was fantastic too. There are a lot of memories packed into that whole experience of playing in a brass quintet and I love them all."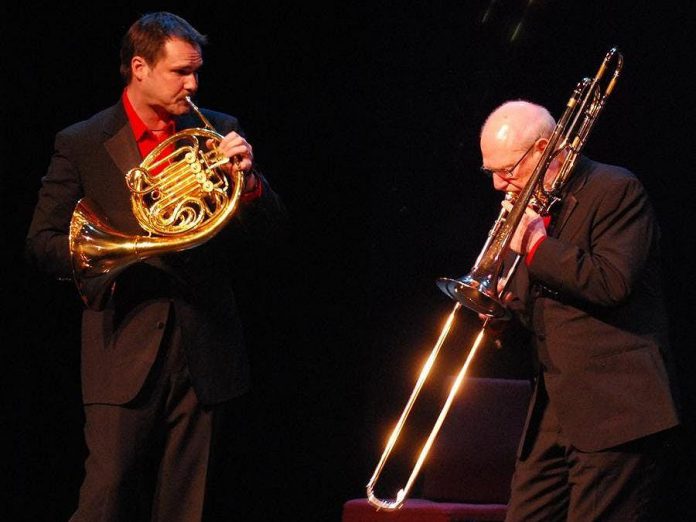 The PSO Brass Quintet will perform a variety of arrangements spanning multiple time periods and genres for the online holiday concert.
"We'd like to begin by going way back because brass music was really an important part of music back around the 1500s and 1600s," Newnham explains. "These instruments were used publicly or in church settings, so there's lots of music that was originally written for brass from way back then."
"From there, there's so many wonderful arrangements that have been done that take Christmas carols and turn them around a little bit, to bring out the pop side or jazzy side of them."
"Our first trumpet player for the PSO, Paul Otway, is an arranger in his own right. He's written some funny arrangements — one of them is this jazz arrangement of Frosty the Snowman. It's quite hilarious."
"The idea is that there's a mixture of serious music-making — we'll be playing some Bach, some Handel, some older music — and also just having fun."
Advertisement - content continues below
After nine months of living in a global pandemic, we could all use a little more fun in our lives.
"We know that people want to see some live music-making," says Newnham of the decision to go online. "Although they can't join us in person, we wanted this to be something that was going to be a fun thing for people to watch and to make them feel good, especially after all these months of being in this pandemic."
"Music can do all kinds of things and one of them is just to feel like you're part of a community. This is our first step to coming back — to start to do some music-making again."
Newnham and the PSO's board of directors have been hard at work since the pandemic began, ensuring that Peterborough would not lose that sense of community that music brings.
Through their initiative, PSO @ Home, plenty of online content is available on the PSO website at thepso.org — everything from learning resources to intimate at-home performances and interviews with PSO musicians, and even digital versions of the popular "Meet the Maestro" pre-concert talks.
"We've tried to create a lot of content and put it out regularly so that our supporters can watch it and be with us — and to let them know that we're still with them," Newnham says.
Advertisement - content continues below
This holiday season, we can still be with the PSO Brass Quintet, albeit virtually, and we can still come together to rejoice in the magic of music-making.
And, thanks to the online format, for the first time ever audiences will be able to see the PSO's music-making up close, when they want, as many times as they want, and from anywhere in the world. Until we are able to again attend a live concert performance, we're very fortunate the PSO Brass Quintet has found a way to bring us "Comfort and Joy".
"We work with what we have and, since this is what there is, we make the most of it," Newnham says. "If this quintet concert goes well and if there's a good audience response, we want to be able to continue to offer some concerts in the springtime. We'll announce those in the New Year — we have some very exciting things planned."
The PSO understands that this has been a challenging year economically, which is why they've made their tickets available through flex pricing. Tickets, which give entire households access to the concert as many times as they want between December 19th and January 2nd, start at $15. That said, if you have the means, the PSO would like to invite you to chose another price point ($25, $40, $65, $100) to help ensure there will still be music-making when we are through this pandemic.
You can purchase tickets online at tickets.showplace.org or by calling the Showplace box office between 10 a.m. and 4 p.m. on Wednesdays at 705-742-7469 or 705-760-6437.
For more information about the online concert, including how to access it and technical requirements, visit thepso.org/online-holiday-concert-faq/.